Spring Break Ranch Vacations
Saddle up for Spring Break on these ranch vacations, whether you want to play in the Colorado snow or Arizona sun!
by Darley Newman
Whether you're traveling solo or with a group, there are lots of options for spring break dude ranch retreats. While ranches in California combine family-friendly activities like horseback riding, fishing and rafting, Arizona ranches beckon with girlfriend getaways and art workshops. Read on to see some of the top choices for spring break saddle time at these USA guest ranches.
Riding in the Sonoran Desert with Elkhorn Ranch.
Spring Break Ranch Girls Getaways & Special Retreats in Arizona
Head to sunny Arizona to the Flying E Ranch's Cowgirl True Girlfriend Getaway Weekend running Thursday, March 3 to Sunday, March 6 or trot down in April for White Stallion Ranch's Ultimate Wild West Cactus Cowgirls from Sunday, April 17 to Friday, April 22, 2016. At the Flying E, spend the weekend with award-winning singer/songwriter Belinda Gail and cowgirl poet Diane Tribitt. This is an all-inclusive getaway weekend just for Cowgirls!
At Elkhorn Ranch in Sonoran desert country, you can join the March 27- April 3 Friends of Western Art workshop and combine horseback riding with educational seminars. This ranch is also popular for multiple generations traveling together and offers discounted rates for kids. There is no charge for children 5 and under, a 45% discount from adjusted weekly rate for kids 6 - 15, and 35% discount for teens 16 - 18, making this a good pick for families.
Spring Break in the Colorado Snow
If you are looking for a unique Spring Break getaway, Vista Verde Ranch is still booking winter vacations until March 24. Pack up the kids, throw in some snow boots, and come play in the snow at this luxury Colorado guest ranch! In fact, if you are a horse enthusiast, consider joining the Jason Patrick Horsemanship clinic March 20-24 while your family is outside skiing, snowshoeing, and tubing-- and a discounted rate makes it even more appealing.
Group travel is popular at C Lazy U Ranch in Colorado during the spring months. The ranch can take groups of up to 80 participants, making it a popular pick for wedding parties, family reunions and corporate retreats. For the first half of April, skiing is available in Winter Park.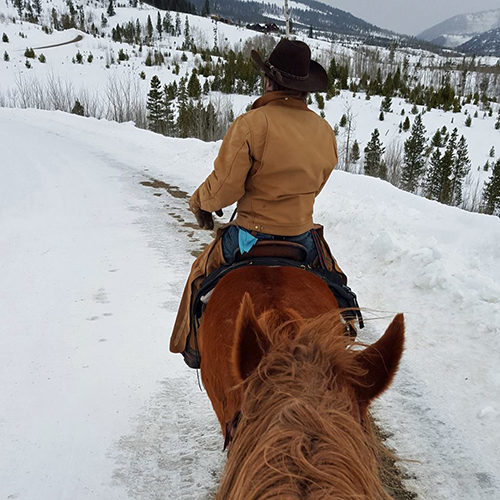 Riding in the snow with C Lazy U, a luxury Colorado dude ranch.
California Ranches for Spring Break
California is a popular year-round location for ranch vacations. Marble Mountain Guest Ranch offers a combination of fly fishing, horseback riding, rafting and kayaking on the Klamath River. Mountain trails are open for beautiful rides and their covered arena is great for those looking to experience barrel racing. The "saddle and paddle" vacation is in Northern California, and is another viable alternative to a vacation venue that has been diminished by disappointing snow levels. Those who like to run or jog may also find this ranch's offerings unique. Ranch owners know great trails and roads for running while at the ranch.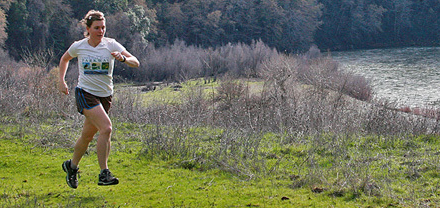 Running at the ranch in California at Marble Mountain.
Just two and a half hours north of Los Angeles, Rankin Ranch offers special spring break vacations from March 18 – 25, 2016 and March 28 – April 3, 2016. This is a top pick for families because of the ranch's Supervised Children's Program with activities planned for the children throughout the day including-hikes, games, arts and crafts. This over 150 year old ranch also offers horseback riding through our mountain cattle country and amid colorful wildflowers and lush hillsides. Fishing enthusiasts may also like catching Rainbow Trout at Julia Lake.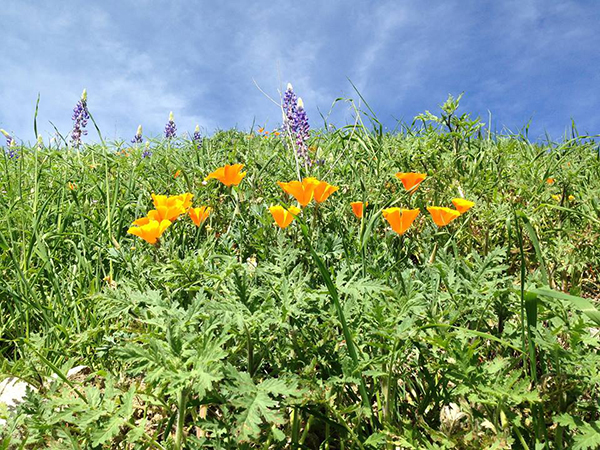 California Poppies and Lupine in Caliente at Rankin Ranch.
Check out more great ranches and horseback riding vacations in the Equitrekking Vacation Guide and top ranches at Top20Ranches.com. For upcoming travel discounts, including on winter vacations, check out Equitrekking Travel Deals.