Horse Riding the Alpujarras in Spain
Horse ride with me into a fragrant, mountainous area of tiny white washed villages, backed by the snow capped Sierra Nevada Mountains.
I love horse riding in the mountains, especially climbing up high to take in wide open views. Amazing scenery abounds in the Alpujarras, a rural, mountainous region in Southern Spain stretching south from the Sierra Nevada Mountains near Granada to Andalusia. This part of the Sierra Nevada Mountains is dotted with white washed towns and interesting history. We rode out from the Caballo Blanco stables, set high up on the side of a mountain, with a small group of four, including local riding guide and owner of Caballo Blanco Trekking Sarah Vesey.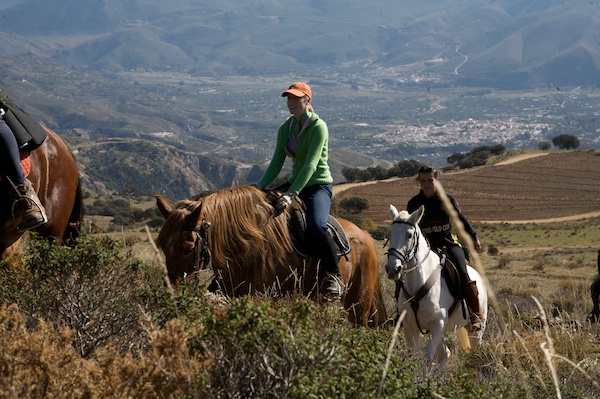 Sarah Vesey, a British woman who owns and runs Caballo Blanco Trekking, set me up on a horse named Megan, a nine-year-old sturdy Andalusian cross, who was the perfect mount for the trek. The horses here have to be well conditioned and strong. There's a lot of climbing.
Because Sarah doesn't have accomodations for guests on site, while in the area, I stayed in the nearby town of Lanjaron. For over two centuries, people have been coming to the spa town of Lanjaron to drink the natural waters that are said to have curative properties. I was able to taste some of the local water at the town's main spa and the water did taste different. One that I tried was effervescent and a little bit salty–– probably from the iron that's in the water.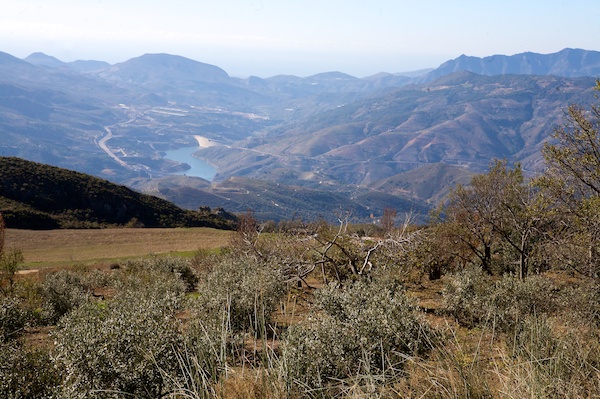 My horse riding guide Sarah has been living in these mountains since 1993 and offers travelers the chance to see lesser-visited areas. From where we started the ride, I could see a few towns in the distance, the ocean and mountains.
We passed the pretty village of Cáñar, where Sarah said the local school has only 5 or 6 children in attendance. We also passed many small plots of land used as farms. Many of the people that live in these mountains are organic farmers with self-sustaining farms. It is a very different way of life. Because the plots are small, most farmers are not able to produce on a large scale or use modern machinery to cultivate crops. Thus, mule-power and other traditional methods of farming still survive here.
We actually rode on old mule track trails. Hundreds of years ago the Moors used the mule tracks to transport silk. As the wind blew and the sun shone with not one cloud in the sky, I breathed in the scent from the wild lavender, oregano and rosemary that grows all along these mountainsides.
Sarah described her neighbors, whose homes rest on trellisad verticals. Many of her friends here use solar power, as electricity is hard to get in the mountains and expensive. Sarah and her family live simply here. They rescue and rehabilitate horses and have a lot of dogs that they have taken in as well.
After climbing for quite some time, we reached an area where the scenery changed dramatically. We ended high in the mountains with views of the snow capped Sierra Nevadas, pine forests, green mountainside, and only one lone farmhouse in sight. If I'd had the time, I would have loved to have continued the trek further away from civilization and into the mountains.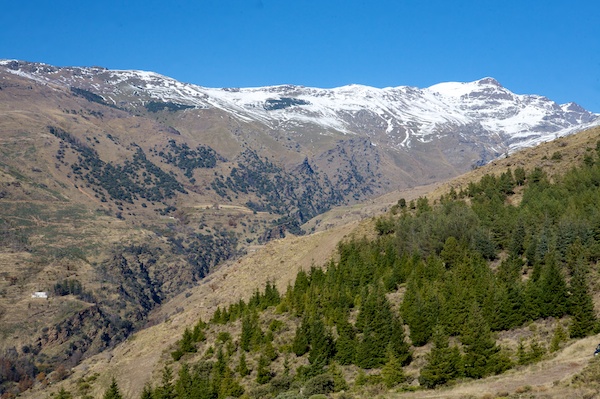 Learn more about dressage vacations and horseback riding vacations in Spain and beyond in the Equitrekking Vacation Guide and on EquitrekkingTravel.com.