Horse Riding at Ranch Mont Tremblant in Snowy Québec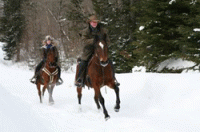 Darley Braves the cold to dash through the snow on horseback in Quebec
After eating a big breakfast and watching the falling snow from my seat by a warm fire, I wasn't sure that I wanted to brave the cold to ride the snowy trails at Ranch Mont Tremblant, a Western style ranch in Quebec. Yet the conditions were perfect for a winter ride and I had packed lots of fleece layers, so I headed over to the barn to meet my horse and riding partner to take on the snow in Québec.
On the way, Josée Champagne, a bubbly French woman who is passionate about her ranch, told me how she and her husband started Ranch Mont Tremblant, in the ski area of the same name, 18 years ago. The couple started the ranch with one barn that housed horses and guests. With time they outgrew it, thus expanded, each time adding a new barn. All five buildings of the present buildings on the ranch property were once barns. Today, the horses and guests each have their own barn, and horsey guests like me think the atmosphere is pretty cool.
Out on the trails my horse Judy was energized and listened very well, making her a pleasure to ride. Judy's hooves crunched along the trail, which was groomed for riders. We rode past the frozen Black Banks River enjoying views of the beautiful snow covered Laurentian Mountains all around. We were also able to do some backcountry riding, off the trails. For a brief stretch Judy ploughed through the powdery snow, leaving giant tracks in what was a pristine area. It was truly wild and cool, but only something to try when you know what's underfoot.
For dinner, I had the best French onion soup that I have ever had. It really warmed me up after walking, trotting and dashing through the snow in Québec's mountains.
Learn more about exploring your world on an equestrian vacation through EquitrekkingTravel.com, which features horse riding vacations hand-picked by the Equitrekking team, and search for horse vacations in Equitrekking.com's Vacation Guide, a comprehensive resource for dude ranches, riding holidays, cattle drives and equestrian escapes.