Smoke the Donkey: A Memorial Day Tribute
Remembering the plucky little donkey that touched the lives of Marines stationed in Iraq and military veterans returning home.
by Jocelyn Pierce

It all started in 2008 when a small gray donkey came into the lives of camp commandant Colonel John D. Folsom and the Marines stationed at Camp al Taqaddum, west of Fallujah. When the donkey wandered into camp, the Marines took him in, cared for him and made him their mascot. It quickly became clear that there was something special about the Iraqi donkey. Not only did he boost the morale of the Marines, but he would continue to help those that served in the military throughout his life.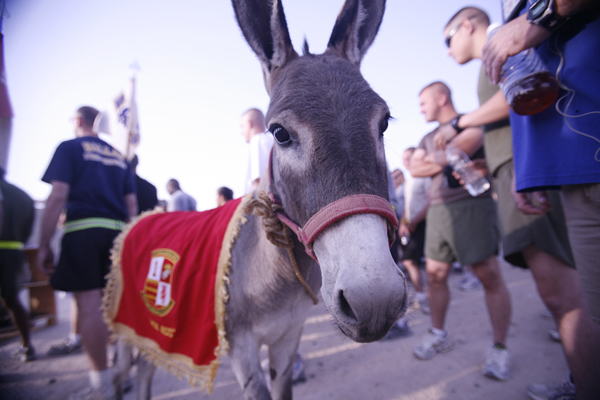 Although regulations prohibit keeping pets in a war zone, a Navy captain helped designate Smoke as a therapy animal, and he was cleared to stay. The unit quickly became attached to Smoke, who was named not only for the color of his coat, but because he once snatched a cigarette out of an unsuspecting Marine's hand and proceeded to eat it.
Smoke's quirky nature was a big part of what made him so lovable. He was known to open office doors and wander around; helping himself to candy dishes that personnel would leave out. He also had an affinity for frozen bagels. He would hold the bagel in his mouth and walk along, scraping the bagel in the dirt before eating it.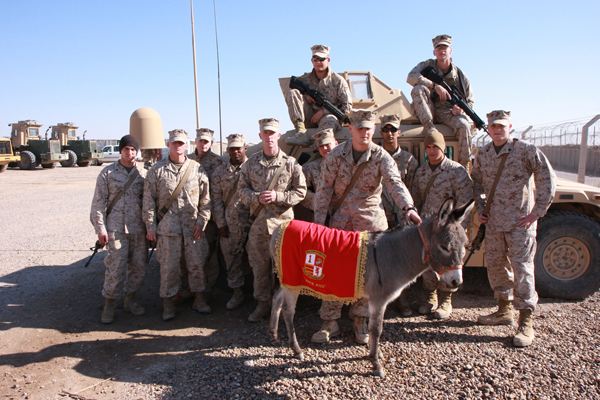 Smoke loved to play with an old deflated rubber kickball. He would hold it with his mouth and drag it along the ground, similar to his frozen bagel routine. The games didn't end there—he also loved to run in big, wide, circles and play hide and seek.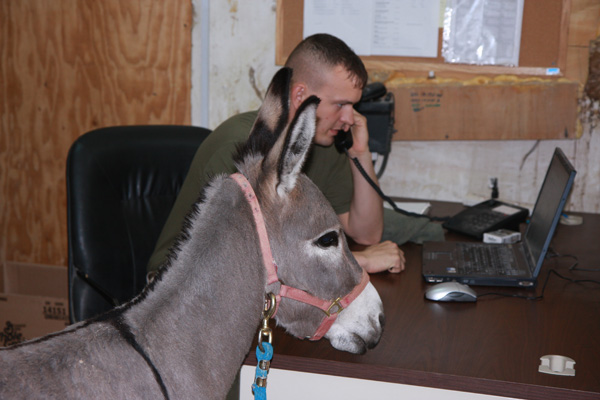 John was particularly fond of the donkey and took him for long daily walks around the camp. People they met along the way would stop and greet Smoke, pet him, and get photos to send home to their family and friends. It wasn't long before Smoke started receiving care packages of his own.
When John's unit, the 1st Marine Logistics Group left Taqaddum in 2009, they were replaced by the 2nd MLG, who agreed to care for Smoke. When the 2nd MLG was preparing to return to the U.S., they asked a local sheik to take Smoke in.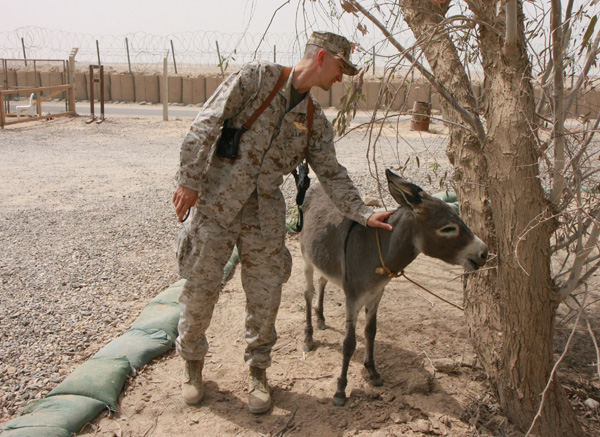 Roughly two years after John met Smoke, he couldn't get the small donkey out of his head, and concocted a plan to bring the honorary Marine home. It wasn't easy to track Smoke down and get him out of Iraq, but with the help of many, including an animal advocacy group run by the Society for the Prevention of Cruelty to Animals International, Smoke arrived in the United States via cargo jet from Turkey in May of 2011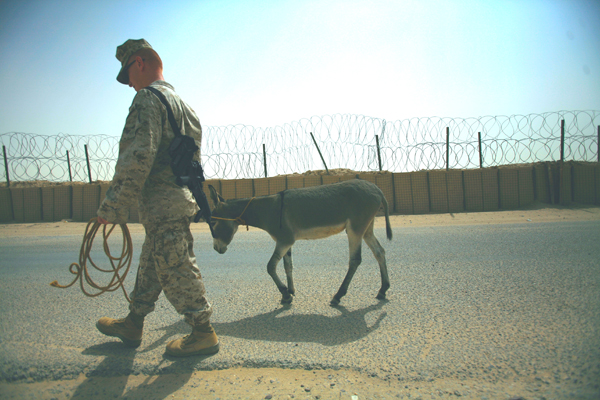 Even though it had been more than two years since they had seen each other, John and Smoke picked up right where they left off. Smoke wanted to play the same games they had played at Camp al Taqaddum.
John, who is the founder and president of the Wounded Warriors Family Support, a Nebraska non-profit which provides assistance to families of those who have been injured, wounded, or killed during combat operations, had a plan for Smoke—he could serve as a therapy animal, much like he did for the Marines he befriended in Iraq. John believed Smoke could help veterans who were suffering with post-traumatic stress disorder and could also brighten the lives of families who had loved ones serving overseas.
Smoke was boarded at a stable north of Omaha, Nebraska, where he was used in Take Flight Farms' therapy program, which served a variety of groups, including veterans, just as John had hoped. Equine assisted therapies have shown to be effective in in providing physical, cognitive, and emotional benefits to military veterans. Veterans could relate to Smoke even more so because he had been in Iraq too, and like the veterans working to acclimate and readjust to civilian life, Smoke was also adjusting to a new environment.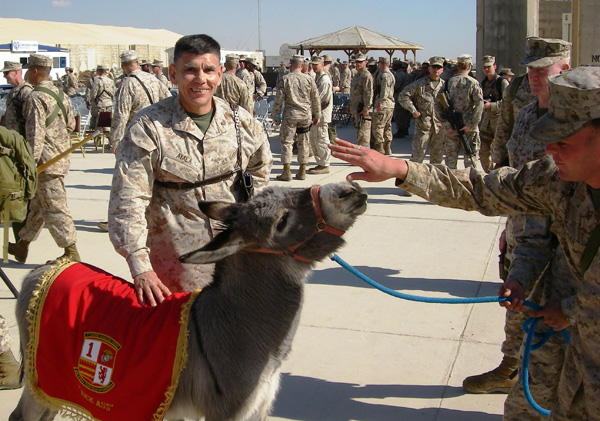 "I had folks involved with the equine therapy program in Omaha tell me later that Smoke could pick out veterans whether they were in uniform or not," said John's wife, Cate. "Uncanny."
John took Smoke to the Pentagon on November 10, 2011 for The United States Marine Corps Birthday, a celebration of the establishment of the Continental Marines, complete with a traditional ball and cake-cutting ceremony. Smoke was drawn to those in uniform. "He would walk up to soldiers and check out their pockets," said Cate. "John used to keep horse treats in his pockets, and Smoke well remembered."
The following day, John and Smoke traveled to take part in New York's Veterans Day Parade, where Smoke's charming character shone through. Through all the chaos of the parade and the Manhattan crowds, Smoke remained calm, stopping along the way for people to pet him. Already well-loved by many, and gaining an international following, John could hear people calling out along the route, "Look! It's that donkey from Iraq!"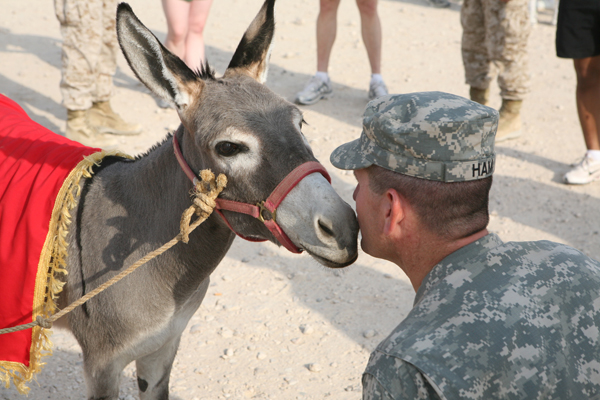 Smoke passed away in Nebraska in August of 2012, but from the beginning, when he boosted morale and connected to the Marines at Camp al Taqaddum, to later in his life, when he helped military veterans at home, the special donkey impacted the lives of many and will be remembered always by those he touched.
To learn more about Smoke and his legacy, check out "Smoke The Donkey: A Marine's Unlikely Friend" by Cate Folsom, the wife of Colonel John Folsom.