Sliding Stops & Spins- the Reined Cow Horse Clinic
Have you always wanted to try reining or cutting? Saddle up with Horse Show by Appointment as they show you the ropes in their Reined Cow Horse Experience clinic.
by Jocelyn Pierce
I sat on the palomino quarter horse at the far end of the ring in the twilight. We both had our eyes fixed on the gate, waiting for it to swing open. On the other side of the metal fencing stood a herd of cattle, and pretty soon one would be joining us in the ring. The adrenaline was pumping through me as we waited expectantly. The gate creaked open and a small brown and white spotted cow defiantly made its way towards us.
It wasn't the first time I had ever ridden western, but it was definitely the first time I had ever worked cattle. I was participating in the HSBA Reined Cow Horse Experience, a one-day clinic that can be easily customized for any rider or group. Offered by Horse Show By Appointment (HSBA) and Steed Training, the clinic is just a short drive from the popular equestrian community of Wellington, Florida, and riders of all levels and disciplines are welcome.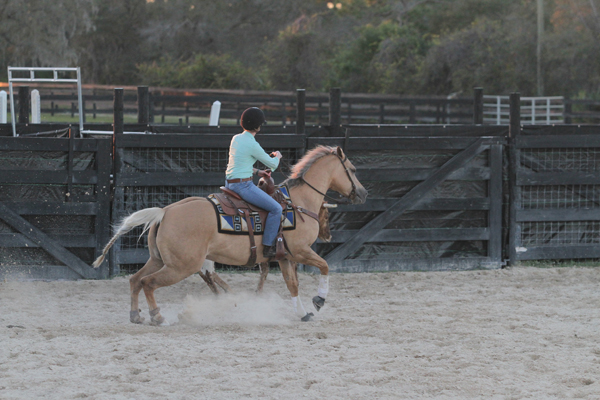 This clinic is designed as a one-day experience, but participants can also opt for a multi-day clinic.
Photo by Mary Adelaide Brakenridge/Phelps Media Group.
I have always loved watching working western events. Perhaps it is because I am drawn to the romanticism of the old west and real cowboys, and the working partnership between rider and horse. Growing up and riding in New England, where the open range and cowboy culture doesn't really exist, I never had the opportunity to give Reining or Cutting a try. When I heard about the HSBA Reined Cow Horse Experience, I jumped at the chance. I didn't know what to expect, and wondered how much I'd actually get to ride.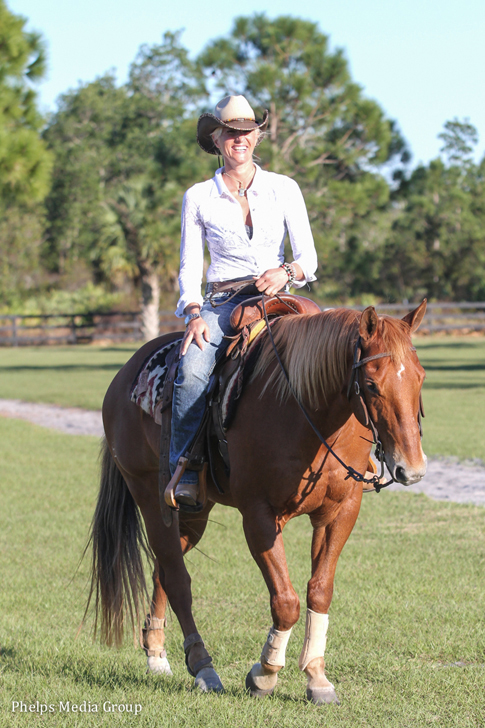 HSBA takes riders of all disciplines and levels. Grand Prix Dressage rider Silvia Martin takes a break from the Winter Equestrian Festival in Wellington.
Photo by Mary Adelaide Brakenridge/Phelps Media Group.
The day of fun began when a limo picked our group up in Wellington to bring us to the site for the clinic, beautiful Bynum Farms in nearby Indiantown. Upon arrival, our group of eight English riders listened intently as Rick Steed of Steed Training explained the plan for the day as he sat on a palomino with a wide blaze. He gave us a quick bridleless demonstration, spinning his horse effortlessly, and then, grinning ear to ear asked, "So, who's first?"

We received instruction from Rick, who has won numerous world and national championships, and Trevor Steed, also a world champion. The Steeds believe in simplifying horsemanship and putting the horse first, all the while having fun and setting riders and horses up for success, principles clearly demonstrated throughout the duration of the clinic.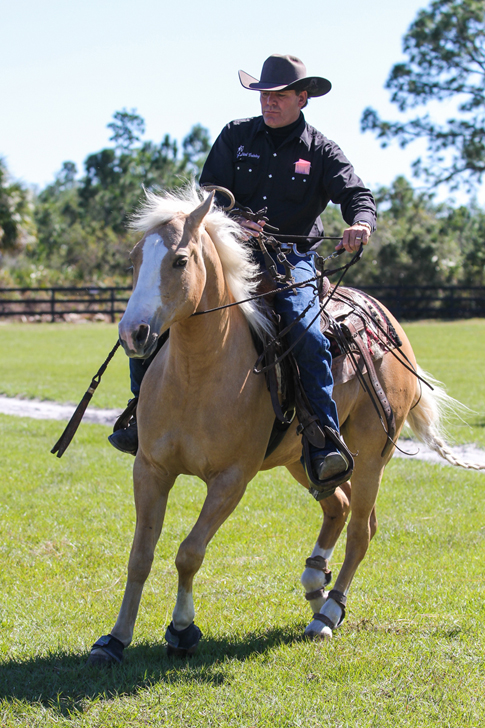 Participants receive instruction from clinicians with world and national championships and ride horses with numerous championship titles.
Photo by Mary Adelaide Brakenridge/Phelps Media Group.
The clinic was structured to prepare riders for the end goal--working cattle. Each training session was a progression, and all instruction was one on one, giving participants the best learning experience possible.

First, we warmed up our horses as we got used to the western saddle and learned about the way they are trained and the cues they respond to. The horses provided for the clinic are well schooled, and many have numerous championship titles, making them the best mounts to show riders the ropes. I rode a five-year-old mare who although young, showed a lot of promise according to her handlers. I quickly realized she was incredibly responsive and smart.
We all took turns riding behind a mechanical cow pulled by Trevor on an ATV. He shouted instructions over the hum of the engine as we jogged and loped along behind. I began to get a sense of how the horse interacts with the cow, and where I needed to position the horse to be effective.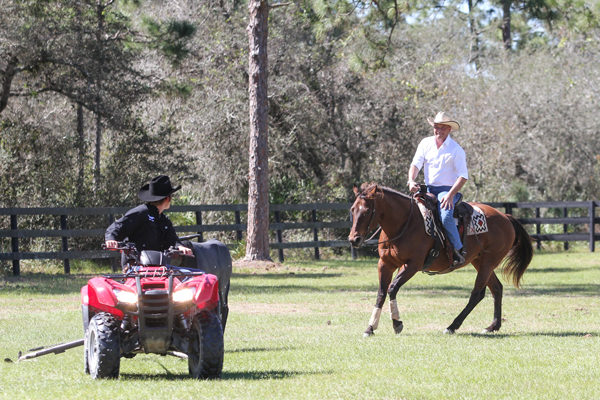 Participants first work with a mechanical cow in order to better understand the finer points of working cattle.
Photo by Mary Adelaide Brakenridge/Phelps Media Group.
Next, I worked in the arena with Rick, as he explained each movement in the reining pattern. He coached me as I focused on precision, lengthening and shortening, and accuracy of the size and shape of the circles, the foundation for the cattle work to come. I even learned how to ride the infamous sliding stops and spins that I always marveled at as a spectator.

After lunch, we were back in the saddle and anxious for what was to come. Trevor further prepped us for cattle work in a round pen, teaching the basics of staying with the cow and turning with the cow, while explaining how the horses are trained to do their job. "Remember, keep your eye on the cow or you'll end up on the ground," Trevor called not so reassuringly as we made our in the direction of the ring.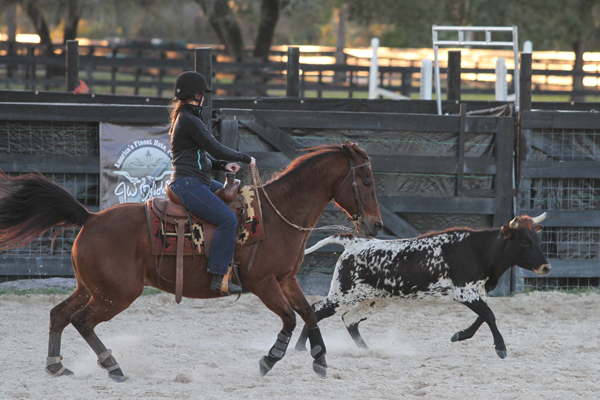 HSBA and Steed Training welcome all levels of riders and disciplines and will work with you to custom build your clinic.
Photo by Mary Adelaide Brakenridge/Phelps Media Group.
The day's preparations and newfound skills were about to be put to the test. My horse definitely knew something was up as we walked past the paddock that was now filled with cows. She seemed like a whole different horse from the one I rode this morning as she stepped excitedly past the paddock and craned her neck to see the cows.
From the time we entered the ring, it was an absolutely thrilling experience. My horse moved with the cow so quickly, I didn't even have time to think. She locked onto the cow with such intensity as I tried to remember all the things the HSBA team had taught me throughout the day. More than anything, instinct came into play as we galloped back and forth, stopping and spinning with the cow.
"So, how about that?" asked Rick. Grinning like a fool and patting my horse, I nodded enthusiastically. I had done it! If only my New England horsey friends could see me now!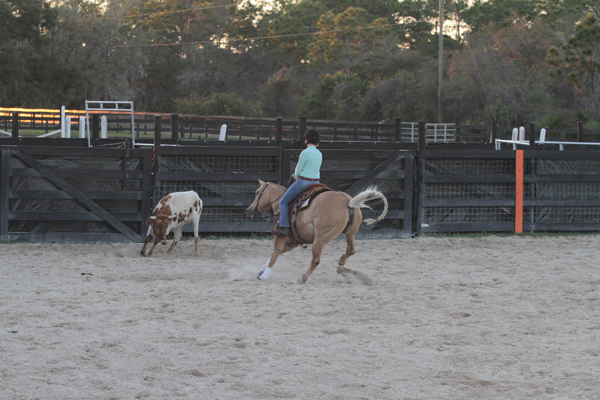 The clinic is structured to prepare riders for the end goal--working cattle.
Photo by Mary Adelaide Brakenridge/Phelps Media Group.
By the time we piled back into the limo, I couldn't help but feel a huge sense of accomplishment. and was already anxiously awaiting my next visit.

Professionals to beginners alike can benefit from the expert instruction offered at the HSBA Reined Cow Horse Clinic. The clinic is set up for a one-day experience, but participants can also opt for a multi-day clinic. HSBA can also bring their show horses to a facility near you for added convenience.

Email HSBA to find out more about the Reined Cow Horse Experience.

About the Author: Jocelyn Pierce is an avid equestrian and lover of travel and photography. Her passion for adventure has led her on numerous excursions throughout North America and Europe. When she's not riding and competing her homebred mare, she enjoys hiking, camping, and snapping photographs.