Six Guest Ranches with Photography Workshops in 2017
Enlarge your photography skills with beautiful horses, diverse natural settings and expert coaches by combining a dude ranch stay with a unique photography retreat.
By Karen Braschayko
When it comes to vacations, personal wishes fall on a spectrum. Where some want a pool chaise with a beautiful view, others seek adventure and challenge. Yet other travelers want to take home the invigorating feeling of conquering new intellectual territory. If you've ever wanted to expand your camera skills surrounded by inspiring nature, a photography workshop hosted by a guest ranch may be the perfect opportunity.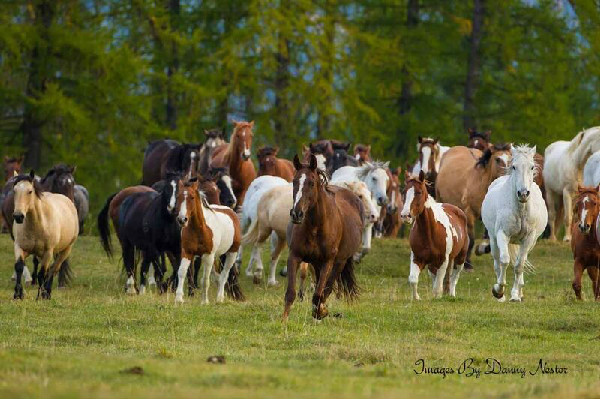 Galloping herds of horses are one of the many equine photo opportunities available at a ranch photography workshop. Photo by Danny Nestor and Bar W Guest Ranch.
Expert or beginner behind the lens, there's a ranch photography vacation that's right for you. Each workshop has a unique focus and a skilled photographer to coach guests. Gorgeous scenery, fields of horses, farm buildings, wildlife, ranch culture – a wide range of subject matter is built into any ranch stay, but some ranches take it even farther with exotic animals, bird migrations, autumn foliage and cowboy regalia.
Here are six guest ranches offering photography retreats.
Three Bars Guest & Cattle Ranch
Cranbrook, British Columbia
With the majestic Canadian Rocky Mountains as setting, Three Bars guests can access subjects from the ranch's herd of 80 horses to focus on equine photography May 21-27, 2017. Longtime horseman and photographer Ryan Courson leads the weeklong workshops with customized photo shoots and individualized coaching to capture extraordinary equine images. Courson strives to depict the essence of his subjects, focusing on equines and dogs, and he considers himself "a humble student of the wisdom animals possess." Unlimited horseback riding, all meals, upscale log cabin accommodations and all other ranch activities are included with the workshop.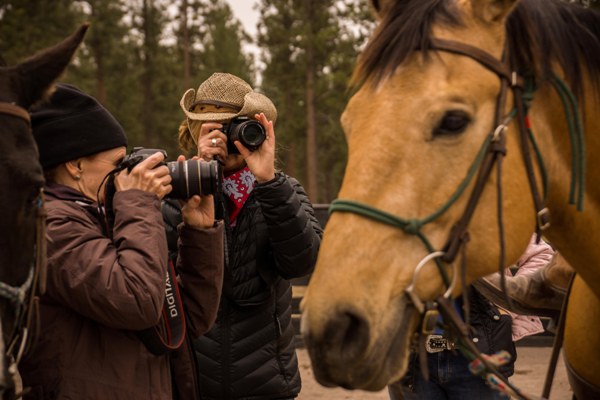 Horse closeup opportunities abound at a dude ranch photography retreat. Photo courtesy the Resort at Paws Up.
Bar W Guest Ranch
Whitefish. Montana

The Bar W Guest Ranch will host a specialty workshop the week of October 21-28, 2017, "Designed by Photographers for Photographers" with award-winning photographer Danny Nestor. The program is designed to help shooters of any ability advance their skills, so both amateurs and professionals are welcome.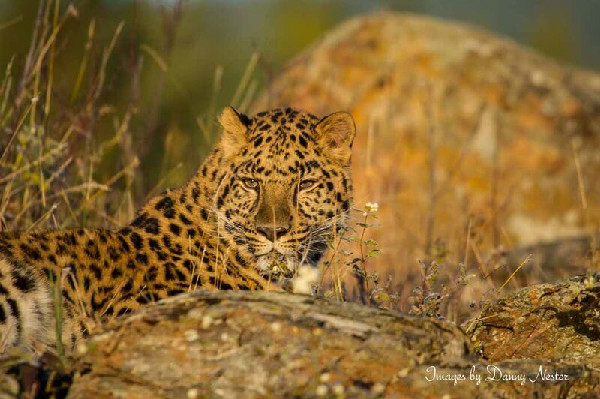 The Bar W photography week includes a photo shoot with exotic animals. Photo courtesy Danny Nestor and Bar W Guest Ranch.
Besides Glacier National Park, Spencer Lake, autumnal mountains and Montana nature, guests have the chance to photograph from 120 exotic animals at partnering Triple D Game Farm. This unique opportunity has included wolves, grizzly bears, mountain lions, and several young cats. Equine photo shoots cover a herd of running horses, silhouettes, and authentic cowboys and cowgirls in full regalia. From action to landscape to portrait, fly fishing to vintage trucks to wildflowers, the Bar W offers a wide range of photo practice.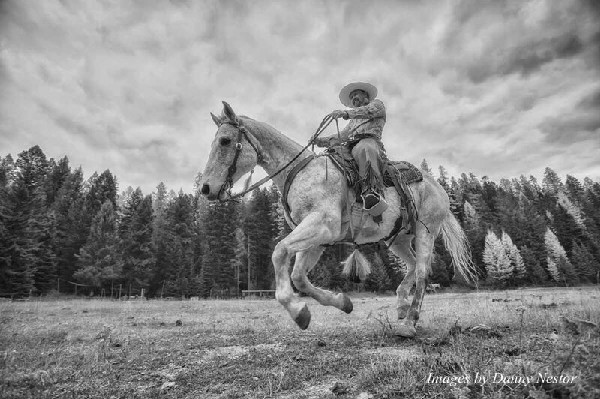 Guest ranches provide the ideal natural staging for images celebrating horses and their riders. Photo courtesy Danny Nestor and Bar W Guest Ranch.
The Hideout Lodge & Guest Ranch
Shell, Wyoming
Situated between Yellowstone National Park and the Bighorn National Forest, the Hideout's wide range of elevation, biodiversity, climate and terrain creates a variety of scenery for photo shoots. Renowned photographers work with the ranch to plan learning workshops that are either equine or Western photography in theme, so guests can determine before booking which session is right for them. Fellow guests for these classes are commonly riders and horse lovers, and they average 7,500 to 10,000 photos per workshop.
This working guest and cattle ranch chooses to remain small, hosting about 25 guests at a time. This allows for focused, personalized experiences with custom trail rides and private log cabins. Staff members are available for communication in four languages and specialize in catering to different cultural needs, with many international guests per year. The season fills quickly, so call for workshop availability and book well ahead.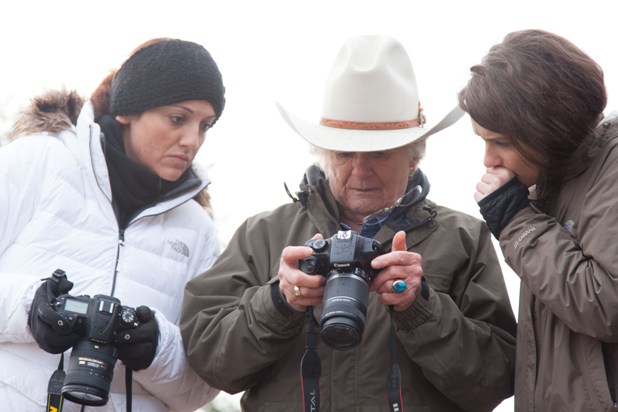 Work one-on-one with an expert photographer at a ranch photography workshop, such as Barbara Van Cleve at Paws Up. Photo courtesy Nicole Morgenthau.
CM Ranch
Dubois, Wyoming
CM Ranch serves as the base for two weeklong National Geographic photography workshops, June 11-17, 2017, and June 18-24, 2017. Professional instructor Jeff Vanuga joins Pulitzer Prize–winning photographer Jay Dickman, who has worked in photojournalism for more than four decades. The workshop focuses on helping amateurs capture the traditions of the West with photo shoots, discussions and daily review of images. Situated near Yellowstone National Park, CM Ranch is neighbored by sage brush fields, red hills of the Badlands, the Absaroka Mountains, the Wind River Valley, and the Shoshone National Forest, providing an array of landscape opportunities.
Daily assignments include wranglers and horses in the corral, ranch hands riding against rock formations, "natural-light portraits of cowboys and their horses in the early golden light," dust and wind, light and color, and Friday night action at the Dubois rodeo. Between sessions, guests have free time for horseback riding, hiking, swimming, fishing and enjoying the ranch.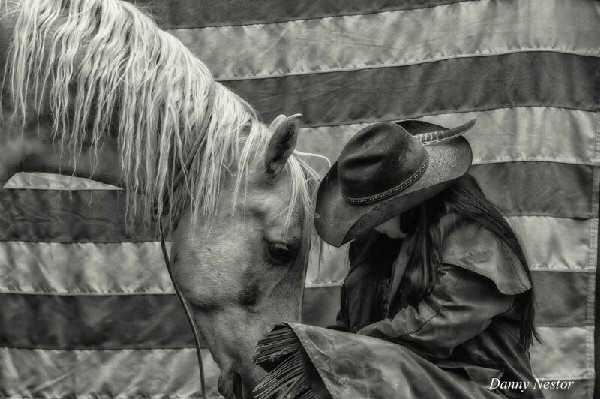 Dude ranch photography workshops provide unique opportunities to focus on ranch life and Western culture. Photo courtesy Danny Nestor and Bar W Guest Ranch.
Zapata Ranch
Mosca, Colorado
Zapata Ranch offers two distinctive photography weeks. From March 5-10, 2017, join the "Sandhill Crane Photography Workshop" with photographer Stephen Weaver and naturalist John Rawinski. Over 30,000 sandhill cranes cross the ranch and San Luis Valley, so guests have the unique experience of documenting this spring migration. Additional photo shoots capture bison, the historic ranch buildings and the ranching way of life.
Stephen Weaver also leads the October 1-8, 2017, workshop "Fall Colors and Wildlife at Zapata Ranch." Aspen and Cottonwood trees turn gold against the backdrop of the snowcapped Sangre de Cristo Mountains, providing extraordinary landscape opportunities. A geologist by education, Weaver helps guests learn about the natural world as they shoot. Wildlife photography is also featured at this conservation-minded ranch.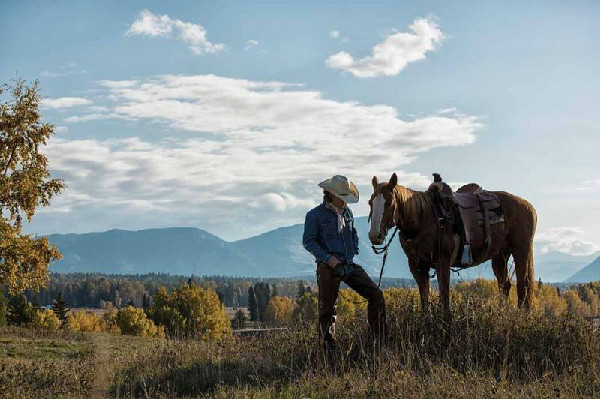 Ranch photography workshops offer equine photo opportunities in beautiful landscapes for beginner to pro. Photo courtesy Bar W Guest Ranch.
The Resort at Paws Up
Greenough, Montana
The Resort at Paws Up offers several opportunities to learn photography techniques this year. During the Cowgirl Spring Roundup, the "Ultimate Immersion into Cowgirl Culture" from April 27-30, 2017, award-winning ranch life photographer and Cowgirl Hall of Fame honoree Barbara Van Cleve will guide workshops. Focusing on cell phone photography, participants capture photos during a trail ride and then analyze the images with a discussion upon returning to the ranch.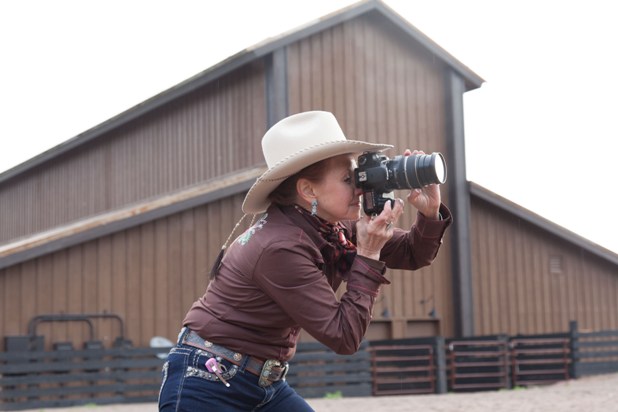 Shooting in a corral with expert, individualized coaching is one of the perks of a ranch photography workshop. Photo courtesy Nicole Morgenthau.
Resort photographer Stuart Thurlkill will offer workshops and educational opportunities throughout the summer. Open to all skill levels, themes range from "Smartphone Nature Walks" to "Documenting Your Day" and "Rocks & Rivers." Some courses are afternoon trail hikes while others are weekend-long workshops. All emphasize the improvement of fundamental photography techniques using a wide range of technology, and all are set in the diverse and unspoiled ranch landscape.
On August 11-14, 2017, Barbara Van Cleve returns to conduct her annual workshop "Starry Night Photography." Night photo shoots use only the light from the stars and moon, and daylight shoots include the gathering of horses at dawn. Both traditional cameras and cell phone cameras are incorporated, focusing on both technique and artistry.
Learn more about these ranches in the Equitrekking Vacation Guide.
Karen Braschayko is a freelance writer and horse lover who lives in Michigan.

SaveSave