Shrimp Fishing on Horseback in Oostduinkerke, Belgium
Learn about this UNESCO Intangible Cultural Heritage kept alive by twelve families in North Belgium.
by Yulia Frolova
I'm quite a contradictory person. On the one hand, I hate nothing more than leaving my comfort zone; on the other hand, I'm constantly finding myself in situations when my comfort zone cannot even be seen on the horizon on a clear day. So this story started exactly like this – miles away from home and even further away from my comfort zone.
I had to go to Germany for a business trip and I couldn't miss the opportunity to take two days of vacation and spend them on the shore of the North Sea in the lovely little town of Oostduinkerke, Northern Belgium, and witness a very unique horse related tradition.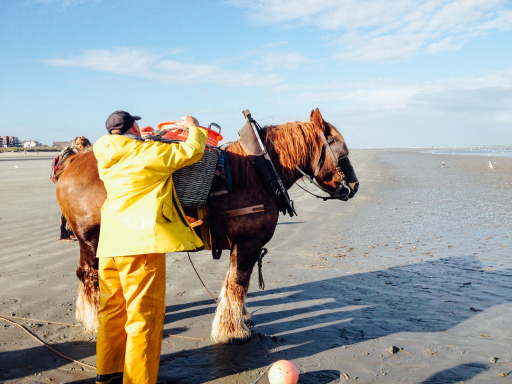 So I travelled for over 20 hours, which is not a big issue for me. I just had to wake up at 1:30 AM that day, fly from Manama to Abu-Dhabi, change planes to Dusseldorf, and take a train with two changes from Dusseldorf to Oostende via Aahen and Welk (No, I cannot remember the name of the station) and then take a tram. Whew…five countries in one day, my personal record so far.
And did I tell you that I speak neither French, nor German, nor Flemish? Still not challenging enough? Then check this out. Due to a silly mistake in my hotel booking, I end up without a hotel in an unknown town at 10 PM. And to make matters even more adventurous, before going I'd volunteered to write an article about this experience for K2 magazine, which is published in Turkey by my friend Kristal Karakus.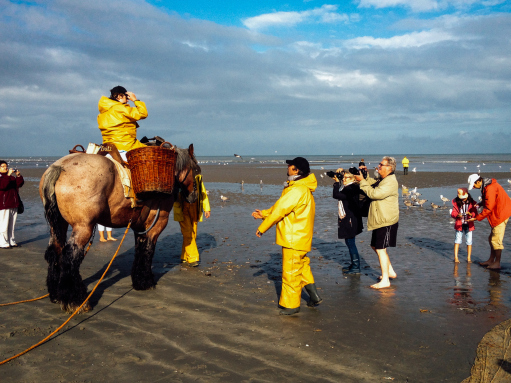 But you know what? I'm quite good at the sorting out problems I create for myself – it seems like years of experience do help. And hey-I only need to write about horses (not cars, cacti, financial crises or cooking), so still quite comfortable.
Mina. This enormous (as any Brabant horse should be) black roan mare has one of the most unique horse professions in the world. She, along with less than a dozen equine colleagues, is a fisherhorse.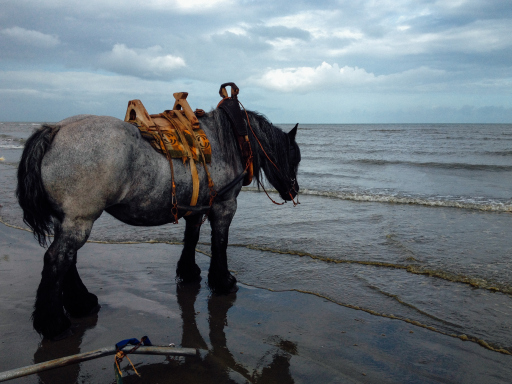 Here in the place where if you drive 40 km north east you get to the Netherlands, and 10 km to the south east, France, where horses are huge, surefooted and phlegmatic, 12 local families still keep practicing a 500-year-old tradition so unique that in December 2013 UNESCO recognized it as an Intangible Cultural heritage.
Every year starting from mid-June until mid-September, not more than three times a week, when the tide is low, these Brabant and Hainaut horses are used for fishing shrimps on the vast beach of Oostduinkerke, North Belgium.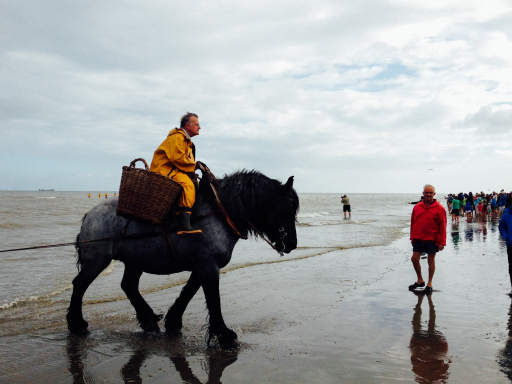 If you're lucky and choose the day wisely, you can even taste the fresh catch, cooked on the beach promenade. It's not that easy, though. For example, in 2014 it happened only seven times in three months.
The day I was in Oostduinkerke, fishing started at 9 AM. Fishermen arrived at the beach either on horseback or by horse-pulled carts. They wore bright yellow oilskins and rubber waders, so no matter what the weather is – clear and sunny or cloudy or even rainy – you will end up with very good pictures, so don't forget to charge your camera battery.
Upon arrival, fishermen attach two wicker baskets to both sides of the primitive wooden saddles, check the nets and the fishing starts.
Oostduinkerke has a perfect beach for shrimp fishing– the slope is gentle and there are no underwater obstacles. Horses get breast-deep into the water and stroll back and forward along the beach pulling the nets behind them. This form of fishing doesn't disturb the sea floor like modern-day trawling, but obviously it takes way more effort.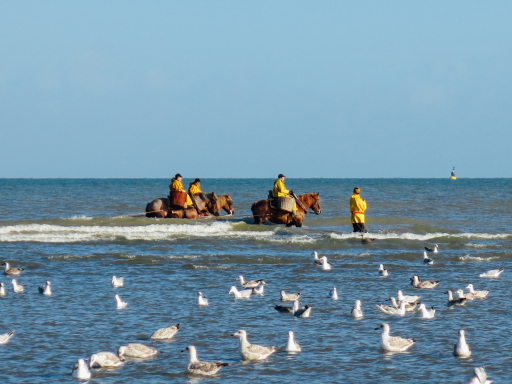 When nets feel heavy enough, people and horses get back to the starting point to empty them. Horses have a few minutes of well-deserved rest and can dry a bit, but for the fishermen the most arduous work begins. The catch is washed, sorted and put into the baskets.
And the beach becomes very colorful and noisy. Not only are the tourists surrounding the horses and fishermen and taking in your face pictures of everybody and everything, but it's also an hour not to be missed for always hungry seagulls, which were impatiently waiting for men and horses to make them a breakfast.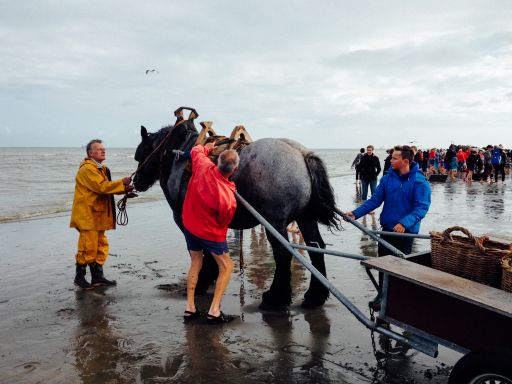 Depending on the catch, they may go into the sea again. But time is precious– they have only one hour before and one hour after low tide for fishing.
When it's all done, and baskets are filled with grey shrimps, fishermen harness their horses again and stay on the Astridplein for a few more minutes so everybody can take a picture with Mina and her equine colleagues and chat with the fishermen.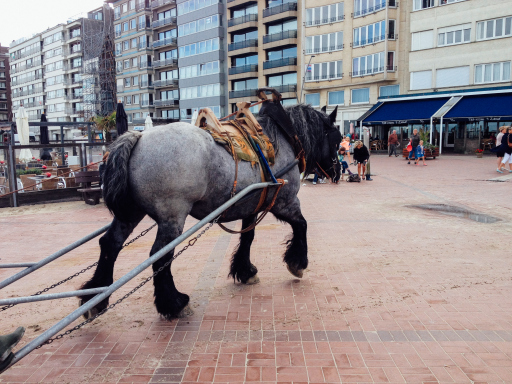 These people and horses are genuine celebrities of Oostduinkerke. You can find their photos on postcards, magnets, booklets, and framed pictures literally everywhere in the town. And this is well-deserved because the tradition, which hundreds of years ago was common in Belgium, Netherlands, Northern France and Eastern England, nowadays exists only in this small Northern Belgian town thanks to these twelve families.
This was one of the last Mina appearances on the beach this year. As the water gets colder around the middle of September, fishermen close the season just to open it again next year around mid-June, as has been done for hundreds of years and, hopefully, will continue for years to come.

About the author: Yulia Frolova, self-proclaimed literal "globe trotter" who set herself a goal of riding a horse in every country she visits. Her count so far: 25. Her carrier requires 15-20 international travels a year and might be considered a big obstacle for horse riding, but she sees it as an opportunity to try different riding styles and learn from horsemen all around the globe. Visit her blog where she keeps chronicles of her travels and experiences and follow her on Instagram @equi_geo.