Short Equestrian Vacations Can Actually Increase Your Happiness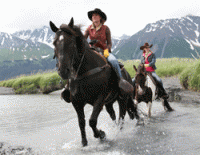 by: Equitrekking host Darley Newman
Can't get away for a whole week to take a riding vacation? There are lots of new flexible horse riding trips that allow you a shorter time in the saddle in Vermont, Ireland, Virginia, North Carolina, Alaska, Colorado and beyond. Shorter vacations are ideal for busy people with tight schedules, as well as beginning riders and equestrians who want to combine a short riding vacation with other activities. As a hardworking entrepreneur myself, I know that it can be difficult to make time to get away from my daily duties. The beauty of a short riding break is that you can enjoy some vacation time without using all of your vacation days. It can be a great stress reliever to just take a short getaway. You get the advantage of actually getting away without being away for too long.
I didn't think about the fact that I hadn't taken a vacation in quite some time, until I read an article in the New York Times "How Vacations Affect Your Happiness" citing a study, published in the Journal Applied Research in Quality of Life. Yes, I travel a lot, and this brings me great happiness, but my travel still involves some and sometimes a LOT of work. According to this study, I probably am due a vacation and in fact just the act of planning it will make me a happier person. According to the Times, the study "showed that the largest boost in happiness comes from the simple act of planning a vacation."
Here are nine great short equestrian trips to add to your calendar...
Virginia Hunt Country's Marriott Ranch

This trip is great, as it's only a short two day escape. The historic, horsey town of Middleburg is nearby, should you want to make a long weekend out of the trip. Experience a day in the life of a cowpoke as you learn horsemanship skills and cattle handling techniques at Marriott Ranch in Virginia Hunt Country. This City Slickers Package includes overnight accommodations, lunch and dinner on day one along with a three hour ride followed by Breakfast & Lunch on the second day with another three hours of riding. April 29-30, Oct 28-29. $385 per person Double Occupancy and 
$460 per person Single Occupancy. Read More and Watch the Video or Book this Trip.
Enjoy a taste of the West on the East Coast only an hour's drive from Washington, DC. Saddle up at the historic Marriott Ranch to enjoy riding the range, where longhorn cattle graze. 
The four-day and three night Western Vacation package includes lodging, meals, unlimited bar service, three days of horse back riding (3 hours per day of riding), an afternoon of tubing on the Rappahannock River and a western style cookout with entertainment. May 24 – 27, July 5 – 8, Aug. 30 - Sept. 2. Spend 4 days/3 nights at 
$680 Double per person and 
$875 Single per person. Read More and Watch the Video or Book this Trip.

Biltmore Equestrian Escape

Enjoy the charming Asheville, North Carolina area on this four day, three night Biltmore Equestrian Escape. Biltmore Equestrian Escape is perfect for rides and their non-riding companions. It is also ideal for those looking for a shorter equestrian vacation. The historic Biltmore Estate has over 80 miles of equestrian trails located on 4,000 acres in the beautiful western North Carolina Mountains. Explore the wooded estate trails on horseback, much like guests of George Vanderbilt would have during the Gilded Age. Along with daily trail rides, lessons and the popular lunch on the trail included in this equestrian focused package, riders can enjoy touring the historic home and estate grounds, perhaps sampling some of the wines produced by the Biltmore's winery, and spend nights in the luxurious Biltmore Inn. 4 days/ 3 nights departures year-round.
 Prices start at $1306 per person double occupancy. Read More and Watch the Video or Book this Trip.

Vermont Mountain Top Vacation

Stay in a classic mountain lodge and take lessons and trail rides at the Mountain Top Inn's 350-acre resort, nestled amid the Green Mountains in Vermont. 4 days/ 3 nights Mid-week Package- Departures either on Sunday, Monday or Tuesday 

available July & August with lessons. In June and September this package is available with trail riding only- no lessons. 
$899 per person double occupancy 

$1279 single
.
Spend two to six days riding strong Icelandic horses in the Mad River Valley of Vermont, crossing beautiful meadows, sparkling streams, country lanes, and quiet forests and spending nights at a quaint, country inn. May 1 to Nov 1.
 Prices range from $600 for 2 days/ 2 nights to $1595 for peak fall foliage 5 days/ 5 nights. Click here for all prices and riding days and to watch the video.

Ride strong Viking horses throughout Iceland on short or long equestrian vacations that mix horse riding with Iceland's top sights including the Golden Circle and cultural immersion adventures like horse round-ups and horse drives. The Countryside Ride is a short three day, two night riding adventure, that allows you to visit the wonders of Iceland. Follow fine bridle paths to popular Icelandic sights including the Geysir Hot Spring area and Gullfoss, Iceland's Golden Waterfalls. 3 days/ 2 nights (3 riding days): $972* USD 

June 14-16 sold out, June 28-30 (6 spaces left), July 5-7 (5 spaces left), July 12-14 (only 4 spaces left!), July 19-21, July 26-28 (only 5 spaces left), Aug 2-4, Aug 9-11, Aug 16-18, Aug 30-Sept 1
Ring of Kerry, Ireland

This riding adventure combines mountains, lakes and beaches in beautiful Ireland! Explore the highlands of Kerry with views of the majestic McGillicuddy Reeks, Ireland's highest mountain range. Ride on country lanes and mountain tracks and some of the beaches at Waterville and on the magnificent 6.4km (4 miles) stretch of golden sand at Rossbeigh. The Iveragh Peninsula, with many places of archaeological and historic interest stretches Southwest from Killarney for nearly 40 miles and is highlighted by the world renowned Ring of Kerry. 3 nights (2 days of riding) B&B Package 
$650.26 USD (455 EUR) per person sharing* 
Single Supplement $135.71 (95 EUR)
 Departures on Saturdays May 8 - Oct 2, 2010
This Alaska Wilderness Adventure is ideal as a trip by itself, before or after a cruise or to combine with other Alaska adventure activities. Because you are only with your own group, you're provided an intimate, privately guided experience. A short horse pack trip to historic cabins in the mountains of the Chugach Forest on the Kenai Peninsula with Alaska native Bree Bardarson. Designed for small private groups of two to six people. Beginning to Advanced riders.
July 1st to September 1st 
- Self formed groups of 2 to 6 people. Please contact us to request dates. 
Minimum of 3 days/ 2 nights or 4 days/ 3 nights
.
2 people- $350 per day per person
, 3-6 people- $250 per day per person

* Price includes all meals, private guide, horse, and cook, cots and bunks for sleeping with a sleeping bag and pillow in private cabins.

Colorado Ranch Vacation- 3 nights

Spend three nights at a Colorado Dude Ranch! While most ranches ususllay require a week's stay, this Colorado, family oriented ranch offers flexible riding packages for those short on time. Whether you are a timid beginner or an avid rider, there are many horses to suite all abilities. Many of the ranch horses were born on the ranch. There is plenty of riding variety including riding instruction, half and all day scenic mountain and valley trail rides, fishing rides, trailblazing, trotting and loping, cattle work, a natural horsemanship clinic, arena work, a gymkhana, and private lessons. Trail rides explore the spectacular Weminuche and Piedra Wilderness Areas surrounding the ranch, and wranglers always stress learning and fun. The Roberts Family believes strongly that the more you learn about horses, the less you fear, and the more fun you'll have. 3 Night Adults - $1125.00. More prices and dates at 6 and 3 night ranch vacations.
Wyoming Ranch- 3 nights

T Cross Ranch is an authentic dude ranch in the beautiful Shoshone National Forest two hours east of Jackson Hole with horseback riding, fly fishing, relaxation in the great outdoors and short pack trips. 4 days/ 3 nights 
Adults- starting $775* per person per week. Arrive on Sunday or Wednesday.
 Children- 12 and under- starting $725* per child per week


*Plus 15% service charge and Wyoming sales tax of 5%.
Please Contact Equitrekking Travel's Preferred Provider of Travel Services, Julie Snyder, to book these trips or to get matched with another equestrian vacation. Prices are subject to fluctuation due to currency conversions.