Short Dude Ranch Stays- 1 to 4 night flexible ranch vacations
Interested in taking a dude ranch vacation, but don't have a whole week to spare? These dude and guest ranches offer short stay options for flexible ranch vacations.
Modern travelers are often short on time. Many modern dude ranches have caught on, straying from the traditional week-long dude ranch vacation. They now offer shorter stay options, some complete with short cattle drives. These vacations may range from one day to four. While some of these special offerings are in the off-season, other ranches offer these flexible packages in their peak summer season.
We've listed these ranches in alphabetical order. For more vacation options, visit the Equitrekking Vacation Guide, an online guidebook to great dude ranches, guest ranches, cattle drives and worldwide riding vacations.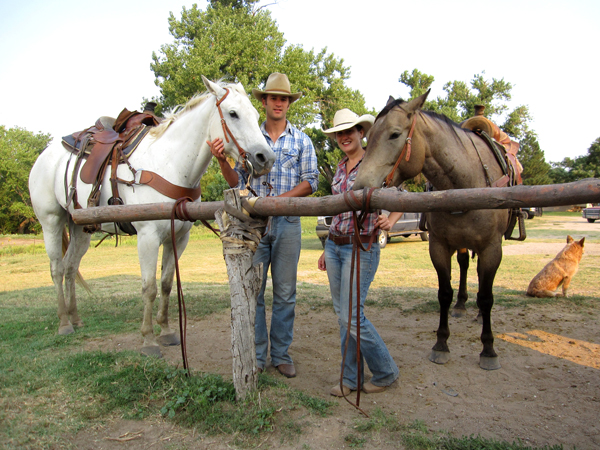 Moore Ranch, a working cattle ranch in Kansas, offers short stays year round, including nightly rates and short two and three day cattle drives.
63 Ranch in Livingston, Montana
Offers 3-Night minimum stays, with a Sunday arrival (upon availability) Mid-June to Mid-September.
Bar W Ranch in Montana
Offers 3 night/ 2 day packages, nightly rates, as well as Bed and Breakfast rates year round.
C Lazy U in Granby, Colorado
Offers stays of 3 nights or a full 7 year round with Fall, Winter and Spring being more open to families, groups and weddings.
Eatons' Ranch in Wolf, Wyoming
The minimum stay at Eatons' Family Dude Ranch throughout the summer season is three nights.
Elkhorn Ranch outside of Tucson, Arizona
This ranch's peak season is during the winter, mid-November through April, when they require a four night minimum.
Geronimo Trail Guest Ranch in Winston, New Mexico
Offers 3 or 4 night stays and 5-7 night stays and is open March to November.
Gros Ventre River Ranch in Moose, Wyoming
During the High Season (mid-June through Aug), 7 night stay is required, and reservations are accepted for weeks starting and ending on Sundays. A 3 night minimum stay is required in the Early (late May to early June) and Late seasons (late Aug through Sept), and stays begin on Sunday or Wednesday.
HF Bar Ranch in Saddlestring, Wyoming
Requires a minimum 7-day stay during our peak season – June 1st through Labor Day Weekend. On their shoulder seasons, May 15th through May 31st and September 2nd through October 1st, they offer a discounted nightly rate. Services are limited during that time, and it is geared more for adults.
Hideout Ranch in Southeastern Arizona on the New Mexico border
Offers short stays with a minimum of 2 nights.
Home Ranch in Clark, Colorado
Only requires a two night minimum stay during Winter Vacations, excluding holidays, but requires 7 night stays during summer.
Lone Mountain Guest Ranch in Big Sky, Montana
Welcomes shorter stays throughout the winter with a 4 night minimum during winter holiday times.
Marble Mountain Guest Ranch in Somes Bar, California
Requires 5 night/6 days with a limited availability for 3 night stays in the spring and fall.
Moore Ranch in Bucklin, Kansas
Offers nightly rates year round and even has special short two and three day cattle drives.
Mountain Sky Guest Ranch in Emigrant, Montana
Offers a three night minimum in the spring and fall, but does require seven nights during the summer season, June to August.
Rancho de los Caballeros in Wickenburg, Arizona
Offers nightly stays.
Rancho Los Banos in Mexico
A three night minimum stay.
Rankin Ranch in Caliente, California
Offers nightly rates.
Siwash Lake Ranch in British Columbia, Canada
A minimum 2-night stay in the low season (normally May and Sept) and a minimum 3-night stay in peak season (normally June to August).
Sundance Trail Ranch in Red Feather Lakes, Colorado
Offers "short week" dude ranch stays in the summer, which are 4 Days and 3 Nights. From mid-September through mid-May the Sundance Trail Guest Ranch offers a nightly Country Inn Bed and Breakfast rate.
Southern Cross Guest Ranch in Madison, Georgia
Offers year-round short stay rates, including night rates.
T Cross Ranch in Dubois, Wyoming
Offers three-night stays during June and September.
Tanque Verde Ranch in Tucson, Arizona
Offers nightly rates.
The Hideout Lodge and Guest Ranch in Shell, Wyoming
Requires a 4-night minimum stay.
The Ranch at Rock Creek in Philipsburg, Montana
A four-night minimum stay for reservations June 15 - September 15 and a five-night minimum for stays that fall over the Thanksgiving, Christmas, New Year or 4th of July Holidays.
The Red Rock Ranch in Kelly, Wyoming near Jackson Hole
A six night minimum during prime dude ranch season and a three night minimum during the early weeks of June and then again during our Adults only weeks in late August early September.
The Resort at Paws Up in Greenough, Montana
Two-night minimum required for stays in the fall, winter and spring. A four-night minimum is required in the summer. Christmas holiday package requires a five-night minimum stay.
Vista Verde Ranch in Steamboat Springs, Colorado
Offers shorter dude ranch stays in the fall with a Sunday-Sunday stay, or you can come for a shorter variation of that experience. Sunday-Thursday or Thursday-Sunday options are available. Summer stays run Sunday-to-Sunday.
Western Pleasure Guest Ranch in Sandpoint, Idaho
This ranch offers short stays year-round.
Wilderness Trails Ranch in Durango, Colorado
Typically offers a 6-night vacation package with shorter stays available depending on availability and dates May - September.
Check out these ranches and more great ranches and horseback riding vacations in the Equitrekking Vacation Guide, an online guidebook to great ranch and riding vacations and at Top20Ranches.com.