Scotland's Blair Castle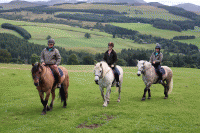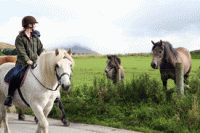 In Scotland, pony trekking is a popular pastime for adults and children, and the rugged and romantic moors of Scotland's Highlands are best traversed on a strong Highland Ponies.
At one of Scotland's oldest trekking centers, Blair Castle, I rode a stout pony named Gorm, which means blue in Gaelic. Highland ponies are small, but strong enough to carry adults of any size, making them the best way to traverse Scotland's Highlands. When I first looked a Gorm, I wondered if he could even move very well, because he is so thick and short. Once I was aboard and cantering around the base of the castle, I felt like I was flying.
There is something that is so fun and freeing about hopping aboard a pony. Blair Castle is a whitewashed fairy tale-like castle that has been the seat of the Dukes and Earls of Atholl for over 700 years. The castle even has its own private army! Bagpipers dressed in traditional kilts played as we headed further into the countryside to ride up into the rugged and romantic moors. If I hadn't ridden so high above the castle, I would have never been close enough to see the beautiful shades of purple in the mountain heather that blanketed the floor beneath my horse's hooves or the myriad of greens in the patchwork countryside below.
Our destination was the top of a mountain, where a cairn, a pile of stones that can be used as a marker- almost like our road signs- would be our resting spot. We spent the day crossing the boggy mountains that these ponies were bred to conquer, taking in the dramatic scenery and distinct culture of the Highlands.
Learn more about Equitrekking host and producer Darley Newman. Find out about equestrian vacations you can enjoy at EquitrekkingTravel.com.