Scotland's Highland Trail on Horseback
Exploring the land of myths, tales, and ballads by horseback!
by Alice Fisher
I journeyed to St. Andrews to visit cathedral and castle foundations, wander through St. Andrews University and have my photo taken on the Swilcan Bridge, an icon in the sport of golf located between the first and eighteenth fairways on the Old Course. The latter was a tribute to my Uncle Everett who enjoyed playing this legendary course. I met up with Mary (Ireland) and Ruth (New Zealand) in time for dinner, after which we walked the Royal Mile in Edinburgh.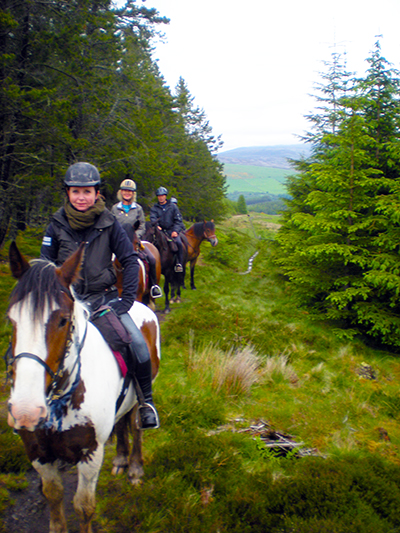 Riding holidays in Scotland can range from several days or more or you can saddle up for just an hour, crossing glens, countryside and dramatic beaches.
Saturday morning the three of us toured the yacht Royal Britannica before we headed our separate ways - I to Edinburgh Castle and St. Giles Cathedral, including Thistle Chapel, which is rarely open to the public. Finished in 1911, it contains stalls for sixteen knights, the Sovereign's stall for Queen Elizabeth and two royal stalls. Along the sides of the chapel are the knights' stalls, which are capped by lavishly carved canopies with the helms and crests of the knights rising above.
We reconnected at our hotel and began our journey to Aberdeen, arriving in time for dinner. The next morning, after a few unplanned detours, we arrived at Balmoral, the Queen's summer estate, where we saw limited rooms inside but found delightful gardens to explore and enjoyed marvelous views of the valley while hiking the grounds. Next stop, our final destination.

Tomintoul, reported to be the highest village in the Highlands, is a good example of an 18th century Scottish Highland planned village with a central square and many Georgian and Victorian buildings. It is located amongst the landscapes of the Glenlivet Estate and the Cairngorns National Park, where our riding adventures unfolded. We met Rose, our leader, during dinner the first night at our delightful B&B. Later we wandered with our trekking group (Anna & Emma, and Anika & Austin, all from Sweden) through the village to the stable area and visited with some of the horses.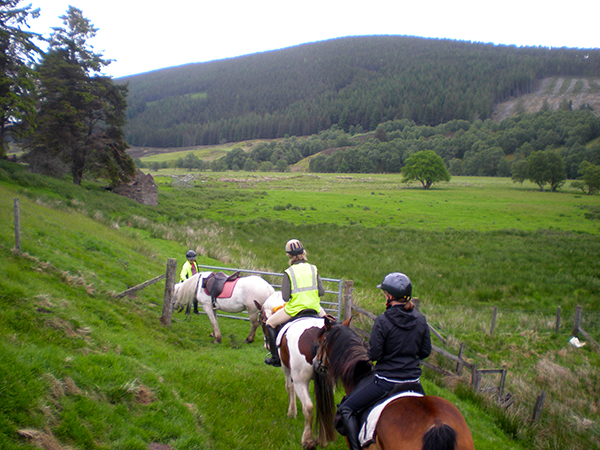 Riding in Scotland's Highlands.
Our first day, we rode old military roads through the Glenmulliach Forest. Unfortunately, due to weather, we didn't ride to the summit as too overcast for a view. Instead, after a picnic lunch and return ride, Mary, Ruth and I drove to the village of Grantown on Spey to explore and pick up gifts. The next morning, a three hour ride through farmland, sheep pastures, lovely forests and along logging roads, brought us to the Glenlivet distillery. We tied the horses to trees, ate picnic lunch and then headed inside for a tour and, of course, tasting! On our return ride, with Sheila as our leader, we enjoyed views from the summit of Cairn Daimh (1,866 feet above sea level) as well as lovely canters through the Conglass valley.

Wednesday the three of us took a day off and headed to Inverness in pursuit of the Loch Ness monster. We had a delightful day learning about the folklore, exploring Urquhart and Cawdor castles, and wandering fabulous gardens including a maze made of holly hedges. That evening, after dinner, the four Swedes and I headed to a local pub and exchanged travel stories. The next morning I discover that Emma had commandeered my horse "Whiskey" while I was in Inverness so now I ride "Arnie", a delightful highland pony.
Today's ride included mountain bike trails in the Glenlivet estate and the forest land of Cairngorm Mountains as well as more sheep pastures. With our horses tied to a fence, we enjoyed our picnic lunch before heading down to the Avon River. Crossing was a bit challenging as the water came up to my pony's elbows! We followed the river through the valley before returning to the bike trails. "Arnie's" loose hind shoe starts clanging badly so we stop and Sheila pulls it off. It's been a long day so after untacking horses and turning them out, we gathered in the stable for some hot tea before dinner.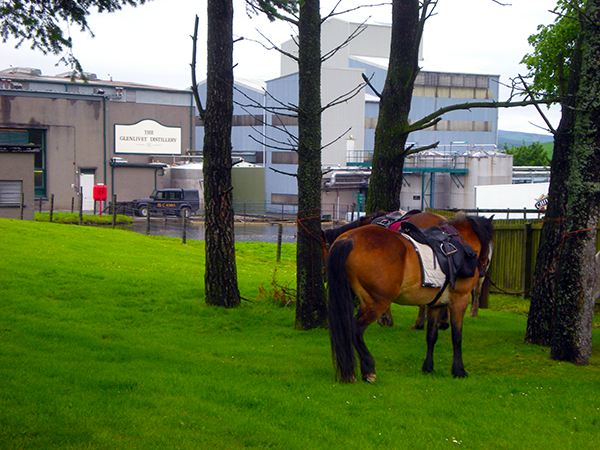 Taking a break to tour the Glenlevit Distillery.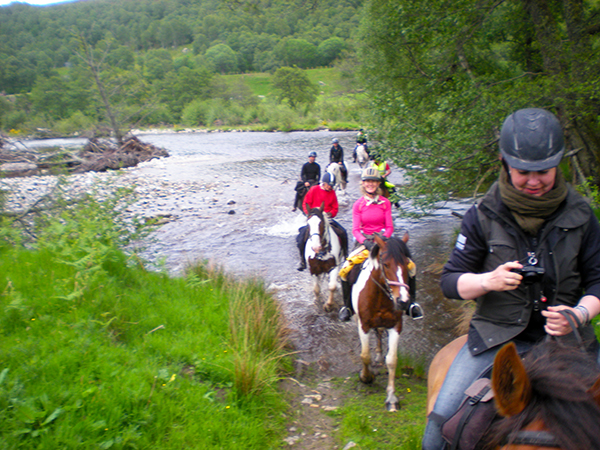 Over the river and through the hills in Scotland!
Our final day of riding, we juggled horses as two had sore backs. Also the farrier hadn't come, so two with missing shoes wore boots. I climbed aboard "Inch", a fun highland pony who was a bit smaller and chunkier than "Arnie". Today was a lovely ride through farmland into Glen Brown. In the past the valley was well populated but now all that remains of the community are deserted ruins. Lunch was at the quaint Bridge of Brown Tearoom and our afternoon ride home was through Glen Lochy, passing another distillery, and the Avon valley. We again untacked and enjoyed hot tea while the horses ate. However shortly after turning them out, "Blondie" developed an impaction of the esophagus. Rose tried to massage it loose but we found out that evening, the vet had been called to successfully free the blockage.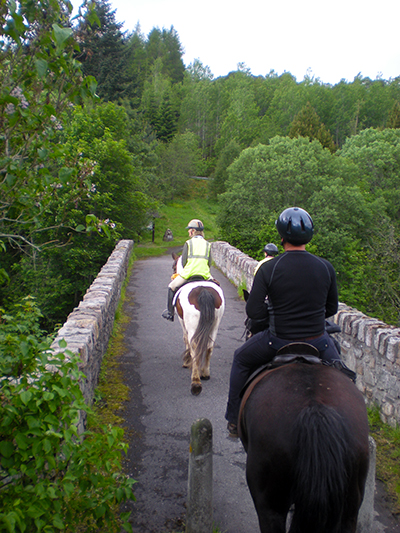 Horseback riding is a popular Scottish pasttime and there are stables based all around the country.
Our final morning, I retired my paddock boots and gave them to Dianne, our B&B hostess, filled with an arrangement of wild flowers. She was thrilled! Mary, Ruth and I packed our car and headed to Scalan Seminary, a college for training Roman Catholic priests from 1717-1799. We wandered through the restored house and various outbuildings reading about the history. Next we toured Elgin Cathedral, climbing up the towers of this beautiful Gothic structure; magnificent even in its ruined state. Finally, the North Sea at Lossiemouth where I took off my shoes and went running in the water! I was sorry not to still be on horseback.
That evening we returned to Aberdeen and the next morning, which happened to be a Sunday, stopped at St. Machar Cathedral, a 12th century church in Old Aberdeen. Although the chancel was demolished in 1560 and the central tower and spire collapsed in 1688, worship is carried on in the nave and aisles of the earlier building. Arriving just before the 11 am service, we listened to the organ and bells as we wandered through the structure. Magical.

All too soon we arrived at Edinburgh airport and departed to our various destinations.

Learn more about day rides in Scotland and equestrian vacations at Gleneagles.