Horse Riding Loch Ness in Scotland
Help me spot Nessie from the saddle on a horse ride around Loch Ness, Scotland.
If you want a totally different view of Loch Ness in Scotland, ride amid the pretty forests, lush fields and actually into this freshwater loch in the Scottish Highlands!


I went out for a horse ride with Candy Cameron of Loch Ness Riding Centre, a stable that gives lessons to riders who bring their own horses and acts as a guide in the local area to those who bring their horses with them on their holiday.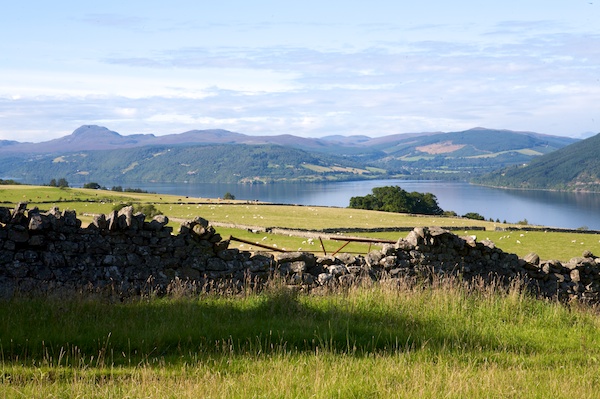 Many people come to the Loch Ness area to go monster watching, which we did as well, but we looked for Nessie on horseback, riding through hills high above Loch Ness.
Candy's farm is located on the quieter, less touristy side of Loch Ness. Candy said that her area reminds her of the Lake District in England, and I agree. There is lush, green pastureland dotted with sheep and cows plummeting to grand Loch Ness below. The area on this side of the Loch is beautiful.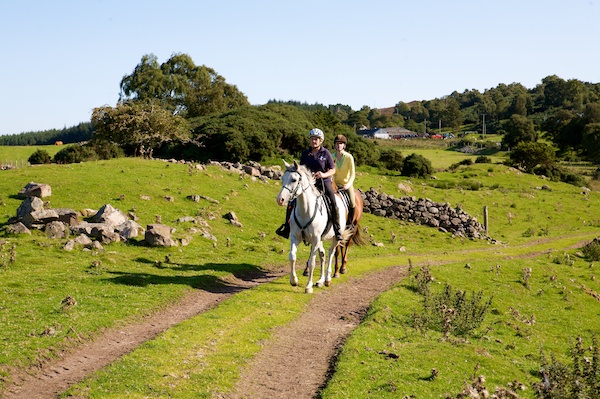 If you want to ride with Candy, make sure that you are an experienced rider. She is a pretty serious endurance rider herself. Candy has twice taken part in the Arab Marathon, ridden over the Olympic distance of twenty-six and a quarter miles, and ridden endurance in Russia, Poland, Spain, France, Ireland, South Africa and Australia. She currently has a small number of horses that she is training.
I rode one of her horses, and it was not a nose to tail trail ride. Day to day, Candy is mostly focused on training, and I felt as if I was in one of her training sessions. We kept up a good clip, as we bounded through the fields.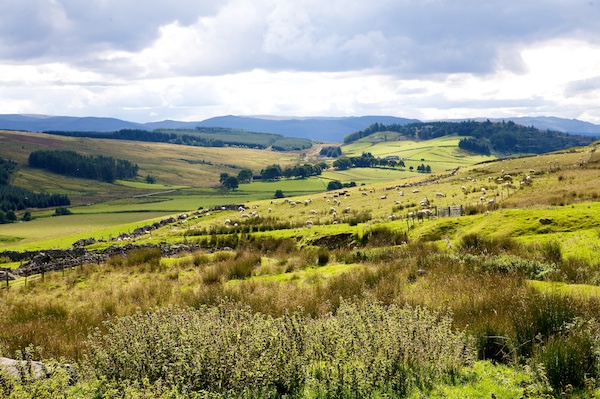 I rode a young, five-year old chestnut Thoroughbred named Meg, who had a lot of energy. We trotted and cantered on our ride, as we traveled through beautiful farmland, along quiet lanes and then through some overgrown trails and down to the shores of Loch Ness.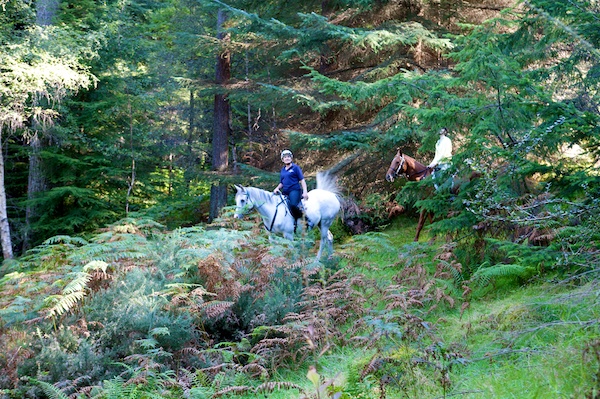 As we reached an area with a clear view of the Loch below, a motorboat passed causing the water to ripple in a weird way. This, Candy said, is what some people mistake for Nessie. I could see how people would think that this rippling looked like the ripples on a monster's back.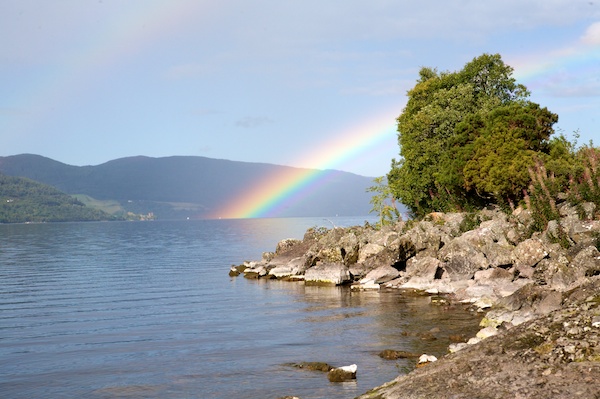 The ride was certainly an adventure, and by the end, I was glad that we would be exploring the loch on a boat the next day, as I was thinking that I might be a tad bit sore. As we left, we spotted a rainbow over Loch Ness and were lucky enough to capture it on film and in the above photograph.