Scotland- Blair Castle Pony Trekking Video
Pony Trek through Scotland's Highlands at Blair Castle
At Blair Castle in Blair Atholl, I took off with guides Vicki and Hamish on an all day ride in the rugged and romantic Highlands.
I rode Gorm, which means blue in Gaelic, an eleven-year-old Highland Pony. Gorm is strong and stocky, the classic "type" for a Highland Pony. He reminded me a little of the Icelandic horses. I was riding lower to the ground than I usually do at home, because Gorm is a pony and shorter, but because Gorm was so strong, I felt like I was whizzing along in a low riding convertible.
Blair Castle History
Blair Castle has been the seat of the Dukes and Earls of Atholl for over 700 years. This large, white castle looks like it is out of a fairy tale, especially when a couple of times a day a man dressed in a kilt and Highland garb steps outside to play his bagpipes. The music can be heard throughout the estate grounds.
Blair Castle still retains a private army, the Atholl Highlanders, which Castle literature claims is Europe's only remaining private army. They are merely for show today and to help keep Highland traditions alive.
Riding Highland Ponies
We rode our ponies from the stables to do a lap around the castle. On the backside in the grass, we were able to pick up a canter for the first time. My pony was so thick and stout that I wasn't sure that he could actually move very quickly. Gorm was happy to pick up a canter, and we flew, following Vicki on her horse through the soft grass. Though Gorm had an affinity for grass (don't all horses), and did try to eat every chance that we stood still, he would prove to be the perfect mount for our day of trekking.

We rode through the old part of the estate over a stone bridge to see the homes of some of the estate staff. The estate itself is vast with over 145,000 acres. On a high hill later in the day, I could see for miles and all of that land that I could see was estate land. In a nearby field where many of the foals were roaming around with their mothers, Vicki told me more about some of Blair Castle's award-winning Highland Ponies.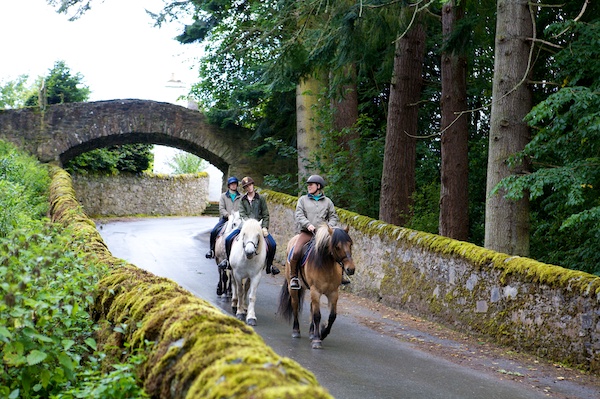 One of the foals was keen on walking beside us as we rode the fence. I love how curious foals can be.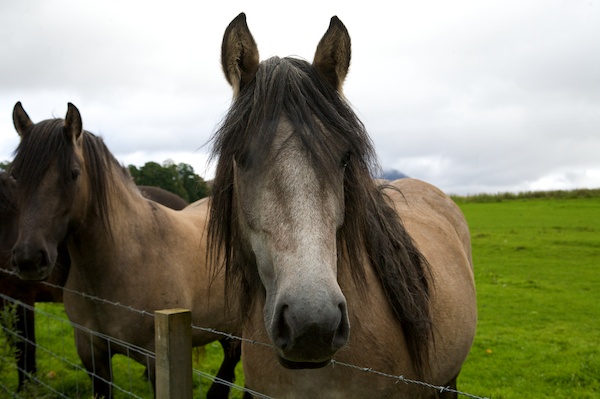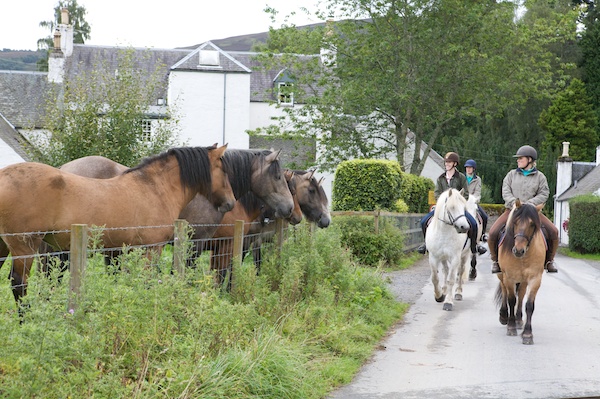 Pony Trekking Since the 50's
People have been coming to Blair Castle to try pony trekking since the 1950's. The 10th Duke of Atholl originally set up the trekking program to give these strong ponies a way to stay fit during the summer season. Throughout history, hardy Highland ponies have eaten what they could and lived throughout the year outside in the Highlands.
Surviving the rain, sleet, snow, gusting winds and other trying weather conditions, these ponies have grown strong and somewhat fearless. Vicki explained that the pony trekking originally began because these ponies would get even more fit and strong during hunting season. They needed to do something to keep the ponies fit when they weren't out deer stalking, so people started riding them into the Highlands on summer treks.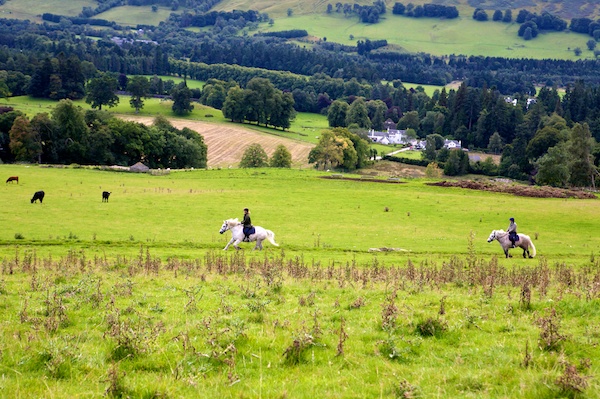 We climbed up into the hills to take in views of bright green pastureland and the castle far below. We were able to have a few more good canters as we rode through the patchwork countryside, before stopping for lunch at a section where the manicured grassland gave way to the higher, wild moors.
Here, we had a nice picnic of hot soup and sandwiches. Above us stood Blair Cairn, our final destination. A cairn is pile of stones that is used as a marker, almost like a road sign. Cairns have various other uses in Scotland and beyond.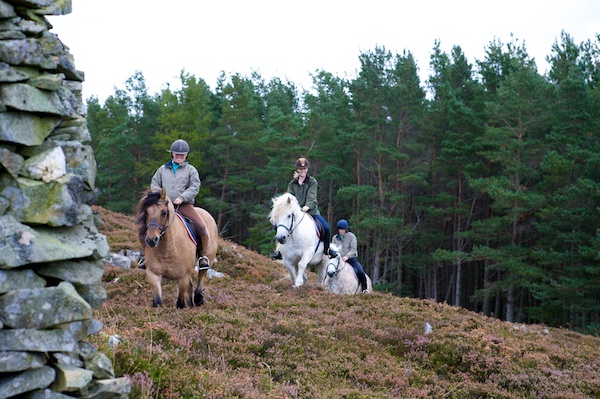 Blair Cairn in particular denotes one of the highest spots in the area.
Our ponies had no trouble navigating the moors, which were covered in beautiful purple heather, on our way towards the cairn. Vicki told me to let Gorm pick his path through this area of heather and bogs. You don't want to step into one of the bogs and neither do the ponies.

The ponies live out in this area year-round and know where to step. They are very sure footed. Gorm zig zagged through the moors, attempting to eat heather and whatever else he could as we wandered, but we never once stepped into a hole or bog. It's places like the moors of Scotland, where Highland ponies are the best way to travel.

Of course, my trek in Scotland would not have been complete without some rain. Thankfully, we only had a short shower on our way to the cairn. It cleared once we reached the top, where we took time to take in the beautiful panoramic views of Scotland's Highlands.
How you can go: Learn more about visiting Blair Castle. Each year in August, the castle is host to the Blair Castle International Horse Trials and Country Fair, a fun, but busy time to visit. The pony trekking is open from April to October. Learn more about riding at Blair Castle.
Learn more about great places for riding vacations around the world. in the Equitrekking Vacation Guide.