Riding Vacation Options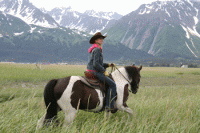 by Darley Newman

When researching different options for your riding vacation, begin narrowing your choices by thinking about what type of vacation you are seeking. Are looking for an American ranch, an exotic, international safari or a relaxing spa escape that allows you to ride as much or little as you choose? Geography and pricing will help you narrow your scope, as will the other members of your travel group.

* Training Trip

A training trip is a great way to improve your riding skills or work on a specific discipline, whether its dressage, eventing, cross country, hunt seat, jumper training or Western pleasure. There are specific training trips for beginning riders, kids, as well special clinics and training trips to help more advanced riders gain confidence.

* Progressive Rides

Progressive rides may include inn to inn rides, camping trips or village to village treks, where you ride to and stay in different inns, campsites and destinations every night. There are many popular progressive rides in Alberta, Ireland and Iceland. Many ranches, family run stables or resorts are set near national parks, forests or ancient trails, whether its Italy, Spain, Wyoming or Australia. These trips allow you to cover a lot of ground and can be a challenging, exciting way to discover a new destination. The trail riding world is your oyster.

* Pack Trip

Pack trips venture into the wilderness and can range from a one or two nights to a couple of weeks. It is essential to pack lightly on these trips, since a horse or pack animal will be carrying your stuff. Your outfitter can tell you the exact dimensions and weight for your gear. Pack trips are a great way to enjoy camping out under the stars and allow you to travel to pristine natural areas. A pack trip can be a progressive ride, but may also take you to a set camp. On a pack trip, you may learn wilderness skills, view wildlife and truly get away from it all.

* Ranch

A ranch is a great family or solo vacation destination, whether you travel to a working ranch or a dude ranch to relax and enjoy the old West. There are lots of options for ranch vacations across the United States and around the world, ranging from rustic working ranches to more resort oriented ranches, where you can horseback ride, but also enjoy being pampered. Look for a ranch that will match your individual or group needs. South America's estancias offer gaucho culture, so that you can get to know South American cowboys and enjoy unique, international cuisine. Some ranches feature special equestrian activities such as barrel racing, cattle drives or roping and focus on bettering your riding skills while others focus on trail riding. Check out opportunities for nearby sightseeing, swimming, fishing, cooking and other activities to satisfy your family or group of riders and non-riders. Many solo travelers flock to ranches for the close-knit, easy going atmosphere, as well as special theme programs.

* Resorts

Many resorts now include horseback riding as an additional activity or as the main attraction. Resorts offer advantages for groups that include riders and riders as they may offer all-inclusive activities in one convenient place.

* Combo/ Multi-Sport Tour

Whether it's hiking, yoga, cooking, the spa, sightseeing, whitewater rafting, golf, skiing or sunbathing, the combo tour allows riders to combine a variety of interests suitable for a family of riders and non-riders. You may even be able to customize your trip, which is helpful fo people who love to ride, but are not in shape to ride all day, every day, or for groups on corporate retreats.

* Women Only Vacations

Girl power never felt so good. Take on new challenges with your female friends, because women only vacations are on the rise. Many ranches now offer Cowgirl Camps and Women-Only Outdoors Programs. If you have a group for a special occasion, many destinations will cater to your needs. All you have to do is ask.

* BYOH- Bring Your Own Horse

Want to bring your four-legged friend along for the journey? Bed and Barns allow you and your horse to stay the night and enjoy surrounding trails, great food, and nearby attractions. For those who enjoy camping, check out horse friendly camp sites. People who ride long distances on their horses know that sometimes the kindness of strangers is necessary on a journey. Your night stay could be in someone's backyard.

* Safari on Horseback

Your safari on horseback might take you to South Africa, India or Alberta. Riding horses can make viewing wildlife more feasible, as you can get to destinations that vehicles can't travel. You may also be able to get closer to the animals without scaring them on a horse safari.
Darley Newman is the host of the Emmy Award-winning Public Television series Equitrekking®, which takes viewers on horseback riding vacations around the world. Equitrekking is broadcast on PBS stations, Create TV and on international networks in over 65 countries.

Learn about equestrian vacations and book a trip at EquitrekkingTravel.com and the Equitrekking.com Vacation Guide.