Riding in Devon, England Part 3
Horse Riding Vacations in Devon, England
by Meg Robbins, Read Part 1 or Part 2
Day 4 to Knightshayes Court:

We all chose the ride to Knightshayes Court as perfect for the kind of day it looked to be; a little gray, possibly late day rain, over the beach ride which I would miss this time around. I had visited Knightshayes, in nearby Tiverton before as a two legged guest, but Zana has arranged with the National Trust to host her riders and their ponies while they tour the splendid house and gardens.
The two and a half hour ride there was over lanes and woodland tracks and we had several good meadow gallops. Zana has spent a good amount of time working out access courtesies with neighboring farmers, which means she has permission to circuit and cross fields and farmland which are generally off reach for horses.

By the time we returned to find our ponies, retack and mount up; the weather had changed to all gray. We grandly filed out of the grounds to our admirers' delight and beat the rain home by galloping up any meadows which fit Zana's query of, "Hmmm… here's a hill just begging for a gallop, what should we do about it?".
The same query came in front of logs in the trail ("Hmmm…here's a nice log in the trail, what should we do about it?") which two of us took to mean jump. Trooper's leap was very unlike my 16hh Archie-at-home, catching me flying a good 6 inches above the Frank Baines which fortunately caught me on the other side, laughing at the good fun of it. The last gallop was an all out race. Fleet Trooper won, but we didn't gloat.

We washed the ponies down on our return and put them out, fed the mares and foals and watched Zana again marshal her herd to high heel it down to winter pasture. Dinner that night concluded with a huge buttery blackberry crumble (West Steart berries of course) lashed with cream which we well deserved after a long day's ride. Long after we'd gone to bed, I heard an owl call, then another and threw open my windows to look for them under the full moon, gave up and fell back asleep to their eery whoo whoo.
Zana also does night rides, a Badger Watch ride, the Beach Ride to one of the loveliest long lonely galloping beaches in England and rides to Dulverton Castle and Dunkery Beacon--way up on the moors. She is working to arrange an overnight at Dunster Castle and on lots of new rides over Exmoor for next year. She says that she now has now an end to the ride we did to Tarr Steps where we continue on from the Steps to the beautiful village of Winsford which has a lovely thatched pub called the Royal Oak which does good food. Riders who book a week's ride are asked to give the chef a night off by dining locally, they can drop you off at the Quarryman's Inn at Bampton (really good food) and also the Stag at Rackenford (another good foody pub). There is also a pub ride to the Red Lion at Oakford whose owner has set up a tie-rail just for the Dales.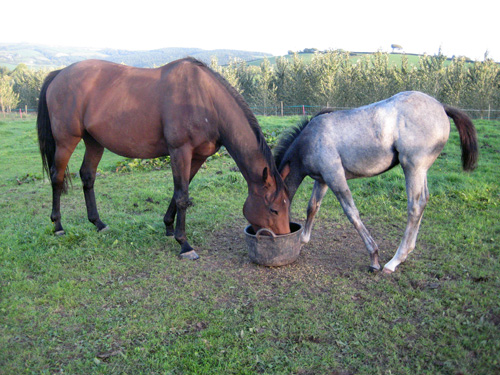 Oh and The Gallops! How many leisure riders get to go on race horse gallops? Provided that people are secure in their canter, they can do the bark -laid gallops that cross the farm's track (after the real race horses have had their go). If they're not very fit, then they stop at the 5 furlong marker rather than do all 8 furlongs. If you are a novice canter riders who really wants to do it, then Zana just takes you along the last 3 furlongs. You can also do the gallops and be evaluated by a real trainer--a total rush. The added bonus for West Steart visitors is they get to enjoy the experience and take in the views because they're not fearful of their lives or of their horses legs, because they are on sensible Dales ponies.
As legions of trekking stables close year after year in the UK due to high insurance and liability, it is good news to know that new ones like West Steart Farm maintain a very high standard, and great rides. I'm headed back there in March for the day beach and badger night rides and a day arranged by Jim at the Cheltenham Races with Zana, Mary and Fiona. If I pick a winner, I'll be back in the fall.
Book this horse riding vacation and other horse riding holidays UK through our sister company, EquitrekkingTravel.com, which features exceptional equestrian vacations for beginning and advanced riders and their non-riding companions.
Meg Robbins, a freelance writer and educational consultant, avidly enjoys riding wherever she travels, but most especially with her five year old quarter horse Archie at home in western Massachusetts. She blogs about traveling on two feet and four at Up the Ben and Down the Boozer: A Boomer's Guide to Walking Great Britain (and some other parts of the planet) and about coming back to owning a horse at Life With Archie: Midlife With Horse.