Horse Riding in Devon, England- Part 2
Horse Riding Holidays - UK Adventures of Meg Robbins
by Meg Robbins, Read Part 1 and Part 3 of this series.
Day 2:
West Steart Farm guests can wake early if they like (I did) to help bring the ponies in from the distant grazing pastures and bring grain to the mares and youngstock. The views across the valley out to the moors, up to the hills and down the green fields, are punctuated by morning clouds and grazing chasers from nearby racing stables. Drumming hooves announce the morning gallops as strings of racehorses sweep by, some mornings appearing ghostly as they gallop in and out of mist. One morning I slept in, was awoken by those hooves, and ran to fling open the window where I had a bird's-eye view of the race horses thundering up the pine barked gallops.

Breakfast is anything and everything. I am not a big breakfast person except maybe on a Sunday when a full English can be quite appetizing, and was happy with the fresh, hot croissants Angela gave me but over the next couple of mornings became a fan of the egg sandwiches that Zana is addicted to.
On my second (first full) day we were headed towards those Tarr Steps, which meant bringing in Trooper and Donna, brushing away their meadow leavings and a hopeless attempt on my part to get all the way through brushing out Trooper's tail which is an effort somewhat akin to combing through a horsehair mattress. We loaded the ponies, their tack and Alfie the dog into the six- horse lorry and drove to a small village about two hours ride to Tarr Steps to offload and tack up. The day was glorious and we had lovely canters up through sunny fields, trotted through forest trails and descended down to ford the River Exe where we greeted with cheers from the two-footed visitors who stood on the steps to watch our progress. When Zana went up to return our sandwich plates, I grazed the ponies and held court for those who wanted to stroke these lovely animals' shiny coats.
We took the route over the high moors back, which was where we met the Exmoor ponies and arrived at the lorry very pleased with our day out. I eagerly made my way through Zana's Cornish pasties at dinner and read some of Jim's racing journals until I nodded off in front of the fire in the lounge.
Day 3:
As two more guests would be arriving midday, Zana offered another hack through local trails and woods or a lesson. I eagerly opted for the lesson as I wanted to be dusted with whatever the magic is Zana uses on her ponies. My own young and still bright green quarter horse Archie- back -home could well benefit from a rider who was able to infuse some of that calm balance into his outlook.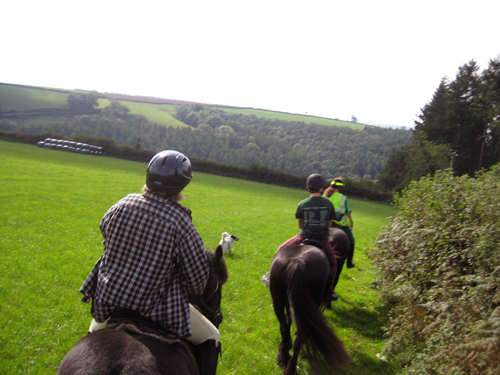 Back on Trooper, comfily ensconced in a Frank Baines saddle (all of Zana's tack is first rate and well cared for) Zana moved my legs, hands and brain. She asked me to visualize pushing forward with my hands and my core muscles when I transitioned to walk, up and down moving into trot and round and round into canter. She showed me how to turn my hands to slide them along Trooper's reins and allow him to drop his head and stretch.

Fiona and Mary showed up while we were working and were ready for lunch and a long ride through the sunny afternoon on local lanes and trails. Fiona and Mary ride together near their home in Cheltenham and take riding holiday breaks away from family and work on a regular basis. This was their first time at West Steart Farm as well. I practiced my new moves during the entire ride, wondering if I would ever get past the stage of pushing out with my hands to move forward.
I drove to Bampton, the nearest large village to get dinner wine and joined Mary, Fiona and Zana for a dinner of homemade pate and chicken breasts, another slice of chocolate roll and some good ghost stories.
Book this Devon horse riding vacation and other horse riding holidays UK through our sister company, EquitrekkingTravel.com, which features exceptional equestrian vacations for beginning and advanced riders and their non-riding companions.
Meg Robbins, a freelance writer and educational consultant, avidly enjoys riding wherever she travels, but most especially with her five year old quarter horse Archie at home in western Massachusetts. She blogs about traveling on two feet and four at Up the Ben and Down the Boozer: A Boomer's Guide to Walking Great Britain (and some other parts of the planet) and about coming back to owning a horse at Life With Archie: Midlife With Horse.