Riding Under the Midnight Sun in Denali, Alaska
Trail riding in Alaska, where travelers can experience diverse tundra and stunning views outside Denali National Park.
Alaska, the Land of the Midnight Sun, has stunning and truly off the beaten path places to saddle up, including in the backdrop of Denali, the tallest mountain in North America whose peak rises up over 20,000 feet. While you can't ride in Denali National Park, you can horseback ride on land adjacent to the park.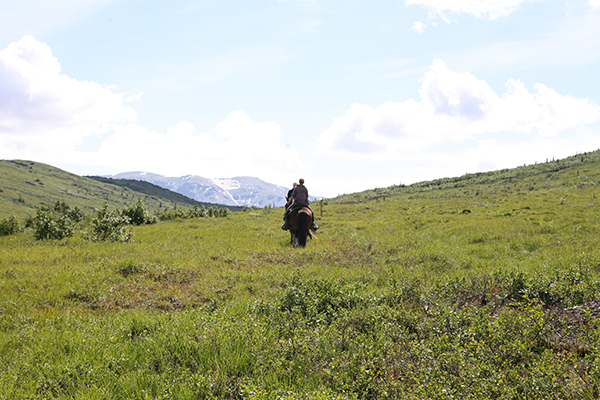 We started our ride at a ranch in the tiny town of Healy located north of the park's entrance. This part of Alaska has a rich mining history and is where Chris McCandless, the subject of Jon Krakauer's bestseller "Into The Wild", died–– evermore proof that you need to be well-prepared for any adventure activity that you undertake in Alaska.
Donning my own tough layers, my hardy draft horse cross took on a steep incline, and I leaned forward to help us ease up the trail. Every new step took us higher up and into more seriously beautiful Alaska backcountry. Though only riding for part of a day, we traversed boreal forest, Alaska's vast tundra and alpine meadows. I was most surprised by the tundra, a treeless landscape that may look barren from afar, but upon closer inspection, reveals colorful lichen, shrubs, moss and resilient flowers.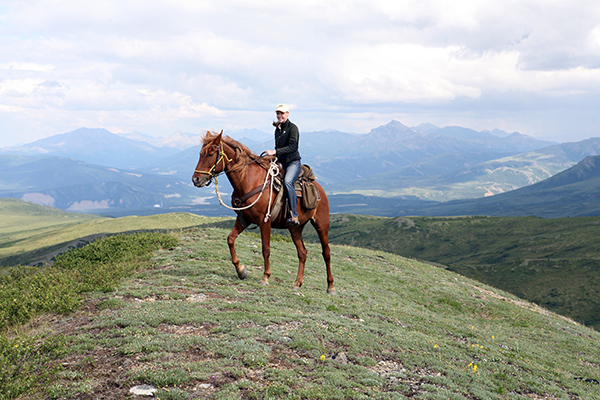 The highest point of our ride landed us at around 3200 feet, looking out over the snow sprinkled mountains of the Alaska Range and Denali National Park. While I didn't see much wildlife, moose are a common sighting on this trail ride, where the views may be some of the best you've ever seen.
How you can go: Denali Horseback Tours runs trail riding tours near Denali, as does D & S Alaskan Trail Rides.