Riding the Kit Carson Trail and Beyond in Fort Stanton, New Mexico
Riding the horse trails in Fort Stanton! Avid rider Caroline McCoy shares inspiring photos from New Mexico on horseback.
Still planning rides between rainstorms. It was Jill's (on the black and white TWH pinto) first time out in six months from bad knee accident from skiing... long recovery. So we were glad to see her back! The group started out before me, as my schedule got messed up. Finally I spotted them way up the Kit Carson trail in Fort Stanton.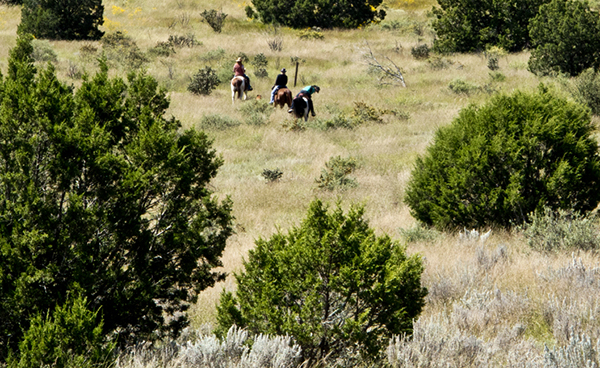 Photo by Caroline McCoy.
I hollered and they saw me a-comin'. Behind me, the Capitan Mountains frame the high desert, all in grasses now.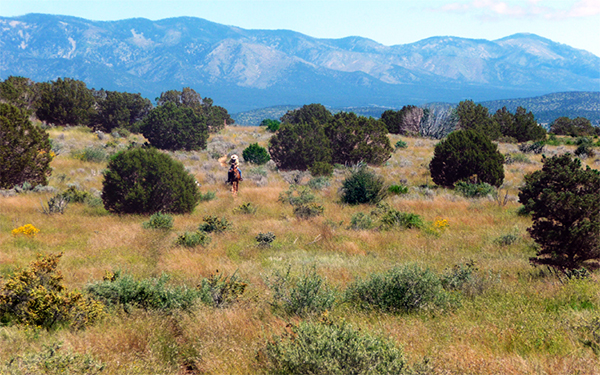 Photo by Annette Wood.
We came loping up with Cody puffing hard. The girls were now in yellow flower territory.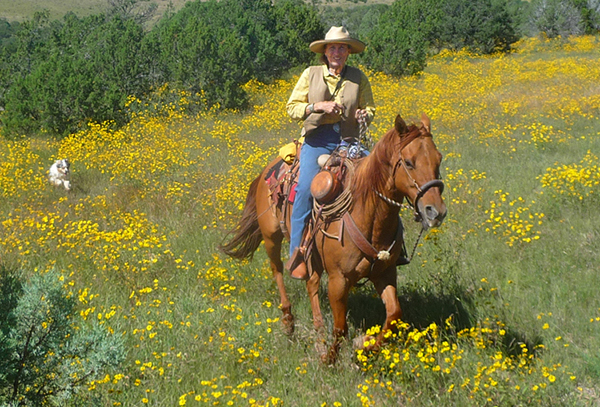 Photo by Annette Wood.
Jill, Annette and Marsha with her Ridgeback and Rhoda were right behind.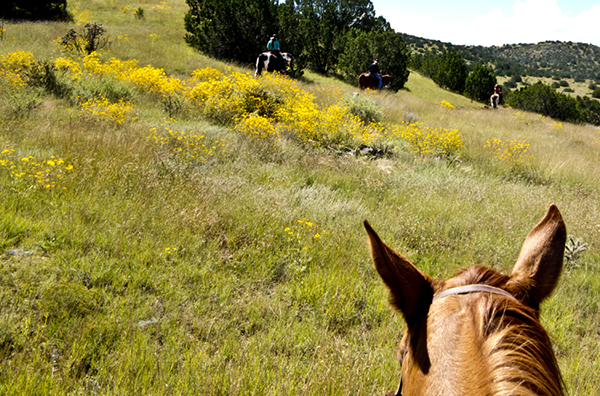 Photo by Caroline McCoy.
Cody on the left says, "Well, are you coming?" The flowers are stupendous, and I can't stop clicking the camera!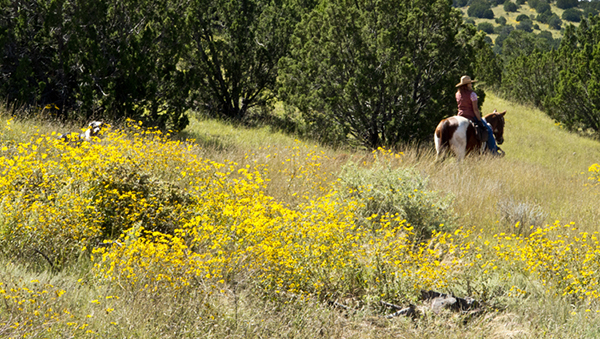 Photo by Caroline McCoy.
Marsha Meredeth Parr was on Huckleberry and ever-present Rhoda; Annette Wood rode her 29 year old Quarter horse Luke. Jill Andrews was on her trusty Sailor. They wanted to be captured with the Capitan Gap behind.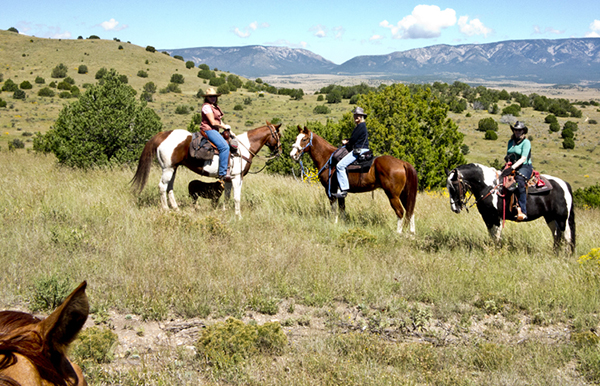 Photo by Caroline McCoy.
From the Capitan Overlook trail, Annette was mesmerized by the western skyline - Sierra Blanca, Nogal Peak, Diamond Peak and Carrizo Mountain.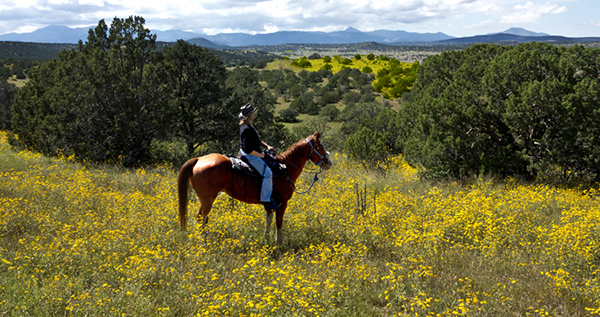 Photo by Caroline McCoy.
Rhoda was almost buried in the flowers. Huckleberry said, "What, no antelope?"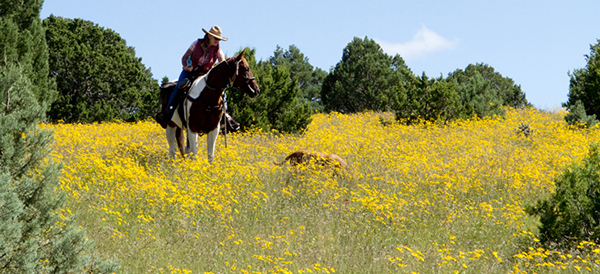 Photo by Caroline McCoy.
"Let's play in the water, Huckleberry!"
Huckleberry said, "I want to get ALL wet."
"But my camera...!" said Marsha.
Photo by Annette Wood.
"Comin' through!"....at a gallop....and the dogs knew it! Luke's ears said, "Welllll, it looks like fun, but I dunno!"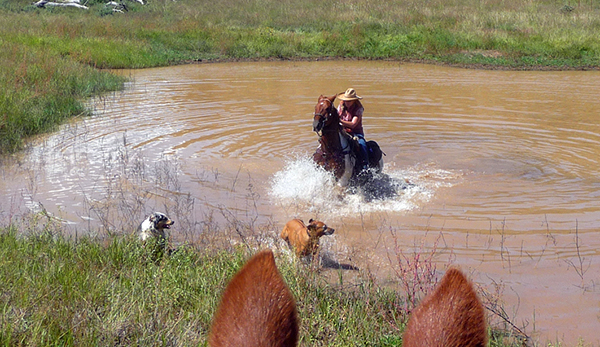 Photo by Annette Wood.
Peach and I discovered some very tall grasses with a yellow sea beyond.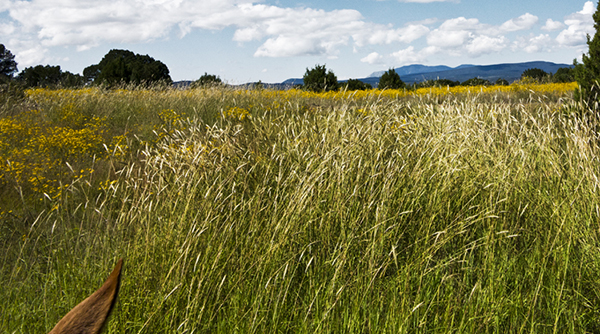 Photo by Annette Wood.
Nearing the Pershing Trail, doesn't this picture belong in some glossy-paged treatise on the glories of Lincoln County, NM?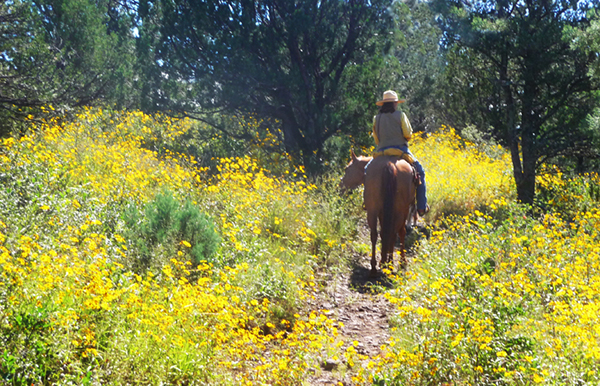 Photo by Annette Wood.
Portrait of happiness... This was Peach's first ride out in her new Bill Black bosal hackamore.
Photo by Annette Wood.
Rhoda had a long ride and sought out a spec of shade while we girls were ooo-ing and aaah-ing at all the vistas.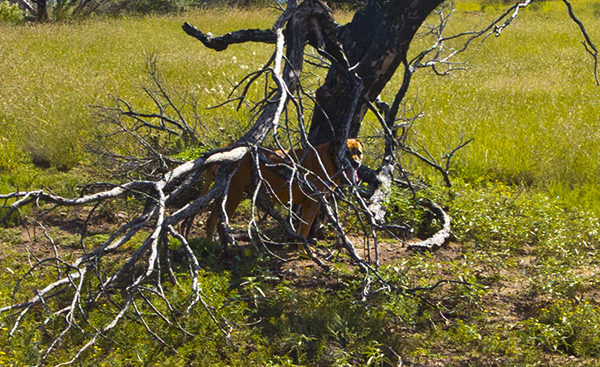 Photo by Caroline McCoy.
So glad we had a few sunny hours, though when I got home I couldn't even make it from the trailer to the corral before the downpour so Peach, Cody and I ran into the hay barn for the few minutes of downpour. Great day!

How you can go: Fort Stanton NCA has 93 miles of sustainable horseback, mountain biking, and hiking trails that wind through open meadows and canyons. Learn more at FortStanton.org and on the BLM's website.
About the Author: Caroline McCoy rides the White Mountain Wilderness and the Fort Stanton Trail system almost every week of the year on her Quarter Horse mare, Peach. McCoy is age 74 and Peach is 14. McCoy hopes to ride her partner 'til the end of both of their lives. McCoy makes a photo-journal of many of her rides and is about to publish a book of these rides. Anyone wishing to be on her "My Rides" email list may request to do so via email.
Check out more of Caroline McCoy's riding adventures on Equitrekking.