Riding on Vacation: Exploring the World Between Two Ears
Whether you are on vacation or traveling for work, why not make time for an equestrian adventure? From trail riding in Glacier National Park in Montana to horseback riding through the mountains of Peru, Equitrekking contributor Stacey Stearns has seen the world from horseback. Here she shares moments from some of her favorite trips, as well as tips for planning your next equestrian vacation.
By Stacey Stearns
Travel is inevitable for many of us, whether for business or pleasure. I developed a new outlook on travel, and plan an extra day or two at a location when possible to go explore the local trails on local horses.
The decision to ride in any location I visit was fueled while whitewater kayaking in Glacier National Park with a group of friends. I was struggling, and feeling that I was spending more time upside down in my kayak than right side up. My friend Melissa paddled up alongside me on a quiet stretch of the river and said, "Look around. Not many people get to see the world from this point of view. Let's enjoy it."
Glacier National Park in Montana. Photo courtesy Wikipedia.
Melissa is right, and it holds true for equestrians too. Not many people have the opportunity to see the world between two ears. Here are a few of the places I've enjoyed the world from between two ears:
Montana.
This was a natural choice; I spent an extra day in Montana after our kayaking trip the following year. We made reservations with the outfitter in Glacier National Park and took a two-hour trail ride. We wound through the woods and caught a couple of glimpses of the lakes. On this ride, I enjoyed the company of the three friends that went with me, and our guides the most. The scenery couldn't quite compare to whitewater kayaking in Glacier National Park, but spending time in the saddle is more conducive to having a conversation than whitewater kayaking is, and I got to know my friends better. I also introduced non-equestrian friends to riding.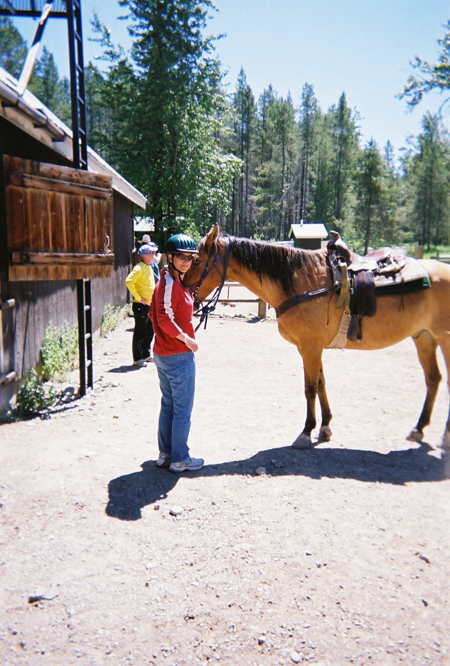 My friend, Dori, prepares for her first trail ride on Bucky. Photo by Stacey Stearns.
Peru.
I arrived in Peru a couple of days early, and we spent a day riding with an outfitter near Cusco. We found this one through a recommendation at our hostel and made our reservations once we arrived after our original plans fell through. It ended up being an ideal option. Peru has a rugged, stark beauty that is so different from New England. I was enchanted. We rode across the tops of foothills in the mountains and looked down on the ruins of Saqsaywaman.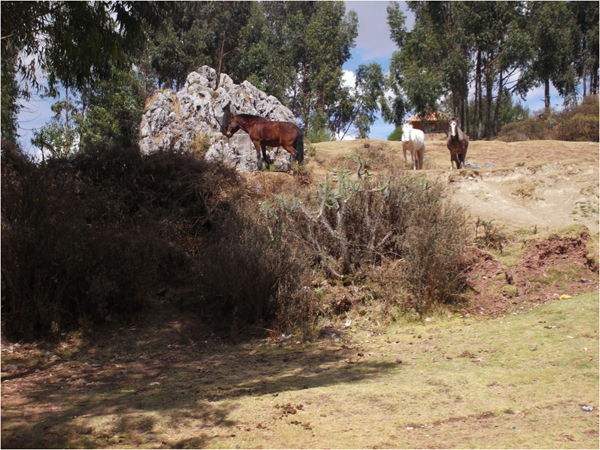 The outfitter's horses in Cusco, Peru. Photo by Stacey Stearns.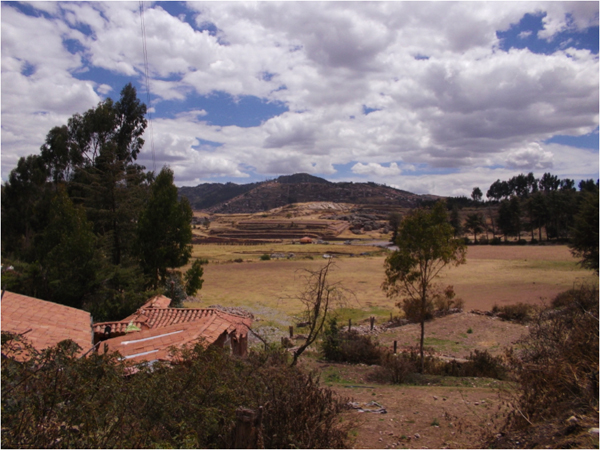 The Saqsaywaman Ruins--one of the many incredible views along our ride. Photo by Stacey Stearns.
There were stretches where we could gallop and enjoy the breathtaking views and freedom from a vantage point few enjoy. We dismounted at one point and left our horses with one of the guides. The other guide took us on a hike up a steep incline, where we saw more spectacular views. We headed back down the other side, and towards a cave. After sliding down into the cave, we walked through the stream, my first experience spelunking, and then out the other side and hiked back to our horses.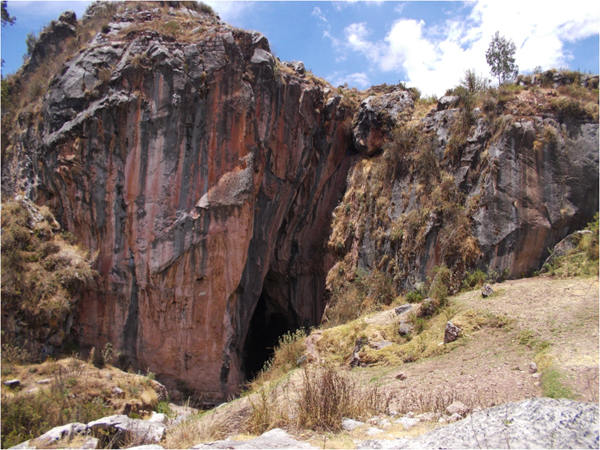 The cave where we went spelunking in Cusco, Peru. Photo by Stacey Stearns.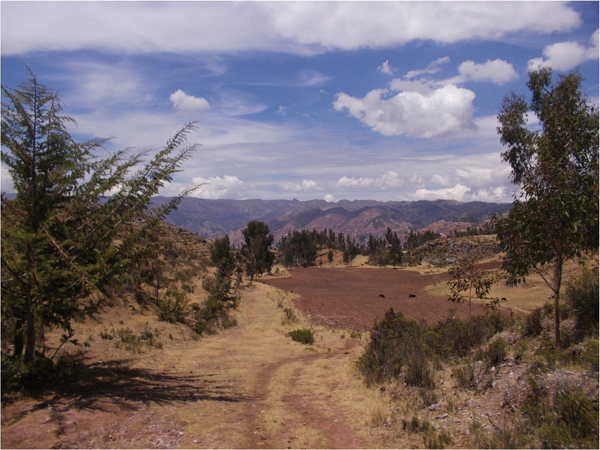 A view of the equestrian trails to Cusco in Peru. Photo by Stacey Stearns.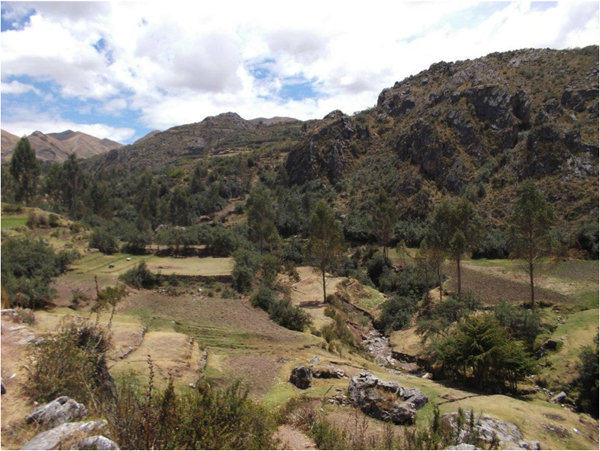 We rode through miles of unbelievable scenery in Cusco, Peru. Photo by Stacey Stearns.
My trip to Peru included white water rafting the Apurímac River, hiking the Lares trek, and a visit to Machu Picchu. The day spent in the saddle set the tone for a wonderful trip and holds some of my favorite memories.
Patagonia.
Far and away the prettiest ride I have been on to date, although I continue looking for places that can match it. We were white water rafting the Futaleufú River and our outfitter planned a rest day of horseback riding. A constant theme on all of these rides is that my companions don't ride, so for the most part, there was a lot of walking. However, one of our river guides is an equestrian, and he knew that I was too. We rode away from the rest of the group at one point and let them get ahead. And then we galloped to catch up. The power of our horses was exhilarating, the trees and scenery a blur as we raced through the countryside. We rode through the bluest river, picnicked on the banks of the river further upstream at a waterfall, and were surrounded by mountains and the enchanting charm of Patagonia. On the ride back we rode across a bridge suspended over the river that swayed as you crossed. We could only have one horse on the bridge at a time.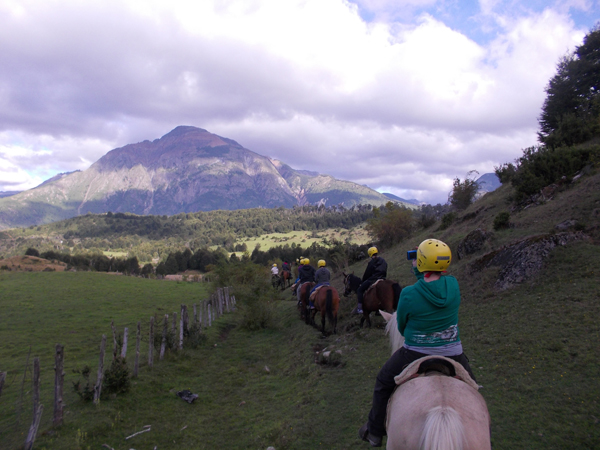 Can you believe this view? Our group enjoyed breathtaking mountain views while riding in Patagonia. Photo by Stacey Stearns.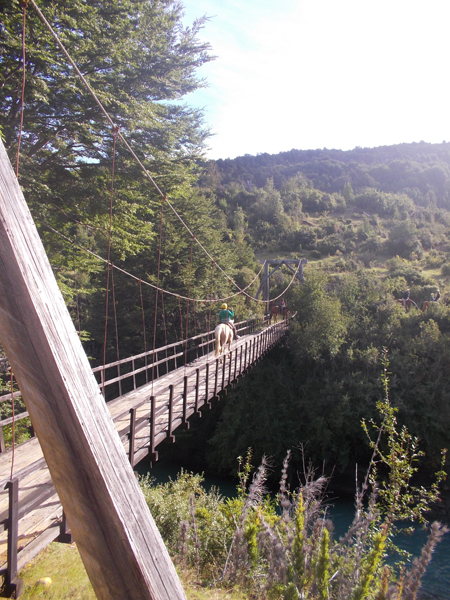 A true adventure! Only one horse and rider could cross this bridge at a time. Photo by Stacey Stearns.
Arizona.
I was headed to Arizona for the Young Dairy Leaders Institute, and a group of us decided to add some vacation days. We visited the Hoover Dam and the Grand Canyon, before finding our way to the Saguaro Lake Guest Ranch in Mesa. We went riding with their outfitter during one of our days at the ranch. Our group included a friend who is not comfortable around horses at all, but the guides were exceptional and kept everyone happy. This ride was a new experience for me – I'm used to watching out for my knees as a wind through woods trails, but cacti are even more unforgiving than trees! You could reach out and touch them, not that you would want to, as we wound our way through the desert. We rode through the river and up to an overlook of Saguaro Lake. After that ride, I started the conference in the right frame of mind.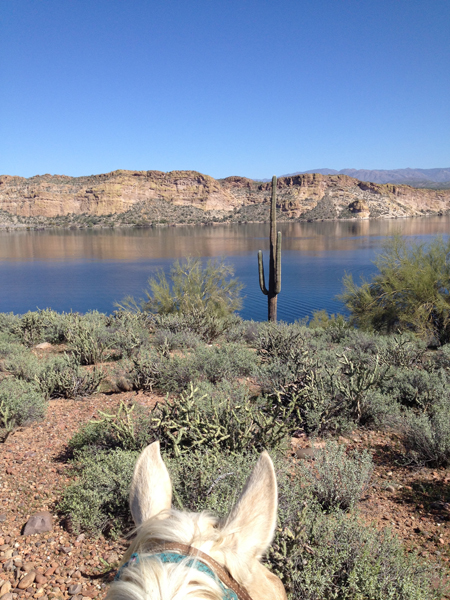 Stopping to take in the scenery at Saguaro Lake in Mesa, Arizona. Photo by Stacey Stearns.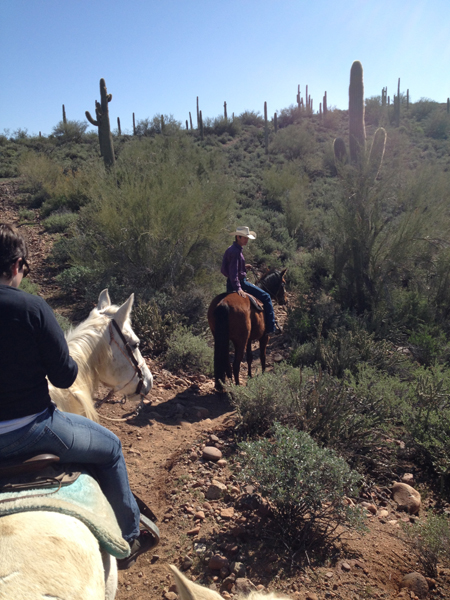 Our group enjoyed an incredible ride through the desert at Saguaro Lake Guest Ranch in Mesa. Photo by Stacey Stearns.
Are you planning a family vacation or business trip? Here are a couple of tips to make sure your time in the saddle is well spent:
Find a reputable facility. Search Equitrekking, and then visit the website and Facebook page of the stable or ranch, and read the reviews.
Dress appropriately. I don't pack riding pants or a helmet, but I do bring a pair of riding boots and jeans that are comfortable to ride in.
Plan enough time. Most of the rides have a set amount of time (e.g. a two or three hours, or a half day ride). Remember that you'll also need to find the facility, tack up, and un-tack. I try to block out the day, and then find something else nearby to explore with any extra time.
Saddle up and have fun. I go on a ride with no expectations other than to enjoy it. Each horse, location, and experience has something new to offer. Enjoy the ride!
About the Author: Stacey Stearns is a lifelong equestrian from Connecticut. She lives on Mountain Dairy in Mansfield, her family's dairy farm, and enjoys trail riding and endurance with her Morgan horses