Riding Missionary Routes through Africa's Salt Pans
The Makgadikgadi Pans in Botswana is the site of an ancient super lake about the size of Portugal. These salt pans, one of the largest on the planet, are otherworldly and amazing to explore on horseback–– if you're properly prepared for the elements.
by Darley Newman
Riding out of the grasslands and onto the pans, which for miles and miles are devoid of water in the dry season, you truly feel like you're on another planet or perhaps the moon. This is an area where you definitely don't have to worry about fences. There are endless expanses for faster riding and during certain times of the year, you can see one of the largest zebra and wildebeest migrations in Southern Africa.
We trekked along a route known as the "missionary track" on the Botswana Makgadikgadi Pans Safari. Our route followed where David Livingstone, one the first Europeans to successfully explore the interior of Africa and a well-known missionary, is thought to have crossed in an oxcart the 19th century. When he first came upon the pans, Livingstone may have thought the shimmering white, salty expanse looked like a lake, but he came to know all too well the challenges of crossing this desolate and harsh area. I, too, would come to know them, but with the benefits of modern tack and technology.
Blindingly white in the sun, the crusty surface is so saturated with salt that nothing grows here. You'll want to wear layers when exploring the pans, but I also suggest a light scarf - it comes in handy when the dust starts blowing and for protection from the sun.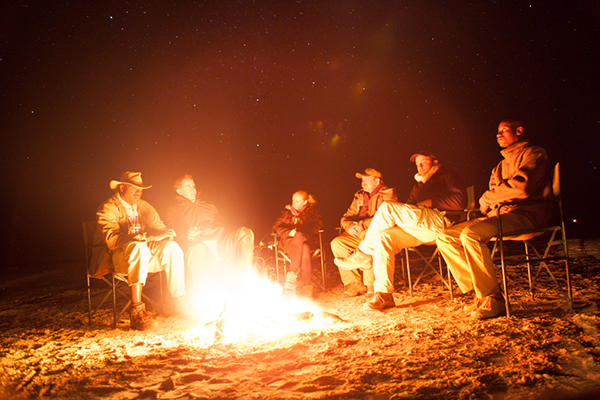 The best star gazing ever on the Makgadikgadi Pans in Botswana. We set the camera up and left the shutter open for a long time to get this shot. It was one of the coolest campouts ever.
After camping out one night amid pretty chilly temperatures, we awoke to more adventure. After exploring more of the Pans, our guides spotted a whirling storm in the distance. It looked like a mini-tornado. Quickly gathering our things, we attempted to ride fast away in time to beat the storm. I wrapped my scarf around my face, feeling the rush of danger and excitement as we picked up the pace, getting pelted with the saltiest exfoliant I'd ever experienced. It was the most interesting natural spa experience I've ever had! And it was on horseback!
If you travel to this remote and beguiling part of Africa, be prepared for the elements and a rare, once in a lifetime adventure you won't soon forget.
Learn about the Botswana Makgadikgadi Pans Safari and how you can go on EquitrekkingTravel.com, where equestrian travel specialists can help you plan your riding holiday.