Riding in Texas at Big Bend Ranch is Not For the Timid– Or Rookies
Learn about a scenic and sometimes daring horseback ride through the rugged and remote terrain of Texas' largest state park, part of the Equitrekking 50 State Trail Riding Project.
article and photos by Steven Long
I'll never forget our friend Rachel's plea after we reached a small plateau about a quarter of the way up on Big Bend Ranch's imposing Las Cuevas Amarillis, in English, the yellow cliffs.

"They are going to have to take me out by helicopter because I'm not riding back the way we came," she said. The urban and urbane Houston woman was an experienced equestrian, holder of loving cups and ribbons on Jo Bob, a nationally acclaimed show horse. Her best work was in the arena, and decidedly not on the trail, and emphatically not at the most rugged and remote trail destination in the United States, Texas' largest state park.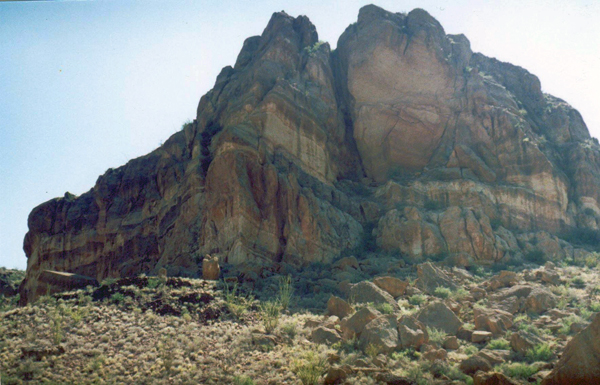 Las Cuevas Amarillis.
Big Bend Ranch sprawls, all 311,000 acres of it, in Brewster County along the Rio Grande bordering Mexico. The closest large city, El Paso, sits in the middle of the Chihuahuan Desert 200 miles away. It's not by accident that the park's slogan is "Welcome to the Other Side of Nowhere." It's that remote. The land is crisscrossed by ancient animal trails. The terrain is most closely compared to riding a horse across a moonscape. There is simply nothing quite like this land formed by water and volcanic eruption 600 million years ago.
More stunning and dramatic views in Big Bend.
The place is massive. It boasts 238 miles of multi-use trails. It was on one of those trails that Rachel first threatened the helicopter extraction. Our party of five riders was being guided by one of the state's guide/contractors who actually rides his horse across the Rio Grande each day to come to work. Let's call him Pedro. Anyway, we had been riding over low hills, mounds really, to a point that the trail veered sharply to the right. Petro calmly made the turn as did each of us dutifully following. Suddenly, we were facing terror. We were on a narrow ledge and there was no turning around, no backing the horse up.
Thankfully, Rachel was second in the line, otherwise I'm not certain she would have ever made it without the remaining four of us pushing her forward through peer pressure.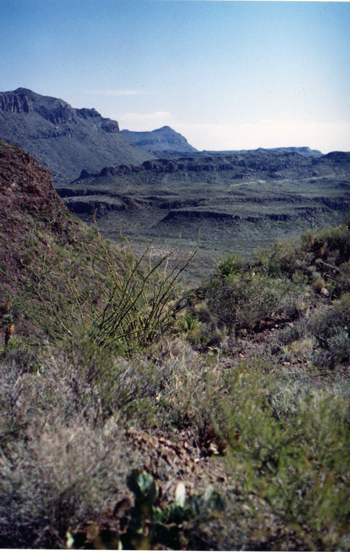 The view from the ledge.
You see, I looked to my right and there was a sheer cliff two feet from my shoulder. To my left, just another two feet, was a drop off of 400 feet. Directly ahead, the sharp spines of an ocotillo thrust themselves across the narrow trail. It was clearly the most challenging and frightening thing I have ever done on the back of a horse. Yet on the other side, the reward was great. The ledge we were riding across continued for 30 yards before we were back on safe ground.

We then were confronted by a tunnel of bamboo which emerged at our destination, the base of Las Cuevas, the imposing mountain with a yellow face. Petro pointed his horse up a steep, but rideable incline strewn with beach ball size boulders and tiny fist sized cactus. We climbed for a hundred yards, and then were on flat ground. There we would lunch on meatloaf sandwiches quickly thrown together from dinner the evening before. I dismounted from my livery horse, an ap called Care Queso who had dutifully delivered me to the ancient camp. All around me were prehistoric petroglyphs put there 10,000 years before by ancient man. I ground tied the horse who I knew was going nowhere because that meant more work for the horse whose name, I was told, was translated as Cream Cheese. There was no dignity to be had riding that horse but he did his job.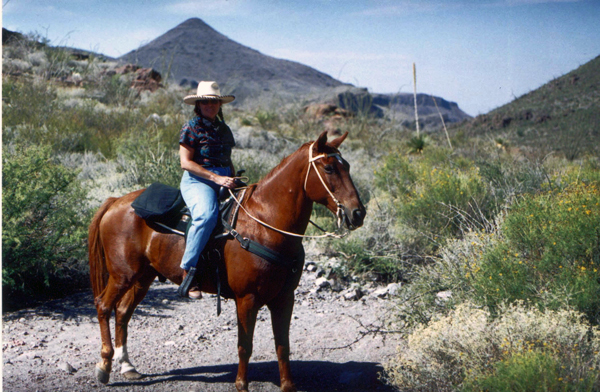 Vicki and Amigo riding Big Bend.
Rachel's husband reached into his pocket to theoretically call a rescue unit for his terrified wife. There was no signal, and our girl had to muster the courage to extract herself from the Yellow Caves of the Big Bend. To her credit, she did so and more, and came back telling of the ride of her life.

Big Bend Ranch State Park offers approximately 238 miles of multiuse trails that are suitable for horses. Horseback riding is also allowed in backcountry areas except where specifically excluded.

Guided tours, trip options, and rental horses are also available from Lajitas Stables, the park's equestrian outfitter.

Visitors are welcome to bring their own horses to the park. The park charges an equestrian fee of $2 per horse per day, in addition to other park fees. All users must obtain a backcountry use permit for day use or overnight stays. Equestrians must bring their own weed-free horse feed. All horses must have documentation of a current Coggins test. This rugged country is hard on horses and horseshoes, so make sure that you and your horse are physically fit. Call the park ahead of time to ask about the availability of water for your horse while on the trail.

Five equestrian-oriented campsites are available, most of which offer corrals and water:
Big Bend Ranch State Park is located between Lajitas and Presidio on The River Road, FM 170. The entrance fee is $5 per person. Kids under 12 are admitted free. You may make reservations online or by phone at 512-389-8900.

About the Author: Steven Long is Vice President of the Texas State Horse Council and editor/owner of Horseback Magazine. He is the author of five books, two novels, Sauceda and Ruby's Passing, which are set at Big Bend Ranch, and renamed for fiction, Sauceda.