Riding Horses at Flowerhill in Ireland's Galway Countryside
"Bíonn grásta Dé idir an dialait agus an talamh.......The grace of God is found between the saddle and the ground"
Nestled deep in the Irish Countryside you will find an Equestrian Oasis known as the Flowerhill Equestrian Centre. Be prepared to enter a world where time has stood still and you are transported back to old Ireland.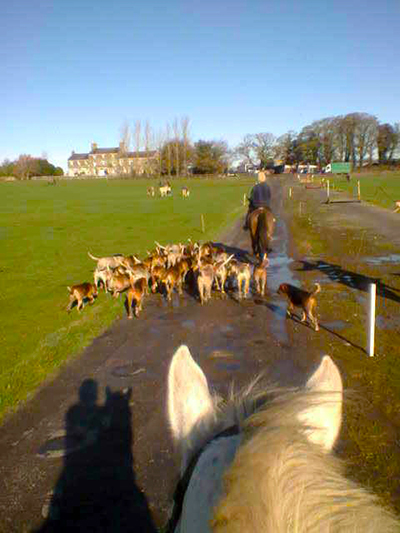 As I entered the estate and made my way up the long drive I was flanked by lanes of jumps and fields of horses grazing on sweet green grass awaiting my arrival. The road turned softly to the left and I headed towards the main yard and that was when I saw the grand old country house set up high at the top of driveway–– the Flowerhill House, built c.1760, took my breath away. Flowerhill is very special place which offers fun, laughter and of course a warm Irish welcome–– just open your mind and enjoy the ride!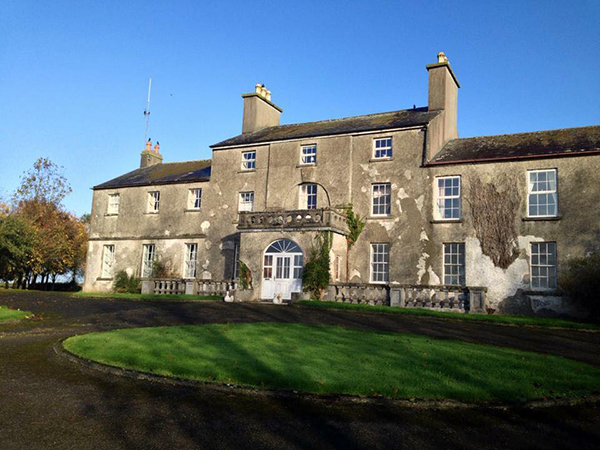 Adventurous, exhilarating, relaxing, life changing, experience your dream- these are not the "nose to tail" horseback riding vacations you may have done elsewhere. Allow me to introduce you to the illustrious Oliver Walsh, owner of Flowerhill and Huntsman of the Roscommon Hunt. Oliver and his team make your safety, comfort and enjoyment their top priority.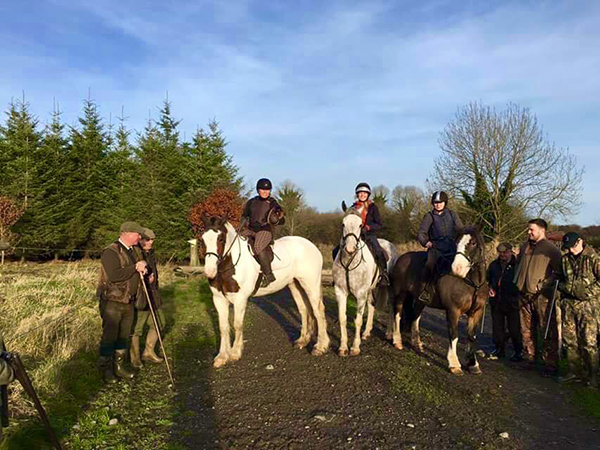 Riding at Flowerhill has allowed me to complete three of my bucket list items: to ride out with the hounds, to ride to the pub for a Guinness, and to jump amazing natural jumps (the ones that don't breakaway when you hit them) as well as traditional Irish stonewalls! Here is your opportunity to ride and enjoy the brave Irish Hunters and Sporthorses, open into a hearty gallop behind the hounds and enjoy the fun loving Irish horsemen that will make this one of the most memorable experiences you will ever have.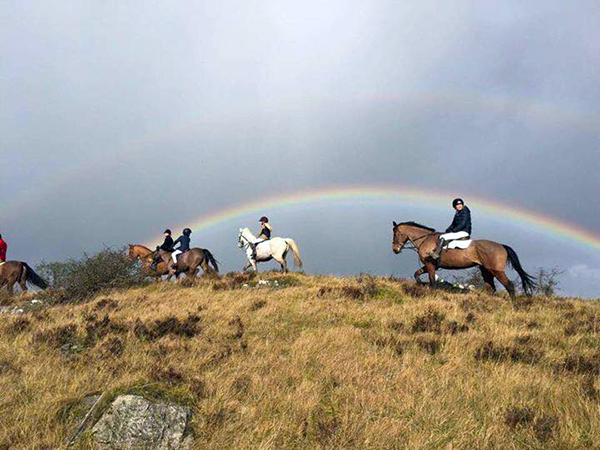 My travel tip is that If you haven't been riding for a while, get a couple of "tune up" lessons before you go. Brush up on your skills while making sure you don't spend the first part of your vacation with weak legs and screaming muscles!!!! Always be honest about your riding ability, and the type of riding you enjoy – that way you can be matched up with your ideal animal. If you say you're a stronger rider than you actually are, the horse will find you out – guaranteed! Oliver takes excellent care of his horses and all of his horses are incredibly fit and healthy, and trained very well indeed. You will be hard pressed to finder a finer horseman than Oliver Walsh.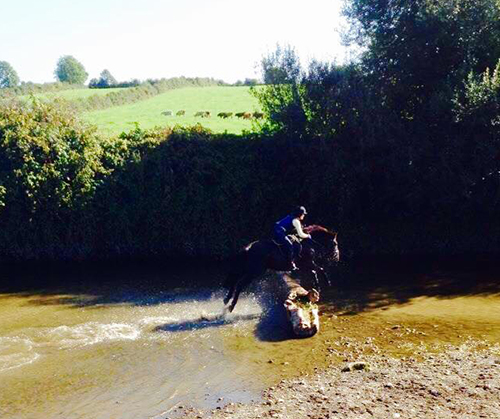 When you retire each day from an invigorating ride on your majestic horse you'll relax in the bijou town of Portumna steeped in Irish history. Visit the historic Workhouse, The Portumna Castle and Franciscan Abbey for a look back at how life here was hundreds of years ago. You can raise a glass of cheer with the locals in quaint pubs while being surrounded by fellow equine enthusiasts from around the world, creating the ingredients for an amazing horseback vacation adventure!

Flowerhill has a way of enchanting you... it must be the the magical waters of the Kilcrow River riders take their horses down to enjoy a refreshing drink mid-way through their cross country ride. It casts a spell and draws people back over and over again to this magical land know as Ireland!
Join me again later this summer as I join Oliver and take you for an exciting look into the fun filed day at the Hunter Trials and the heart pumping Irish Hunt Season... In the meantime check out Flowerhill. Tally Ho!
About the author: Kathy Rutland moved from the USA to Ireland three years ago. After a successful career as VP of Sales & Marketing for a Luxury NY Real Estate Developer she decided to take a break from Corporate America and live in rural Ireland. Kathy led a team of residential sales people and together they sold over 1.3 Billion in property for brands including The Ritz-Carlton. Living in Ireland has given her the opportunity to enjoy the amazing equestrian lifestyle this amazing country has to offer. She's sharing her stories on Facebook through Emerald Glamour.