Riding Australia's Challenging Bicentennial National Trail
Read about a mother and daugther team, who with two little pack donkeys and a trusty Thoroughbred are traveling over 3000 miles across Australia on the Bicentennial National Trail.
by Eliza Allan
It had been my dream for quite some time to save up and take a year off work to travel with my young daughter. But where? And how? Backpacking through Europe? Volunteering in orphanages in South East Asia? We live in a world full of opportunities and choices, and at times it can be hard to finally bite the bullet and make a decision. I knew that I wanted this year to be big- something neither of us would ever forget. I also wanted a challenge; something that would push the both of us out of our comfort zones and force us to learn to draw on our inner strength.
So when I heard about Australia's Bicentennial National Trail, I was enthralled. Previously known as the National Horse Trail, the BNT stretches an incredible 3311 miles (5330km) between Healesville in the south and Cooktown in far north Queensland. It follows the foothills of the Great Dividing Range and the Eastern Escarpment, revealing some of the most spectacular scenery in the country. The trail provides access through some of Australia's wildest, most inaccessible country, and is thought to be the longest trail of its type in the world.

After further research, I found that previous trekkers had tackled the trail by donkey, horseback, on foot, by bicycle, and even with camels. However, not many had made it through the whole 3000 some miles. Being a horse-mad woman from way back, I was sold. I had found our big year, our dream trip, our challenge! I decided that over the course of the next 18 months, I would acquire suitable horses and prepare them for the challenges of the trail.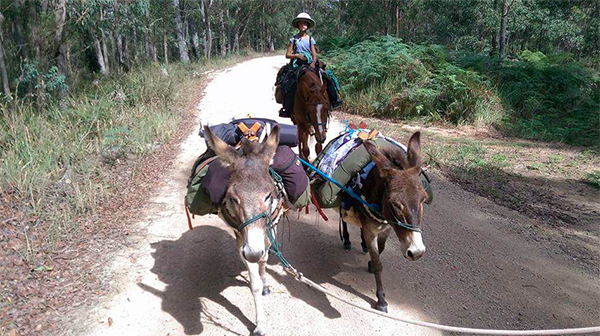 And almost two years on, here we are, six months into our trip and still loving life on the BNT. A few of our plans have changed- we are using two pack donkeys and one horse, for example. My daughter rides our trusty Thoroughbred, Fly, while I traverse the track on foot. Having traveled around 2200km of the BNT, I have decided to rest our three steeds while we cover the next notoriously hot and dry section of the trail by bicycle.
Our time on the trail has been life changing, challenging, and luckily, is usually enjoyable! Being able to live with our animals 24-7 has allowed us to develop a deep bond with them that would be difficult to forge at home. As the BNT is described as being intended for self-reliant trekkers only, we have run into more than a few obstacles.

Trekkers need to be prepared for dogs, locked gates, overgrown tracks and navigational issues. At the same time, we have seen absolutely incredible vistas, with a favorite being the sandstone cliffs and gorges of the Wollemi National Park. This is home to the dinosaur tree, or Wollemi Pine, described as a living fossil from the dinosaur ages.

We also enjoyed the challenge of the Kunderang River Valley, with its numerous river crossings and unbelievably steep climbs and slippery descents. Both humans and animals were covered in sweat and dragging our feet by the end of each day! What a lovely feeling it was to arrive at the end of the day at a beautiful riverbank campsite. We would build a fire and put our feet up, to the sound of our three trusty steeds munching contentedly in the background.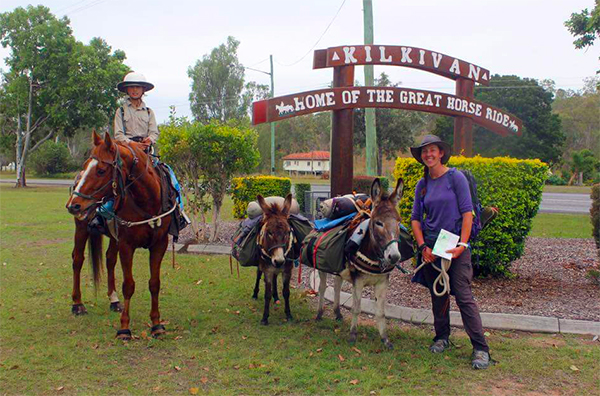 All in all, the Bicentennial National Trail is an incredible resource and well worth a try for those who are up for a challenge. The most successful treks have been by those who are well prepared and have the foresight to anticipate possible mishaps. You will need your own horses and a decent amount of time to get them ready, but the pay-offs of being out in the bush with your beloved animals for a year are well worth the effort!
About the author: Eliza Allan is the creator of Donkey Dreaming, which chronicles her trek along Australia's Bicentennial National Trail with two little pack donkeys known as Basil and Jasmine, a trusty Thoroughbred named Fly, and her 10 year old daughter.