Riding and Packing in the Beautiful Bitterroot Valley in Montana
By Kathy Hundley
The Bitterroot Valley of southwestern Montana has probably one of the most varied resources of potential riding located in our state. From Florence to Darby, a distance of only 44 miles and 45 minutes driving, backcountry seekers can experience at least two weeks' worth of riding consisting of easy day ride loops in the Bitterroot National Forest Horse Riding Areas or up canyon trails that will lead to lakes and can turn into potential pack trips if one desires.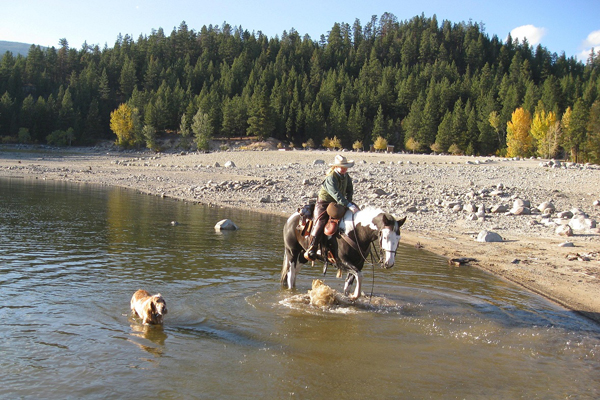 Author, Kathy Hundley with paint mare Gypsy and English Setter Copper enjoy a fall ride at Lake Como, only minutes from the Rock Creek Horse Campground. Photo by Terry Reed
Several of these trails are very easy rides that would be perfect for the novice or young riders, while others can be very challenging for those who like the feel of a rugged trail. One of the most popular horse camps in the valley is the Rock Creek Horse Camp located at Lake Como just north of Darby. The campground is only minutes from the lake and has hay bunks and hitching rails and several slots where horses could also be high lined.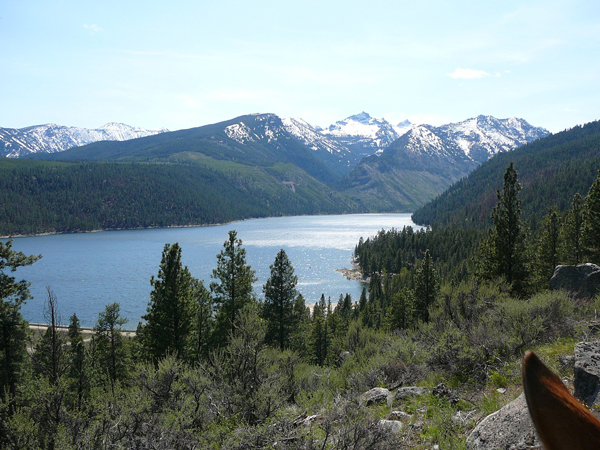 Overlooking Lake Como from a northside trail. Photo by Terry Reed
There are several slots on reserve each day until 6pm for horse users due to the popularity of the area for boaters and campers. From Memorial Day to Labor Day there is a user fee. From this horse camp, several dozen day rides could be taken by pulling out to other trailheads or the horse camper can day ride from the campground itself on miles of trails and Forest Service roads that surround the lake.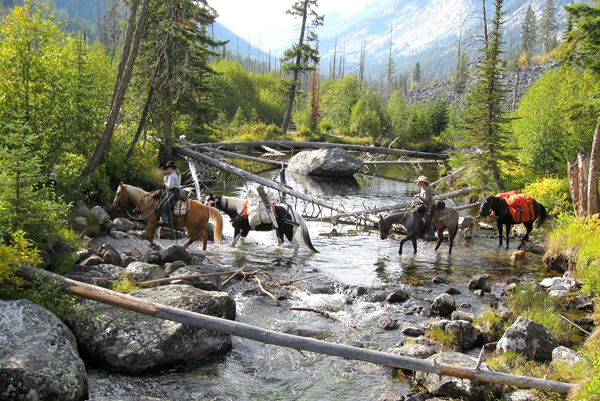 Kathy Hundley & Luanne Bauman returning home after a 4 day pack trip to Blodgett 9 mile meadow. Photo taken from pack bridge by Terry Reed.
One of my favorite trails in the Bitterroot is Blodgett Creek Trail #19 located just west of Hamilton, MT. To get there, travel west on Main St. until you cross the bridge on the Bitterroot River. 1/4-mile past the bridge make a right onto Rickets Road. Drive 1/2-mile and make a left onto Blodgett Camp Road. Follow this road (it will turn to gravel following a 90° right hand turn after approx. 2-miles) and signs to the Blodgett Canyon Trailhead. There is a large stock trailer parking area and other Forest Service facilities.


Terry Reed on the Blodgett pack bridge with a view of rock arch at the top. Photo by Kathy Hundley.
Blodgett Canyon is one of the most picturesque and scenically varied of the Bitterroot canyons. The trail follows the creek westward towards Idaho, offering opportunities for fishing and wildlife viewing and is relatively easy for the first nine miles. There are excellent views of the sheer, towering rock walls of the canyon and good access to some deep wide pools in the creek.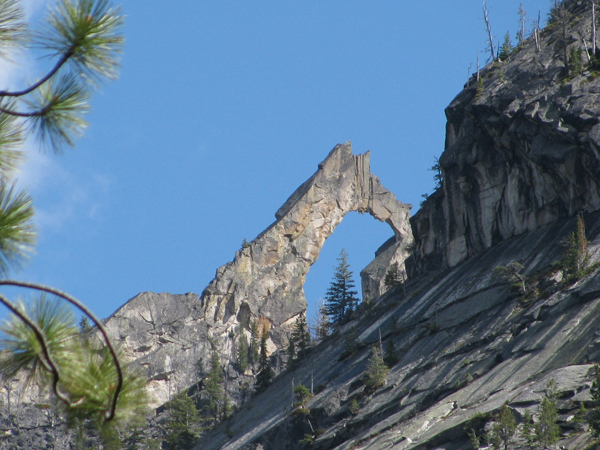 Blodgett Rock Arch. Photo by Terry Reed.
About 300 yards from the trailhead there is a granite memorial next to the trail, honoring a local, fallen smokejumper. At three miles there is a wooden pack bridge that is a favorite photo op spot! Looking to the south and slightly west from the bridge, one can see a natural stone arch on the ridge top. At 6 ½ miles stands the Selway Bitterroot Wilderness sign–– beckoning the horseman into a wild, pristine backcountry experience.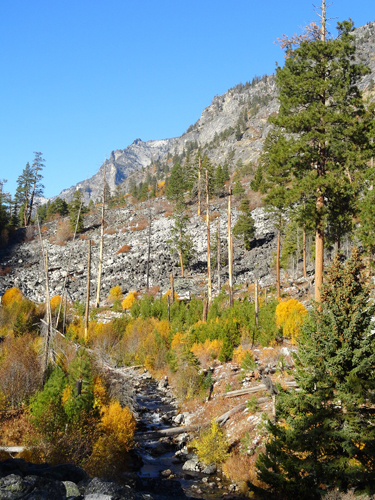 Blodgett's Fall Beauty as the aspens turn yellow against the crisp, white rocks surrounding Blodgett Creek as it flows down the canyon. Photo by Kathy Hundley.
The Selway Bitterroot Wilderness is a vast 1.3 million acre area that holds thousands of miles of trails traversing through remote and rugged terrain. Stock users packing into such areas should practice Leave No Trace, carry certified weed-seed-free horse feed and be prepared for unpredictable weather, possible high water and trails impassable due to downfall. Waterfalls, forever views, mountain goats, moose, bear, abundant flora and foliage that change throughout the seasons and a big, blue Montana sky are Mother Nature at her best.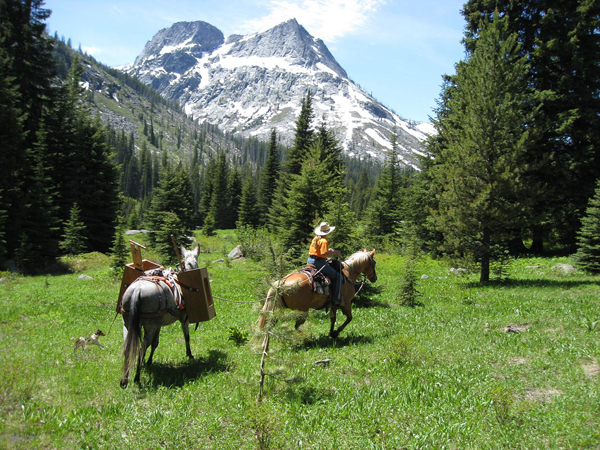 A Selway-Pintler Wilderness Back Country Horsemen volunteer project takes author, Kathy Hundley, and her stock, through 7 Mile Meadow while on a clearing project. Photo by Terry Reed.
Blodgett Creek Trail also offers a wonderful pack trip opportunity having two nice camp meadows for stock grazing & water at 7 miles and 9 miles. Blodgett Lake is 12.6 miles. And, for the most daring rider, there is Blodgett Pass Trail #310 junction heading north at 10.5 miles that would take you, your horses and mules into Idaho if so desired.
Blodgett 7 Mile Meadow offers a great back country camp site for horse packing and fall hunting. Photo by Kathy Hundley.
As usual, always do your homework, take a saw (I recommend a 4' saddle saw) and/or an ax and have fun!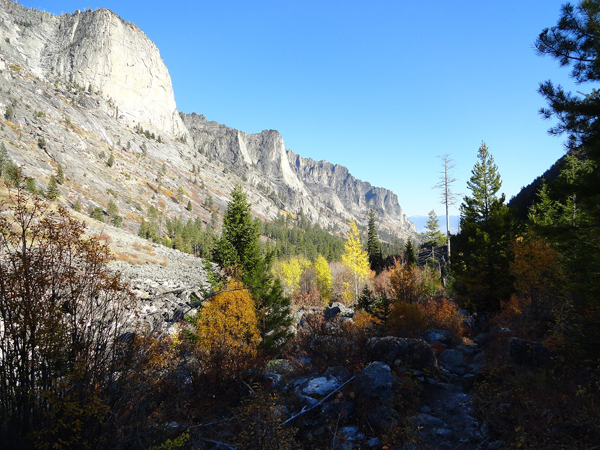 Eastward out of Blodgett Canyon.
All of the Bitterroot Valley trails north of Darby can be found on the Bitterroot National Forest "North Half" map. If a visiting horseman or horsewoman wanted to also purchase the Bitterroot National Forest "South Half" map…he or she could stay and ride the entire summer, riding new country and new trails almost every day.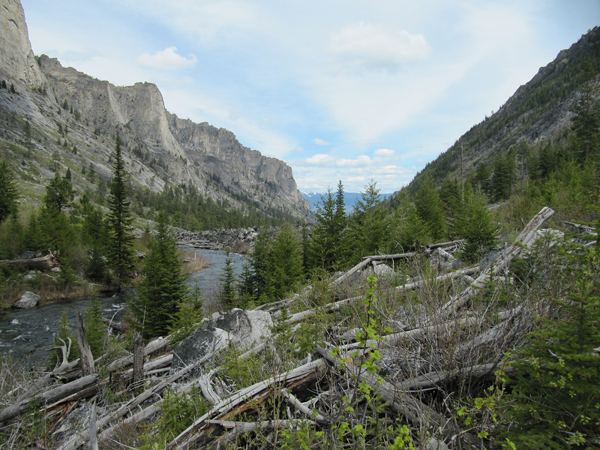 Blodgett Creek as it flows east down the canyon towards the Bitterroot Valley floor. Photo by Terry Reed
About the author: Kathy Hundley lives in Darby, Montana and is a member of the Selway-Pintler Wilderness Back Country Horsemen. With her two horses and two mules, most of her spare time is spent either riding and packing in the mountains for fun or volunteering as a BCH member doing trail work and pack support for the Forest Service.