Riding the Alaska Basin-Buck Mountain Pass
Ride into the High Country with Amy and Maggie of Wilderness Horseback Journeys blog as they take on the Alaska Basin-Buck Mountain Pass in Wyoming.
We did the Alaska Basin to Buck Mt. Pass in early October last year, because of it's high elevation it is recommended that you don't attempt this trail until July. The day we did this trail, was extremely windy and cold. It often can be when you reach the pass so make sure you pack yourself some extra layers. We always go prepared because we never know how the weather may change. Almost everytime we have gone to Alaska Basin we have experienced weather of some sort. Once you reach Buck Mt. Pass you will be at an elevation of about 10,500 feet.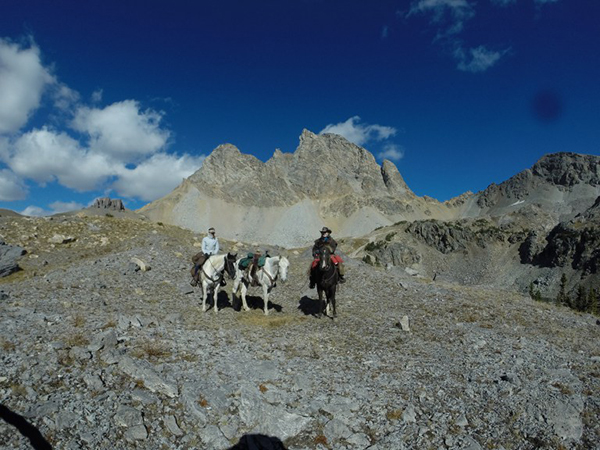 The route we took was an in and out a 21 mile ride. This is a very impressive ride with views of Battleship Mtn, Buck Mtn, limestone cliffs, giant colorful slabs of granite that were smoothed by the glaciers, and high moutain lakes. All of this makes this an amazing pick for our fourth favorite ride of the 2015 season. At the end of this post you will find a map. We have some amazing photos of this ride that really capture the beauty of Buck Mtn and the beautiful granite slabs that you find as you enter into Alaska Basin. Remember all these photos are taken with Maggie's "Tough" camera. We have ridden Alaska Basin several times, but this was our first time visiting Buck Mtn Pass.
Finding the Alaska Basin Trailhead
At the stoplight in downtown Driggs, turn east off Idaho Hwy 33 onto Ski Hill Road toward Grand Targhee Ski Resort. Follow Ski Hill Road for about 6.5 miles where you will come to a sign that points to Teton Canyon on the right. Continue down Teton Canyon road for about 4.5 miles until you come to a giant turn around where you will find the Teton Canyon Campground and the N. Teton Creek Trail that services Table Mtn and Beard's Wheatfield. We park our truck and trailer here even though the S. Teton Creek trail that services Alaska Basin and Buck Mtn Pass is about .1 miles down the road. The parking lot by the Alaska Basin trailhead isn't the best for trailers and most of the hikers park here.
Alaska Basin-Buck Mtn Pass Trailhead Description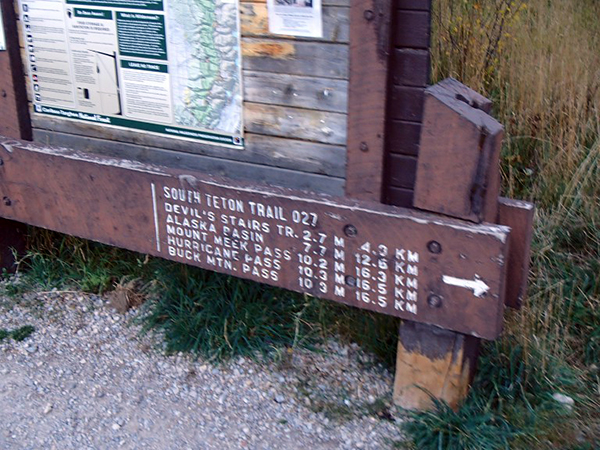 The Alaska Basin trail is a starting point that will lead you to many different trail options such as Hurricane Pass, Buck Mtn Pass, or Mount Meek Pass. All three options will bring you to the Grand Teton National Park Boundary where riders can descend through the park to reach the valley floor of Jackson Hole. In this post, we will be taking you to Buck Mountain pass, however if you are new to this area we highly recommend also trying to take a trip up Hurricane Pass as it will give you an amazing view of the Grand, Middle, and South Teton.
Once you are geared up, ride on down the road about .1 miles where you will cross a bridge and find the trailhead sign for South Teton Trail (027). This is a tough and rugged, rocky ride. The trail however is well marked and easy to follow. It starts out as a wider trail that takes you through a forested area, crossing creeks before the terrain opens up to reveal the canyon floor, wildflowers in July, and the amazing limestone cliff bands. In about 2.7 miles you will come to a sign that points to Devil's Staircase to the right. This trail is not recommended for horses and there is actually a sign at the start of that trail stating not for stock use. Continue straight to reach Alaska Basin.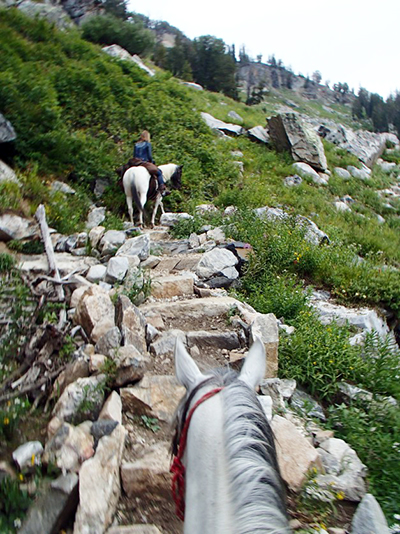 The next five miles takes you through some amazing territory as you approach Alaska Basin. You will be going through some forested terrain and crossing the creek. You will see tributarties cutting through the forest and some small waterfalls. The trail will start to gain elevation as you do a series of rocky stair stepper switch backs. As you get closer to Alaska Basin you will come to the large marbled granite slabs. The colors in this rock are absolutely gorgeous and we have taken many amazing photos here. We ride our horses barefoot, so if your horse is shod be careful as this rock can often be slippery. When you reach the granite slabs the trail can become a little more difficult as you are climbing over and up the rock slabs to reach the trail on the other side. Shortly after you will find yourself at Alaska Basin where the view opens up. You will be able to see Buck Mtn in the distance and there will be many boulders and tributaries from Sunset Lake.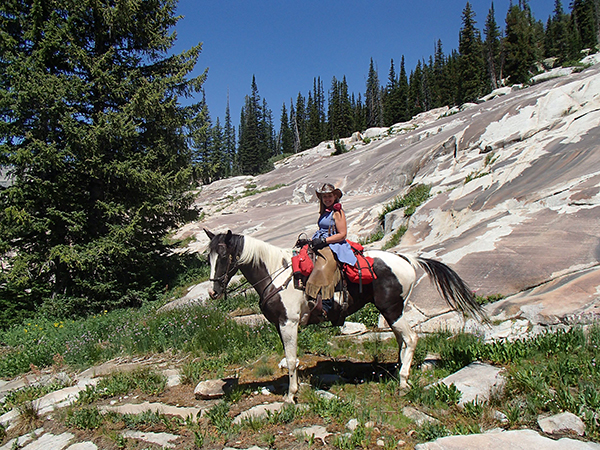 The trail will come to a junction that will leave you with a few options. One of the trails takes you to the Teton Crest Trail to the right that will bring you to Mount Meek Pass. There is also the Alaska Basin Trail to the left that will take you to Hurricane Pass. From this point there are two ways that you can get to Buck Mtn. Pass. One would be heading towards Hurricane Pass. On that trail their will be a cutoff sign that will point you to a trail that will take you to Buck Mtn. The second way would be the way we went which is heading on the Alaska Basin trail to the right that will take you past Mirror Lakes.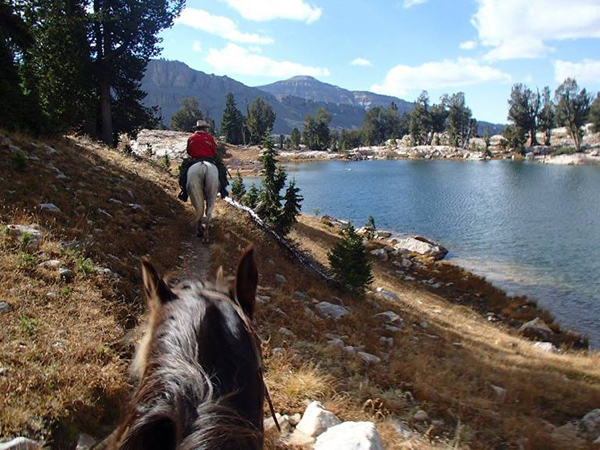 On your way to Mirror Lakes you will pass many small lakes before coming to the big Mirror Lake. Here your view is amazing as the trail winds around Mirror Lake with Buck Mtn revealing itself in the background. The trail starts to gain elevation as it climbs up around Mirror Lake. There will be a few creek crossings as the trail makes its way to the base of the pass. Just before the pass the trail will level out with a cliff band to your right and small boulders surrounding the trail. You will start to see the final rocky switch back that will take you to top where you will get an incredible view. The final climb is a hard one on the horses as you are making the final push that will bring you to about 10,500 feet in elevation. The trail is composed of tight gravel switchbacks and you will be crossing over small loose boulders.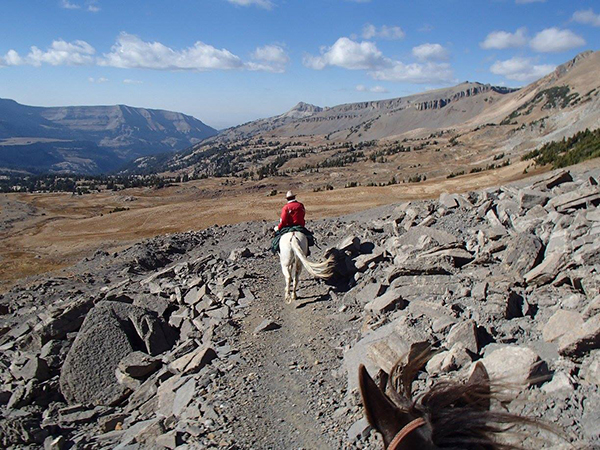 When you reach the top you will have an amazing view. Here you will be at the border of Grand Teton National Park. You will see Buck Mountain straight in front of you. You be looking down on some high mountain lakes as you look down into Death Canyon. We explored a little past here beause the view is breathtaking and unlike any other. It is definately worth the climb. Take your time, breathe in the beauty, and take your fair share of photographs before you turn around and begin your journey home.
Where to Camp?
Before you reach the main parking lot there will be a horse camp on the left side of Teton Canyon Road with horse corrals and a place to park your trailer. There are only a couple camp sites at this location. There are also places to camp along the trail with your horses. You don't need a permit for this area. This is a highly populated trail and you will encounter many hikers so the campsites are first come first serve.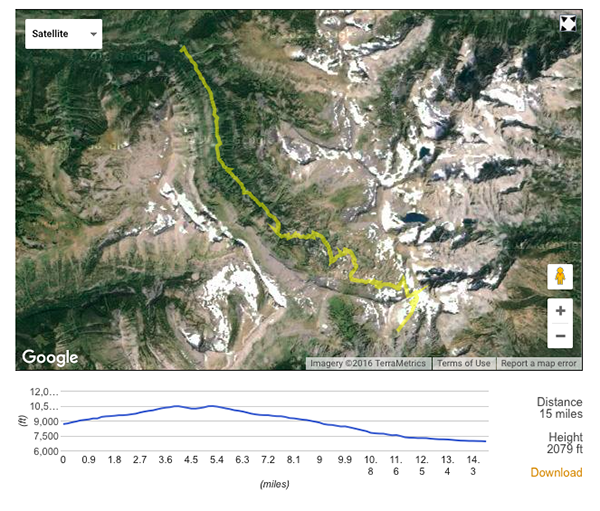 This map was created by the Suunto Ambit2 watch.

About the authors: Maggie Morgan and Amy Ehlers are avid horseback riders and love the outdoors. They are elementary teachers in Idaho so they get their summers off to be adventurous on their horses. Come along with them as they
explore the Rocky Mountain West on horseback. They are lucky enough to live in Idaho and ride in beautiful country in every direction. They have ridden the borders of Idaho, Wyoming, and Montana and have yet to explore other neighboring states. Maggie and Amy have put a lot of miles on their horses, as they explore the high country. Maggie is a HTCAA (Horse Trails & Camping Across America) Posse Member. This is the top trail riding site on Facebook with over 50,000 members and growing. Their rides have become popular through this group. Follow their blog at wildernesshorsebackjourneys.com or like them on Facebook.