Ride Wisconsin: Halls Creek and Bush Lake Flats
Learn about one of the best-kept secrets in Northeastern Wisconsin, a great place to horseback ride that's part of Equitrekking's 50 State Trail Riding Project.
by Patty Wisneski
Wisconsin is a beautiful state and offers many different trail-riding experiences. Riding horses is our heritage; it is important to preserve that heritage.
My name is Patty Wisneski. I am an avid trail rider and the proud partner of my 11 year old Rocky Mountain mare. Her registered name is J & J's Starry Night, but I call her Luna. Luna is the ancient Roman goddess of the moon, sometimes also lunette (Ecclesiastical): the crescent shaped receptacle within the monstrance, for holding the consecrated Host in an upright position. Luna has kept me in an upright position many times over the mile we have traveled together.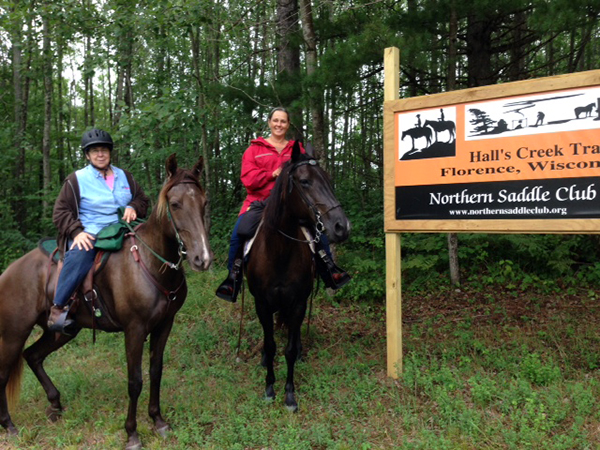 Carol and Bronzo with Patty and Luna at the Halls Creek horse trails.
Our goal is to ride in the lower 48 states of the USA. I prefer to spend the day out on the trail rather than anywhere else. I am a member of the Trails Committee for the Wisconsin Horse Council, and I manage the Ride Wisconsin Program. Riding season is fast approaching, and I definitely recommend that you make Halls Creek and Bush Lake Flats in Wisconsin one of your riding destinations.
Halls Creek horse trails are located in Florence County where over 50% of the land is publicly owned giving you access to miles of riding. The trails are scenic, traveling through a mixture of hardwoods and open fields. The trails are very well marked with white carnite post signs and color-coordinated for easy to navigation. There are many forest roads and the entire forest is open for riding. I have ridden there many times and find this to be one of the best-kept secrets in Northeastern Wisconsin.
The trailhead at Halls Creek provides picnic tables and fire rings as well as rustic camping. Camping is free and no reservations are needed. The camping area now offers a pit toilet thanks to the hard work of the Northern Saddle club, Florence County and a grant provided by Wisconsin Horse Council. There is not yet water available but there is the lake for watering your horses in case you run out of water. The camping area was expanded in 2014, to accommodate even more campers and the campsites are easily accessible to large rigs. When camping at Halls Creek you can use portable fencing or high line, whatever your preference.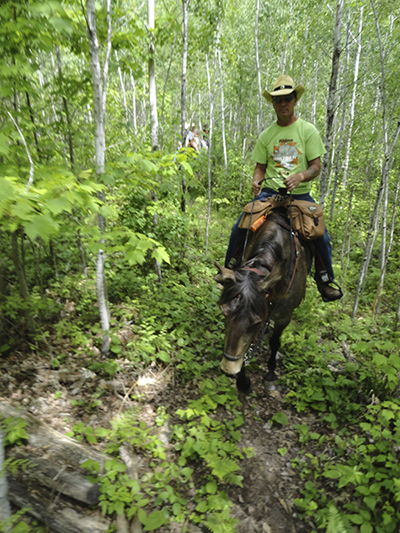 Halls Creek and Bush Lake Flats are located on Florence County Public land which is open for multi-use purposes.
Directions to Halls Creek are as follows: If traveling on Hwy 141 from the South, turn West onto "Hwy 8 West " at Pembine, WI. Go about 1 mile West of Dunbar, turn North onto County Rd U. Follow County U till you come to the only stop sign. It is a 4-way stop where you turn West (Left) onto County Rd C. Go 3 miles; go past LaSalle Falls Rd, past Rifle Range Road-the next road on the right is Halls Creek Rd. Turn Right onto Halls Creek Road that does have an Equestrian sign. Go 1.3 miles to trailhead. Follow horse signs (white fiber glass signs/post) until you reach the Lake where you will see the trailhead on your right. Although this may sound like quite a trip to find the trails, they are so worth it!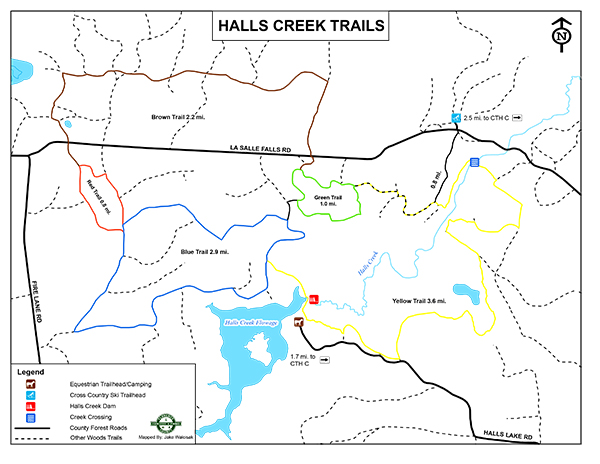 When visiting Halls Creek I would recommend you also check out Bush Lake Flats. The Bush Lake Flats trails are 4 miles West of Halls Creek Road on County Rd. C. Turn Left on Fire Tower Road. Go about ¼- ½ mile, turn Right, there is a well-marked wood Equestrian trailhead sign. The trailhead is about ¼ mile.

Bush Lake Flats trails are approximately eleven miles long, but the entire forest is open for riding. Most of the trail is a single track, with a surface of sandy soil or grass. These are easy trails with no real challenging areas; this makes it an excellent trail for novice riders and green horses. There is free rustic camping available at the trailhead but there are no amenities available.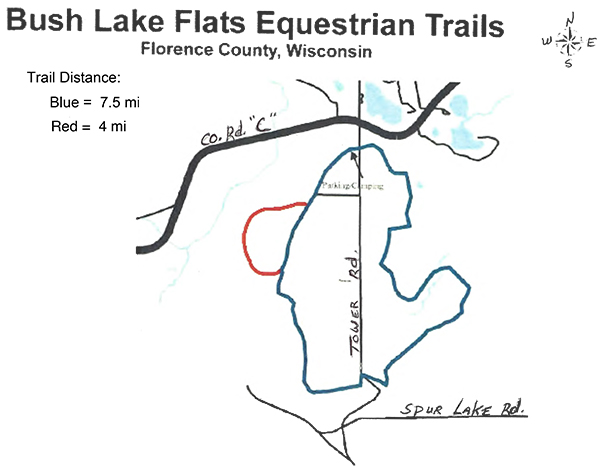 People of all ages can join the Northern Saddle Club. You do not have to own a horse to join, and you do not have to live nearby. You can find more information about the club on their website.
Northern Saddle Club, in cooperation with the Florence County Forestry and Parks, maintain two trails systems for equestrian riding in Northern Wisconsin. The vision of the Northern Saddle Club is to work with landowners and land management organizations to preserve and ensure safe riding areas for our present and future equestrian enthusiasts. They are an organized and family oriented trail riding group that maintains three different trails within a twenty-mile radius. The trails that they maintain are Halls Creek, Bush Lakes Flats and also Horseshoe Falls; which will be featured in a future article. In my opinion this is the hardest working saddle club in the state of Wisconsin.
The vision of the Northern Saddle Club is to work with land owners and land management organizations to preserve and ensure safe riding areas for our present and future equestrian enthusiasts
The Northern Saddle Club has big plans for 2015. They will be creating a 5 mile trail connecting Halls Creek and Bush Lake Flats. They plan to provide water at both trails during the summer of 2015. I would like to mention the Arabian Club, recently disbanded, has contributed considerable financial support toward the various trail improvements. As I trail rider, I would like to thank that group for all they have done to provide a wonderful trail riding experience along with the Northern Saddle Club.

The Ride Wisconsin program is designed to recognize the partnership between the trail horse and rider. The goal of this program is to encourage the sport of trail riding/driving. There are many opportunities in the show arena to award the excellence of horse and rider, but recognition of the trail rider/driver has been long overlooked. As trail riders we acknowledge the investment we make in our horse. Ride Wisconsin celebrates the athleticism of trail horses as the riders/drivers earn awards for the hours spent on the trail. Through this program, Wisconsin Horse Council encourages riders and drivers to explore the many equine trails in Wisconsin.

"I have seen things so beautiful they have brought tears to my eyes. Yet none of them can match the gracefulness and beauty of a horse running free." - Author Unknown
Until next time - Happy Trails!


About the Author: Patty Wisneski is the owner of Celtic Horse Embroidery, committed to providing horse enthusiasts with casual clothing they are proud to wear. She also writes for Wisconsin Horseman News featuring a different trail in Wisconsin, monthly. Horses play an immense role in Patty's life, and we're happy to share her expertise!