Ride and Tie: Trail Running, Endurance Riding, and Strategy
Gain a newfound respect for the meaning of teamwork in this fun and competitive sport.
by Jocelyn Pierce
Ride and Tie is not your typical endurance ride. A team of one horse and two people race on a predetermined course while taking turns riding and running. Depending on the race, courses are generally between 20 and 100 miles in length and teams race against anywhere from 10 to 50 other teams. The team to cross the finish line first wins, with teams accruing points based on races and mileage completed throughout the year.
How Does Ride and Tie Work?
Although ride and tie has been in existence since 1971, it is still a relatively unknown sport, but has been gaining popularity in recent years.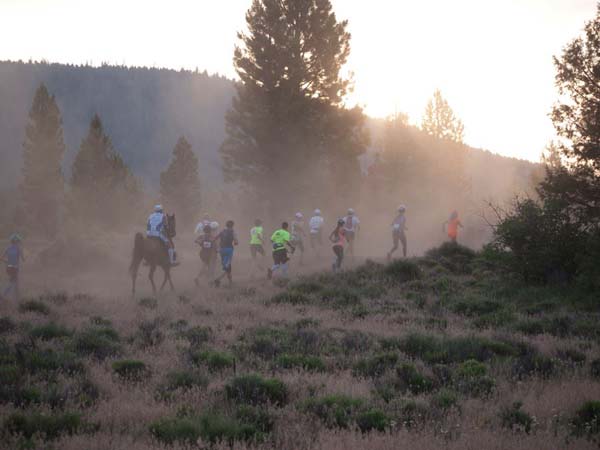 The start of a ride and tie race tends to be in a large, open area, so that all competitors can be accommodated before settling into their individual pace
Generally, a ride and tie race begins with a shotgun start. All teams are in a large area, with horses and riders in the front and runners behind. Typically, the first mile is a wide area to accommodate all the racers as they settle into their pace.
One team member starts out running, while the other rides the horse. The horse and rider head down the trail, stopping at any point. The rider dismounts, ties the horse, and continues down the trail on foot. Once the team member following behind on foot catches up to the tied horse, he or she will untie the horse, mount, and ride to catch their partner that has run ahead. At that point they can stop and switch, or ride further up the trail, tie the horse, and continue on foot.
Horses can be tied to trees, roots, bushes, or fence posts
When, where, and how a team exchanges is completely up to them, making this a race about strategy just as much as it is about endurance.
Halfway through the race is a mandatory vet check. Every ride and tie race will have a least one vet check, however some races may have two or three. Before continuing, the horse must meet specific pulse and respiration benchmarks, as well as be examined for signs of fatigue, dehydration, and lameness.
Generally, courses are on running trails and logging roads and can be in forested areas, hilly terrain, and flat grasslands. Places with more trees tend to work well, as there are more places to tie the horses. Trees, roots, bushes, and fences are all places horses can be tied, however competitors are not allow to bring their own ties, such as stakes. In some races, "hand ties," or when a ground person holds the horse, is allowed, especially near the start of the race where the horses may be more excitable. This ensures the safety of the horse.
Who Can Compete in Ride and Tie?
You don't have to be a marathon runner to compete in ride and tie competitions. While there are many teams who take the races seriously, there are just as many who do it for fun. Some participants even walk instead of run.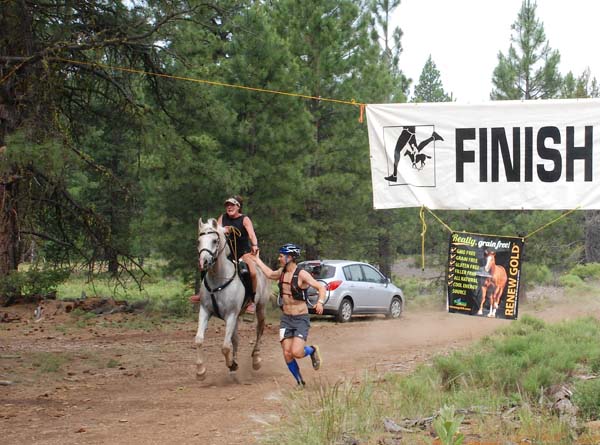 Mary Tiscornia and Sean Pont winning the 2015 Championship with Mary's horse Nero
Since ride and tie is a long distance event, lighter breeds such as Arabians and Thoroughbred tend to excel, however any breed of horse can compete. While certain breeds have an aptitude for long distance riding, it is more important to ride a healthy, conditioned horse, especially for the races with higher mileage.
How to Get Involved
Most of the races are concentrated in California, however there are a growing number of sanctioned ride and tie races in several states. Ride and tie competitions have also been held in Sweden, England, France, Germany, and Canada. There are also a number of non-sanctioned, informal races for fun and practice.
If you want to try ride and tie but don't have a partner, or don't have a horse, you can still compete. The Ride and Tie Association keeps a list of runners looking for partners with horses, and vice versa.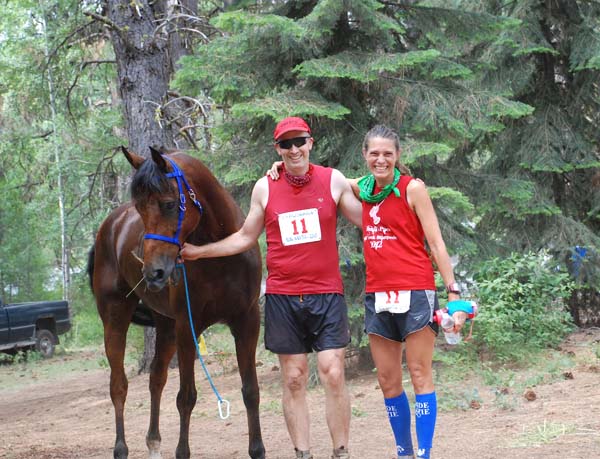 2015 World Championship second place winners Ben Volk and Heather Huggins with Ben's horse, Marqo
The Ride and Tie Association also maintains a list of mentors, a great resource to help get newcomers acclimated to ride and tie. Mentors answer questions, prepare and coach competitors, put teams together, and some may organize group practices.
Find competitions near you with the Race Schedule for 2016. The 46th annual World Championship is taking place July 2, 2016 at Cuyamaca State Park in Southern California.
Join the Ride and Tie Association.