Rescued Horses, Love at First Breath
A story of horse advocacy through art.
by Photographer and creator of UNWANTED, Christine Whitney
Being in the presence of a horse, gives you the chance to experience your true, authentic self. I guess it sounds outlandish to say they are my teachers, but they truly do connect me with my soul. Before I began photographing horses, I had lived far too many years sitting behind a computer with my head buried in fashion images, tweaking for hours on end. The work was soulless and left me feeling unfulfilled and unstimulated. I had very little contact with my natural surroundings and was in dire need of serenity!
Initially, I was after beautiful photographs, but little did I know I was opening the door to a much deeper bond with horses. Through this documentary and fine art project, I've found an amazing reason to be with horses, make art, and truly live. They rescued me, and now I want to rescue them back... all of them!

For this reason, I started a project on unwanted horses. It started as a series of images that would tell the stories of horses in need and generate awareness. It is quickly growing into an organization that benefits horse rescues in need, educates the public through exhibitions and advocates for horses.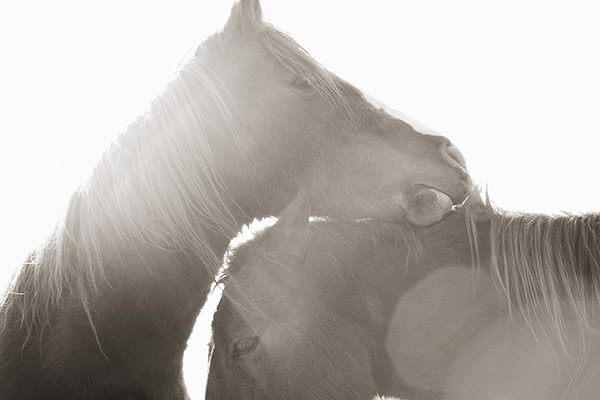 Rescued Wild Mustangs, Ray of Light Farms, CT ©ChristineWhitney.com
Our 'poster children' are featured in the above image of rescued wild mustangs. They seem to be consoling each other... taken from their rightful land, lost and in transition. Bonded together, these rescued wild mustangs were found roaming in the Northeast, and were lucky enough to be picked up by Ray of Light Farm in Connecticut. They were thought to have escaped from a truck that may have bought them off the BLM out west. They were incredibly fortunate to escape.
So the story begins...
Six years ago, while on a trip to my father's home in Sodus, New York, my husband and I passed a herd of horses on a snow covered field (which later turned out to be Cracker Box Palace Animal Haven). I wanted to capture it, so we stopped off by the side of the road.
With my Mamiya 7 slung around my neck, I gingerly stepped into the snow covered field, unsure of how these huge animals would take to me. Within a few minutes, I found myself encompassed by curious horses. As they came closer, their breath became audible. I could see it and soon thereafter, I could feel it, like a sensory heart beat. My breath slowed. I felt soothed and awestruck by how majestic these creatures were. They could have crushed me, but they were gentle and kind. It was love at first breath.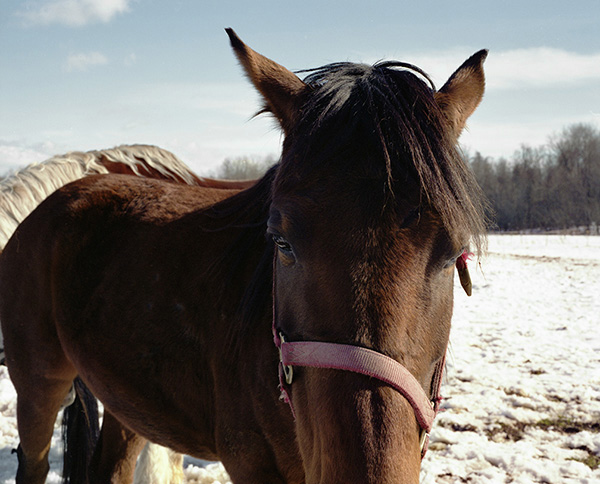 Love Horses, Cracker Box Palace ©ChristineWhitney.com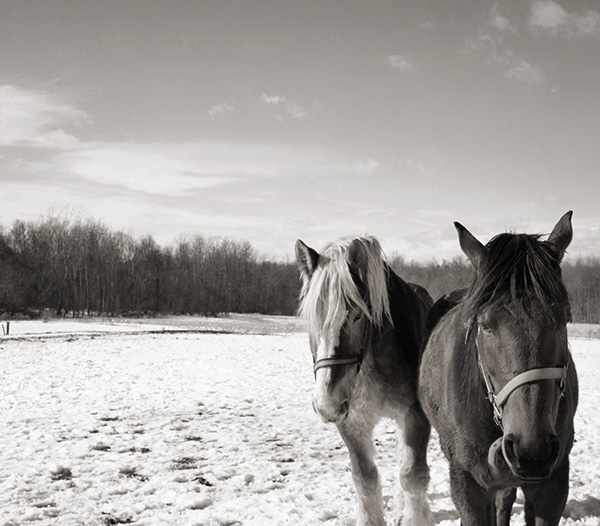 Love Horses following me, Cracker Box Palace ©ChristineWhitney.com.
The above two horses I called "Love Horses" because they were inseparable and so gentle and friendly. Every time I turned my back, they'd be right back up next to me breathing on my shoulder. This might be an every day experience for some of you, but it was as if the heavens had opened up for me.
After that encounter, I spoke with Cheri Roloson who founded the rescue and is the farm manager. She recounted stories of her horses. They had come from an array of different forms of neglect and abuse. The stories brought tears to my eyes especially after being close with her horses. I knew this wasn't another issue to which I could turn a blind eye. I was turned onto a mission to document her rescue, get it published and spread the word.

Nearly every horse I've photographed at the rescues was abused, neglected, abandoned and often times, bought from a kill lot for the price of it's meat. Many of them are the product of irresponsible ownership and overbreeding for pharmaceutical and meat companies and the racing and horse show industries.

One of the biggest issues with the horse show and racing industry is that there are not enough retirement programs for horses who can no longer ride or be shown. I've seen that through overtraining for the thrill of the "win", youthful horses can get injured. Unable to perform, they are sold–– often times to kill buyers. Unfortunately, the vast majority of unwanted horses that I've seen at auctions come from this industry. Once the horse is bought for its weight in human consumable meat, it is slaughtered (quite often inhumanely), packaged and sent off to primarily European and Asian countries for human consumption and/or to zoos for animal feed. One of the reasons I'm raising awareness is that many times, these horse owners are not aware of what happens to their horse after the sale.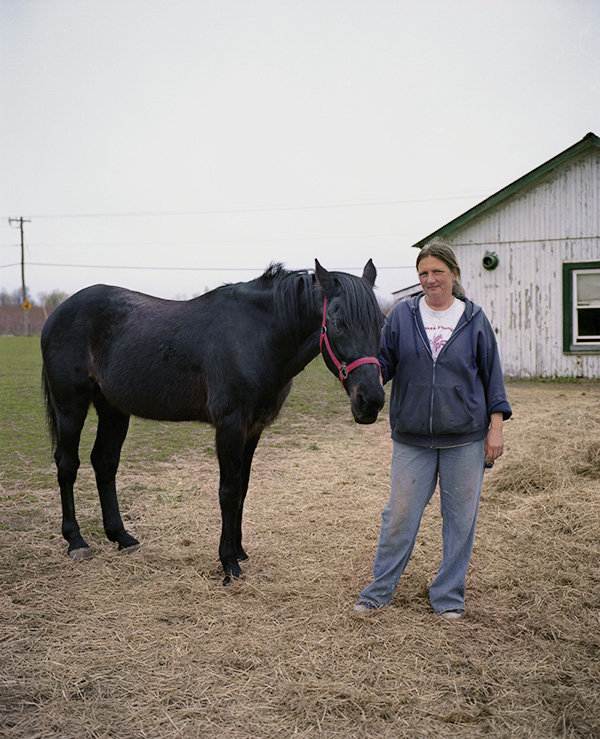 Cheri Roloson and Stormy, Cracker Box Palace ©ChristineWhitney.com.
The above photo has Cheri Roloson with her rescued Thoroughbred stallion, Stormy, from a prestigious racing bloodline -- a throw away once his career had come to an end. Happily, Stormy is now a favorite at the rescue. A winning stallion can retail for as much as $200,000. That being said, one can see how we have an overbreeding issue.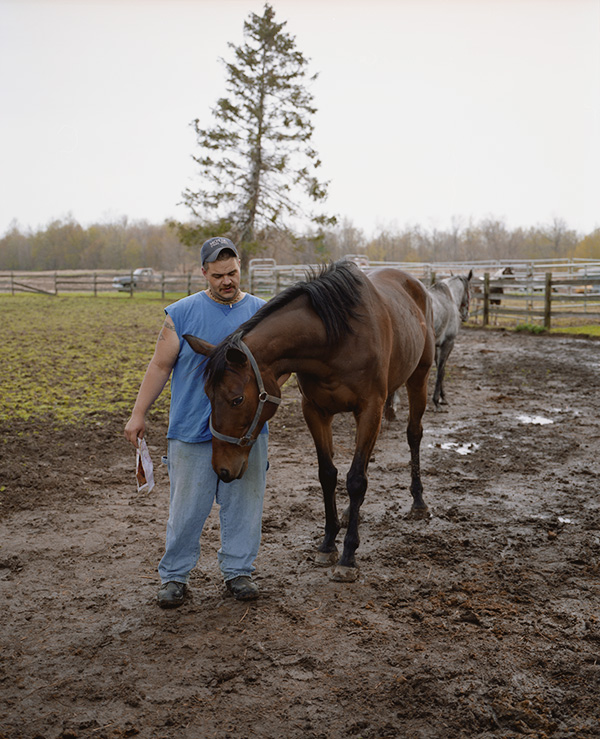 Lizzie and her caretaker, Cracker Box Palace ©ChristineWhitney.com
When Lizzie arrived at Cracker Box, she was tragically malnourished and dehydrated. Her hooves were so rotted that you could actually put your fingers up through them. The veterinarians gave her very little hope, but she proved them all wrong. She's the most beautiful horse! She put on over 200 pounds and can now sail over 5 foot fences.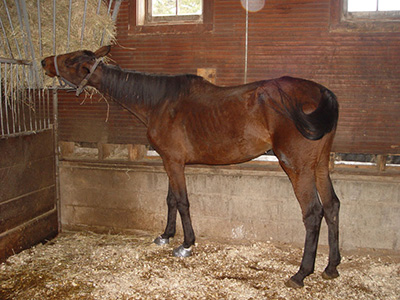 Lizzie Before --(Courtesy of Cracker Box Palace)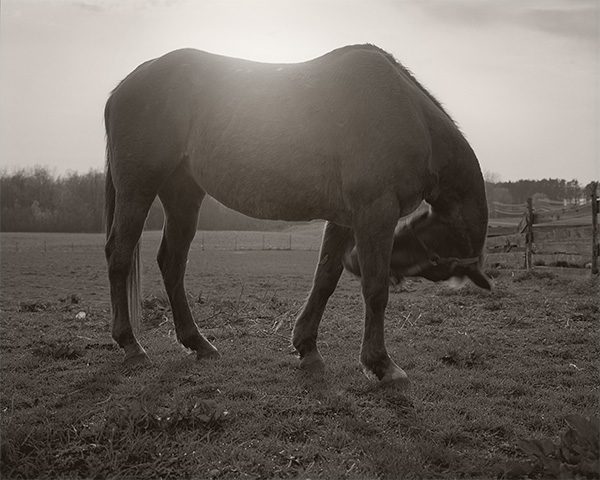 Feona, Pregnant, Cracker Box Palace ©ChristineWhitney.com
Feona stole my heart. Her story is quite brutal. She had a cruel owner who wrapped her legs in barbed wire, tied her to his truck and dragged her for fun--and all the while she was pregnant. It took her a long time to trust people (especially men), but she is making great progress. And I was so happy to hear that she successfully had her foal at Cracker Box.
The scars left on Feona's legs. "Feona's Scars," Cracker Box Palace ©ChristineWhitney.com
Since my visit to Cracker Box, I've been to many rescues and the mission has grown into something deeper–– a desire to truly make a difference for horses and humans. I quit fashion and founded the UNWANTED project. UNWANTED educates the public through exhibitions, (and posts like this one), advocates for change, and benefits horse rescues through print sales.
We focus on all "unwanted" horse issues, including the issue of horses used in the making of Premarin and Prempro, hormone replacement drugs created from impregnated mare's urine. Premarin and Prempro have been the center of the controversy in recent years, not only for their side effects, but because of the abuse, neglect and inhumane treatment of the mares and foals during the production process. Many mares and foals have been displaced because of this and need homes. It's hard to find current numbers, but according to the American Association of Equine Practioners (AAEP), as of 2009, approximately 20,000 pregnant mares and their foals from the pregnant mare urine (PMU) industry were displaced.
I was at Ray of Light Farms the same day rescue workers brought in a load of Premarin Foals. They were timid about people, yet sweet and curious. Ray of Light Farms works with the incredible rescuer, Frank Weller, who is on the front lines of rescuing Premarin foals from kill lots. He works hard to devise creative solutions for useful sanctuary for the mares and foals by asking the pharmaceutical companies to join him in solving the problem.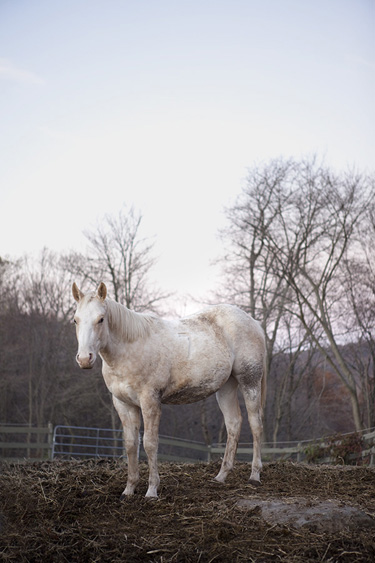 No.7, Ray of Light Farms, CT ©ChristineWhitney.com
Only a few months old and without it's mother, a sleepy Premarin foal can finally rest at ease under the shelter of Ray of Light Farms. (rescued by Frank Weller). Premarin Foals, Ray of Light Farms, CT ©ChristineWhitney.com
The bottom line is...
We don't have to sit idly by and let it happen. We can support our local rescues–– go to a rescue, ride a horse, do an equine therapy session, donate, or volunteer. Make your voices heard about current issues like the re-opening of US slaughterhouses. Write to your senators! Tell them what you want. This kind of pressure does work as the operation of a slaughterhouse in Iowa was just shut down this week through animal rights advocacy. You can read about it here.
As the Dalai Lama says,
"If you think you're too small to make a difference, try sleeping with a mosquito."
If you would like to see more, purchase a fine art print, and/or help the UNWANTED project grow, please visit our site.
And please come see our latest exhibition in New York City until August 25th! More at christinewhitney.com.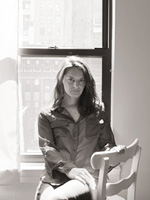 About the author/ photographer: Christy Whitney is the founder of UNWANTED, a project about rescued horses. She has been following unwanted horses for 5 years now and is currently hard at work seeking imagery that unites the lives of horses and humans. Her commitment and will to making the world a better place is the single most important factor in what drives her work.
She has worked extensively with the New York City Chapter of Habitat for Humanity. She's created content for their annual report and branding for their web presence. She has also worked with Nike, Thornberg and Forester, Poets and Writers, Arnold Worldwide and Mutual of America. Her work is in the Barclay's Capital Collection and has been exhibited at the Bourbon Gallery, Visual Arts Gallery, JC Fridays Artist Studio, Club H Gallery. She holds an award for Excellence in Photography from the Rhodes Family.