Rent a Ranch- Group and Family Ranch Vacations
Ever wanted to have a dude ranch or guest ranch all to yourself? It happened to me and was oh so much fun. Tips and choices for family ranch vacations and group travel.
You've heard about renting a villa in Italy or apartment in Paris for a European vacation. What about renting a ranch in the American West? Sound like a dream. It can be. With the right amount in your pocketbook or just the right number in your group, renting a ranch can be within reach and a super wonderful splurge.
My Accidental Arizona Ranch Takeover
I thought about this idea, because I was fortunate enough to be able to experience the luxury of having my own fully staffed ranch for the week out of sheer luck! My girlfriend and I signed up for a Women of the West week of horse whispering, riding and relaxation at Tanque Verde Ranch in Arizona. The special women's week was to be held at their remote property, Bellota Ranch.
My horse and my ranch for the week in Arizona.
When we arrived to Tucson, the manager at Tanque Verde Ranch told us that unfortunately no other gals had signed up for the week-long adventure. We were asked if we wanted to either hang out at Tanque Verde for the week or just have Bellota all to ourselves. It was fully staffed and waiting.
We choose to make the trip to Bellota and were not disappointed. We luxuriated in private, guided trail rides and nature walks, one on one sessions with horse whisperer Tom Chambers, wonderful ranch meals whenever we wanted them, massages from a personal masseuse and at night, soaking in a hot tub with our ipod playing the ranch mix we made under an Arizona sky filled with stars.
If having a ranch all to yourselves sounds like a dream to you, check out the below options for renting a ranch and my tips to get you started.
Renting a Ranch Vacation Options
Bar W Guest Ranch, Montana

From May to October you can rent the Bar W Ranch as an all-inclusive package with all the horse activities on offer.

Between October 15th and April 15th, you can rent this Montana Dude Ranch's lodge or the whole cabin (two suites) or the lodge and the cabin on a bed and breakfast plan. This is a fun option for getting together a family ranch vacation, especially if you want to frolic in the snow. The ranch is located in the resort and ski area of Whitefish, so you can take advantage of joining for sleigh rides and all the wonderful winter activities in the area, like snowshoeing, downhill skiing, cross country skiing, snowmobiling and dog sledding.
If you want to just rent the lodge from October 15 to April 15, a 6,200 square feet Western retreat, prices are $790 per night for 12 people and $40 per additional person, which includes breakfast. The Amish designed cabin runs $450 per night for 4 people and $40 per additional person and includes breakfast and use of common areas of lodge. If you want to takeover both, you can rent the lodge and cabin for $1,240 per night for 16 people and $40 per additional person, which includes breakfast. During major holidays, summer rates apply. Email Bar W.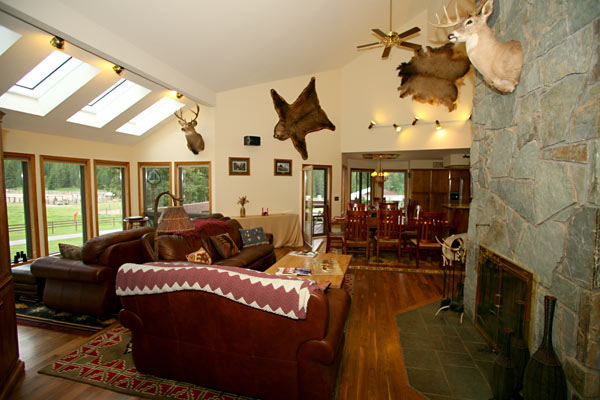 The main lodge's living room at Bar W Ranch in Montana. More photos of the lodging.
Home Ranch, Colorado
This Relais & Chateaux Colorado dude ranch rents out their entire ranch for a host of groups each year, and offers special pricing from October to May-- ranch retreats, family reunions, ski clubs, and workshops of up to 50 people can take over this luxury Colorado Ranch. Their communal dining room is an ideal gathering place to bring groups together.
You can "own the ranch" and activities exclusively for your group with 26 participants or more over a two-night stay or more. For further information and questions, check out the Home Ranch Groups Page and contact Johnny or Selina at 970-879-1780.
A group hangs out on the porch at Home Ranch.

Siwash Lake Ranch, British Columbia
Seeking a luxury ranch vacation? This British Columbia guest ranch offers a ranch takeover for 16 - 24 travelers at a time. Offering the freedom to horseback ride on a guided trail ride or unguided, which is unusual to many ranches, Siwash Lake Ranch also has other special perks for groups. The ranch staff offers a morning wake-up service with tea or coffee and muffins delivered to your suites, a special all-day horse ride with a gourmet campfire lunch on the range, and swimming and fishing in nearby river. Email Allyson for more information and pricing.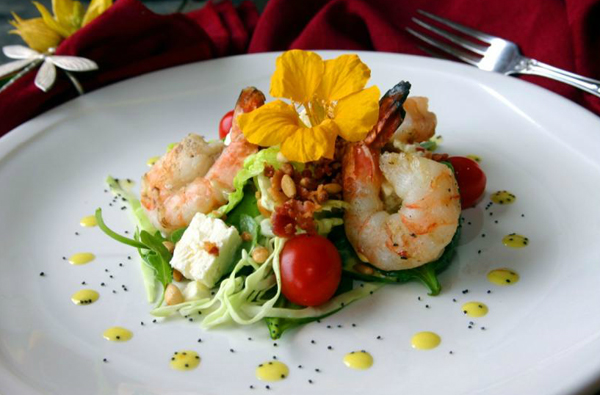 Gourmet fare at Siwash Lake Ranch.

Drowsy Water Ranch, Colorado
If you can find a week with any openings, this Colorado dude ranch offers ranch buyouts for 1 to 55 people, but book ahead, as dates fill up one to two years in advance. Corporate groups and couples ranging from 25-35 people can also take over this ranch, and the ranch can customize packages to fit your group or family's needs. With horseback riding, swimming, steak fryes, trout fishing, western dancing, campfires, hayrides, staff entertainment, raft trips and more, there's lots to do at this traditional dude ranch. Email Justin at the ranch.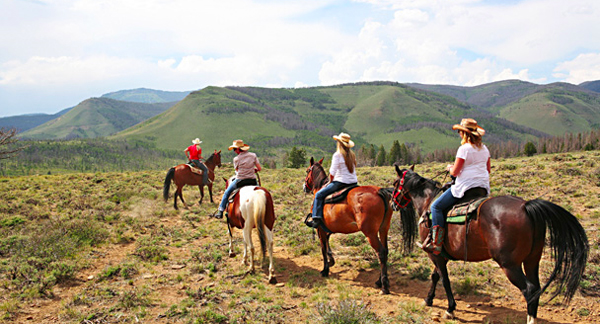 Horse riding in the Colorado mountains at Drowsy Water Ranch.

C Lazy U Ranch, Colorado

Located approximately 100 miles from Denver International Airport, C Lazy U Ranch welcomes groups with up to 80 people and groups of 40 or more have the option of booking the ranch exclusively. This Colorado guest ranch boasts large indoor spaces to accomodate groups. The Patio House can accommodate up to 80 and the Main Lodge's spacious Living Room and decorated suites can be used for breakout sessions. For team building, there's a ropes course and organized team challenges in the style of the Amazing Race with Scavenger Hunts, Relay Races and Field Day. Email C Lazy U.
A group enjoying the views at C Lazy U in Colorado.
The Resort at Paws Up, Montana

Only 35 minutes from the Missoula Airport, this luxury Montana ranch offers a "renting the ranch" package, where you can have the entire 37,000 acre ranch including 28 vacation homes, restaurants and more for your wedding, family gathering or corporate retreat. During April, May, October, November and January, the ranch can accommodate groups in the 75-120 person range, and over 200 people in the summer. The Resort at Paws Up is a great choice for large groups who want the luxury in Montana.
Your time at the ranch may include Montana dude ranch activities like trail riding, chuck wagons, sporting clays shooting, wilderness workshops, whitewater rafting, ATV riding and cattle drives. The 30 Paws Up luxury tents are a popular and unique way to stay and try "glamping." Fun features, including stone fireplaces, a camping butler, heated floors, and en-suite bathrooms allow you to commune with nature without sacrificing comfort.
For pricing and more information, contact John Romfo at 702-696-0120.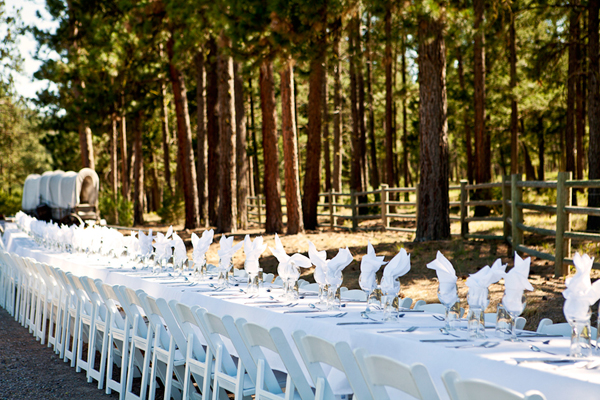 The Resort at Paws Up offers professional Montana catering.

Tennessee Dude and Guest Ranch, Tennessee

This Dunlap, Tennessee ranch in the Sequatchie Valley rents the ranch out for weddings, corporate events, parties, and more. The ranch has a group capacity of 20 people for overnights. With groups of more than 20, they have a relationship with a local inn just minutes from the ranch to accommodate more guests. The ranch also runs day programs (dinner theatres, History of the Horse Presentations and more) for up to 250 people and offers Southern 'home-cooked' meals in the foothills of Tennessee.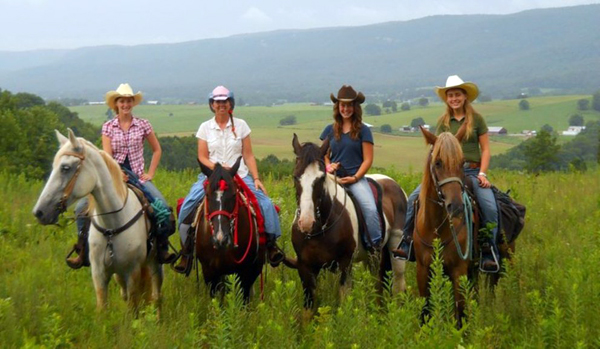 Riders take on the Tennessee foothills.
Vista Verde Ranch, Colorado
Just north of Steamboat Springs, Colorado, Vista Verde Guest Ranch, a Colorado resort ranch, offers exclusive ranch takeovers, usually for family groups of about 35-45 people. This luxury guest ranch may also take smaller takeovers in their shoulder seasons with groups of 15-25. The rates vary depending on the time of year, but a full family takeover is somewhere in the neighborhood of $160,000 and a smaller takeover in the shoulder season is somewhere in the neighborhood of $85,000 for 7 days/ 6 nights.

Vista Verde Ranch can customize the schedule and program for the group's desires. They've done special dinners, evening programs and horse riding events to meet the needs and wishes of the organizers. Contact Stephanie.
The lodge during the holidays at Vista Verde Guest Ranch, a Colorado resort ranch near Steamboat Springs.
Rent a Ranch Resources

There are lots of other ranches that offer great group rates, as well as ranch buyouts. Check out the Equitrekking Vacation Guide, Equitrekking's Travel Deals page and Top20Ranches.com to search for more.
10 Family Ranch Vacation and Group Travel Tips.

*Rates are quoted for 2012 and 2013. Please check with each ranch to find out more and get the most up to date quote.