Four Great Remote Wilderness Horseback Riding Vacations
If you are thinking of making the trek to these remote North American riding destinations, make sure to schedule enough time and leave your cell phone behind - it probably won't work anyway.
North America is filled with many special places, where wildlife is abundant, nature is pristine and visitors can find peaceful isolation in the wild. Those who make the long journey to these remote horseback riding vacation destinations are rewarded by an abundance of wilderness activities and a distinct feeling that they've truly gotten away from it all.
Check out four great wilderness horseback riding vacations that will take you to stunning natural areas across the USA.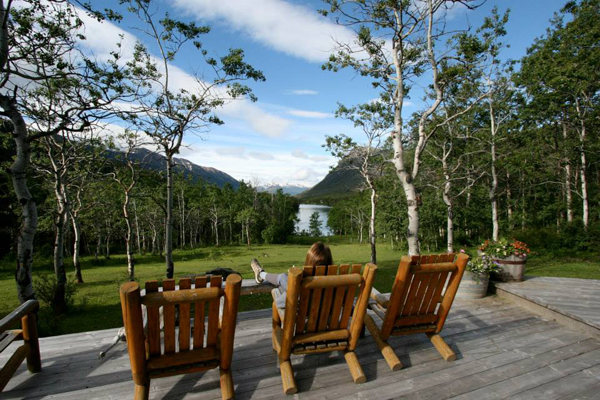 Enjoying a spectacular view from the deck at Tsylos Park Lodge in British Columbia.
1. Allen's Diamond Four Ranch- Wind River Mountain Range, Wyoming
Following in his grandfather's footsteps, Jim Allen, owner of Allen's Diamond Four Ranch, has guided rides in the Wind River Mountain Range for more than four decades. The ranch is Wyoming's most remote and highest ranch, and the only ranch located at the edge of the 100,000 acre Popo Agie Wilderness Area. It takes a little over 2 hours to drive from Riverton's small commuter airport or a 6.5 hour drive from Denver or Salt Lake.
Guests stay in log cabins or chose to head off on one of the ranch's 75 mixed breed horses for an educational pack trip through steep and stunning terrain. There is no electricity, so leave your hairdryers at home and be prepared for rustic comfort. Pack trips run in July and August and the mountain ranch is open from late June through mid-September. The Wind Rivers boast the largest active glaciers in the lower 48 states, as well as alpine lakes, wildlife and high mountain scenery.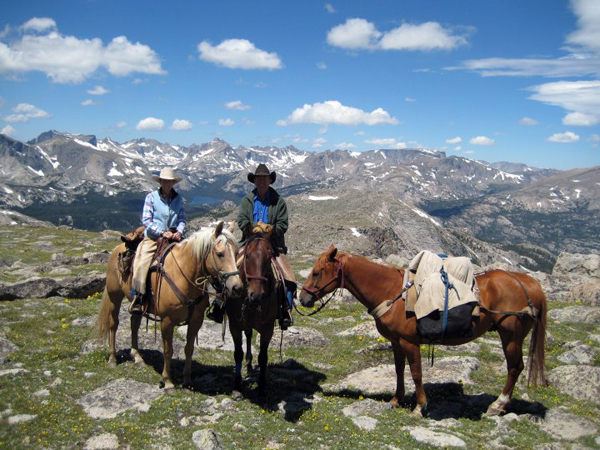 On top of Bears Ears Trail with Allen's Diamond Four Ranch on a horse pack trip.
2. Tsylos Park Lodge- Chilcotin Region, British Columbia
Pristine nature, wildlife and unrivaled scenery are at your cabin's doorstep when you travel to Tsylos Park Lodge at the north end of Chilko Lake, the gateway to Tsylos Provincial Park in British Columbia. The Chilcotin Region is wild, remote, beautiful and rarely visited. A haven for adventure enthusiasts, visitors can take a one-hour charter flight from Vancouver to the lodge to enjoy fishing, hiking, horseback riding, wildlife and untamed nature.
The jagged, snow-capped peaks of the Coast Mountain Range and the Chilcotin Plateau meet the Chilko River's glacier fed waters, rich in Rainbow Trout, Chinook and Sockeye Salmon. Western saddle riders may choose to stay at the lodge and benefit from riding with expert guides through the hundreds of miles of trails, or opt for a horse pack trip. Either way, riders discover rugged glaciers, alpine meadows, grassland, rolling hills, pristine lakes and mountain peaks. Pack trips depart during July and August, and the lodge is open from June to mid-October.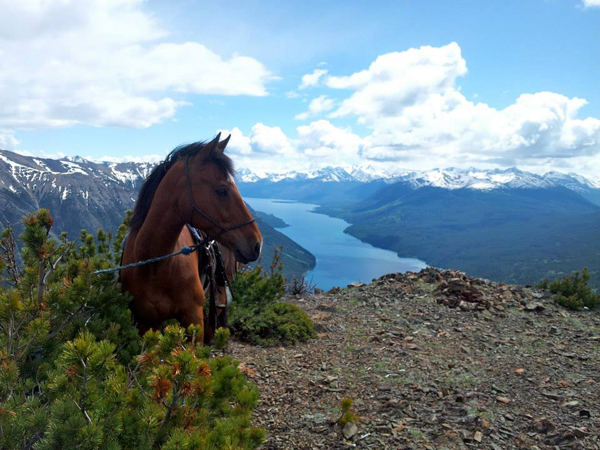 Joker on top of Tullin with Tsylos Park Lodge. Joker is a big, super sweet horse who loves people and has good energy for the rides.
3. Bar 10 Ranch & Guest Lodge- Grand Canyon, Arizona
Those looking to ride with one of the world's natural wonders, the Grand Canyon, as their backdrop, without the usual Canyon crowds, will be eager to make the trip to the Bar 10 Ranch. This working cattle ranch has been run by five generations of the Heaton family. Located in the remote Arizona Strip, nine miles from the north rim of the Grand Canyon, many visitors opt to hop a short flight from Las Vegas and land on the ranch's landing strip. A few brave the 80-mile drive on a dirt road from the nearest town, St. George, Utah, which takes from 2 to 2.5 hours. You need a high-clearance, preferably four-wheel drive vehicle, and a sense that getting there is part of the adventure for this.
Visitors make the journey to enjoy horseback riding in secluded parts of the Grand Canyon, ranching activities, river rafting on the Colorado River, Dutch oven meals, Western entertainment and great views. Guests sleep in Conestoga covered wagons or in the lodge, set up with dormitory style rooms to accommodate families, groups or couples.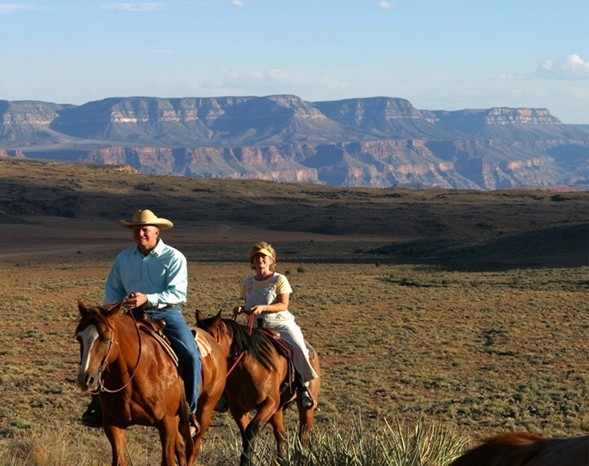 Horseback rides are as short as a half hour and as long as a half a day at Bar 10 Ranch.
4. Muir Trail Ranch- John Muir Wilderness of the Sierra National Forest, California
Not a dude ranch, for more than 50 years guest ranch has served as a wilderness base camp to explore the John Muir Wilderness of the Sierra National Forest. Located at an elevation of 7,600 feet, you can't drive to Muir Trail Ranch, but you can get within 11 miles by car, take a boat across a lake and then hike 5.5 miles up the canyon to the ranch. Yes, this ranch visit requires some level of physical fitness from the beginning. Those who aren't yet ready to hike can helicopter in. The ranch is about 6 hours from San Francisco and 3 hours from Fresno.

Guests descend upon the ranch from early June through mid to late September and enjoy sleeping in log or tent cabins, bathing in hot springs (no showers) and hiking and horseback riding on one of the sure-footed horses. Guided rides venture to high lakes, fishing streams, up the glacier-carved river canyon and through forests with ferns and wildflowers. Guests may also choose overnight pack trips. These must be planned well in advance of your visit. Though this guest ranch is remote, it hasn't stopped guests from making the trip to enjoy the beauty of this area.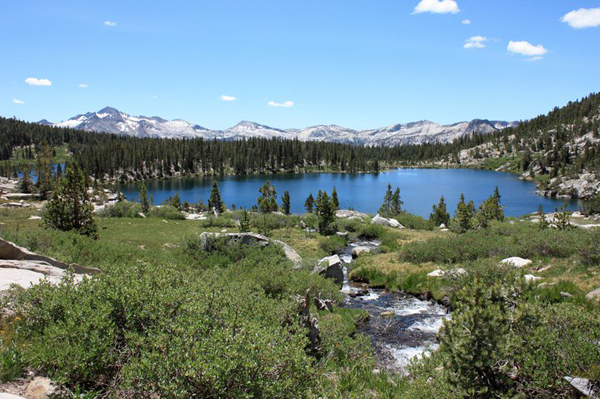 Pretty views of Sallie Keyes Lakes from Muir Trail Ranch.

Learn more about great dude ranches, guest ranches, horse pack trips and global riding holidays in the Equitrekking Vacation Guide and a Top20Ranches.com. And, check out the latest riding vacation travel deals.