Rein in the Rewards with AQHA's Horseback Riding Program
Enroll in AQHA's Horseback Riding Program today, and earn great rewards for the time you spend working with your horse.
If you love the thought of receiving cool prizes and recognition for the many hours you spend with your horse, then the American Quarter Horse Association Horseback Riding Program is for you!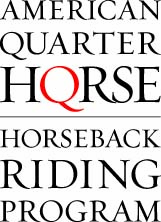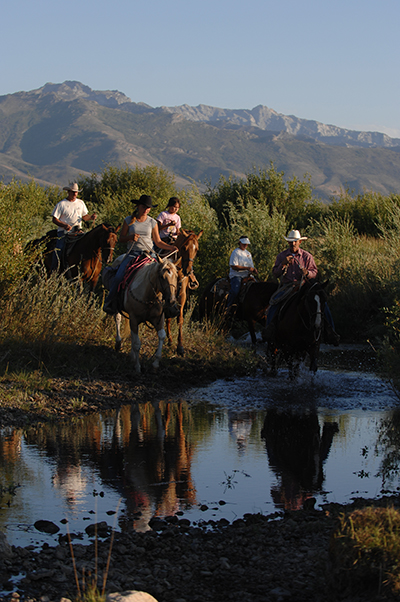 The AQHA Horseback Riding Program, established in 1992 and sponsored by SmartPak, Professional's Choice and Noble Outfitters, is designed to reward AQHA and American Quarter Horse Youth Association members who spend time riding and working with American Quarter Horses and other horse breeds.

Members have the option to join the American Quarter Horse Horseback Riding Program, the All-Breeds Horseback Riding Program or both. Hours spent riding any breed of horse count toward the All-Breeds Horseback Riding enrollment too.
If you enroll in the American Quarter Horse division, simply log the hours you spend riding your American Quarter Horse. As you move up through the 15 thresholds – from 25 to 5,000 hours – you earn awards and the opportunity to purchase jackets reserved exclusively for higher-hour award recipients. The awards series culminates at 5,000 hours with a Montana Silversmiths silver buckle customized for the Horseback Riding Program.

The All-Breeds division is for AQHA or AQHYA members who ride non-registered American Quarter Horses or other breeds of horses. As you move up through the levels of hours, you receive great awards and have the opportunity to purchase a denim jacket. The awards series culminates at 2,000 hours.

Here are program guidelines for both divisions:
• Be a member of AQHA or AQHYA – you can join online. You get a subscription to America's Horse magazine and discounts through AQHA's corporate partners.
• Pay a one-time $35 enrollment fee
• Log hours in half-hour increments for riding, pleasure driving or doing ground activities, including training, showing and/or exercising (does not include grooming, feeding or health maintenance) on official log sheets (one sheet per horse).
• Turn in your hourly log sheets by December 31 of the current year
• Participation in AQHA trail rides and Trail Challenges earns double hours!
The American Quarter Horse division includes these additional must-knows:
• You may ride more than one American Quarter Horse, and you do not have to own the horse. Perfect for those vacations to dude ranches!
• The horse(s) must be registered with AQHA. The registered name and registration number of the horse must be listed on the log sheet.

There are two ways to log your hours. Log frequently to receive rewards sooner!
1. Download the American Quarter Horse Hourly Log Sheet and mail to AQHA by December 31 each year. To receive your awards sooner, send your log sheets every month.
2. Submit or view your hours online. Use the AQHA or AQHYA membership ID you entered on the Horseback Riding Program enrollment form and your personal identification number.

Now for the good stuff. Below are just a few of the awards* (for both divisions) that can be earned in the AQHA Horseback Riding Program:
• 25-hours – participant patch and Professional's Choice bucket strap
• 100-hours – cap for American Quarter Horse division and patch and t-shirt for All Breed division
• 500-hours – patch and $25 SmartPak gift card for both divisions
A complete list of awards can be found at www.aqha.com/riding.

AQHA designed the Horseback Riding program to benefit all AQHA members, whether you ride in the show ring, on the racetrack, trails or work your horse from the ground. The Horseback Riding Program gives members another opportunity to be active in their Association. Enroll today, and let the rewards roll in!

5,000-Hour Winners
What does it take to reach 5,000 hours in the saddle? Here are just two of the some of the riders who've completed the Horseback Riding Program. (Features of more 5,000-hour winners can be found in the May issue of America's Horse magazine.)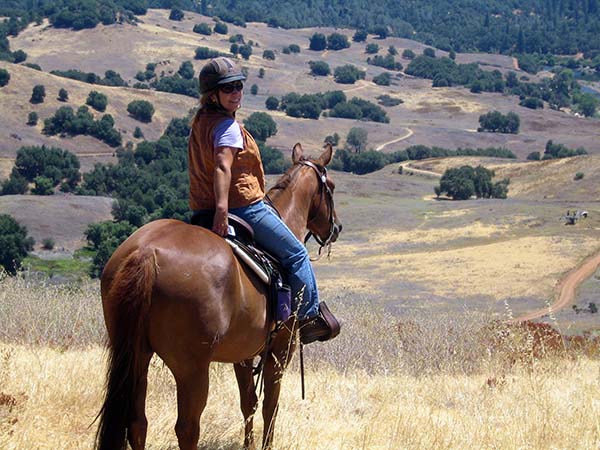 Maureen Castorina
"I ride regularly and thought (the Horseback Riding Program) would be a great way to keep track of the time and places I've ridden," says Maureen Castorina of El Dorado Hills, California.
Maureen is 58 and lives in the foothills that lead up from Sacramento, California, toward Lake Tahoe. She enjoys riding in the open spaces and trails along the lakes in that area, and she trail rides on state park land nearby and on trails near her boarding facility.

" 'Dakota' (Docs Arnie Doo) loves to be the center of attention," Maureen says. "He's a hit at gatherings and barbecues with friends and family. He loves to be ridden."
Maureen has owned the 13-year-old Dakota for about five years.

"He has a wonderful temperament, is willing to try or learn anything and always seems excited to go out and ride," Maureen says. The Horseback Riding Program has been "a great bonding experience. We've learned from each other. We've had to take care of each other in different and sometimes challenging circumstances. It has been great!"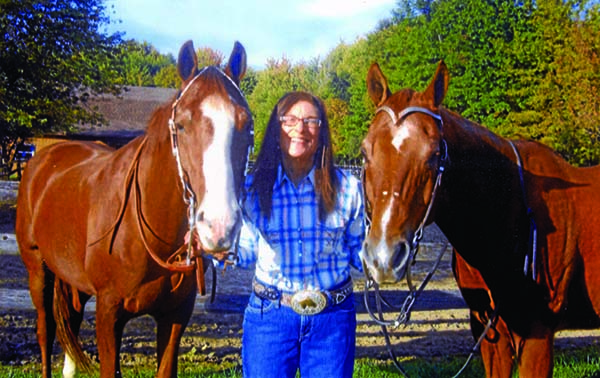 Marsha Merriman
Marsha Merriman, a 67-year-old retired school secretary, says that after retirement, "I was definitely able to spend more time in the saddle."

Living in Columbia Station, Ohio, Marsha says, "Around here, we do not ride much in the winter, unless you have an indoor arena. I have boarded 'Skip' the last four winters in order to ride."

Skip is registered as I Skip Sweet, and Marsha also logged hours on Mr Ripper Bar (now deceased) and Hesa Slamm Dancer.

" 'Dancer' is 29, and I have had him 26 years," Marsha says. "He has mellowed out in his senior years but was challenging as a youngster. Skip is 18, and I have had him since he was 10."

Marsha even thought about the Horseback Riding Program while she was on vacation.

"I have been to several ranches out West, and I always requested a registered Quarter Horse so I could log hours. The trails out there are much more challenging than the ones at home. The views are also breathtaking."

Marsha has enjoyed the Horseback Riding Program so much that she has encouraged several of her friends to join the program and reports that they are glad they did.

Maureen was not surprised at how quickly her 5,000 hours piled up. She rides every chance she gets, even on days when the weather is far from perfect.
*AQHA reserves the right to make any changes in the awards that are given. Awards are not retroactive. Some award colors and patterns may vary.