Rancho Las Cascadas Riding Vacation
Seeing the heart of Mexico as it was 100 years ago–– where people live simply, close to the land, and the horse is still a treasured mode of transportation.
by Rosemary Passantino
On the way from Mexico City airport to Rancho Las Cascadas, a boutique hotel and horse ranch in the highlands one hour north, the ranch driver Alberto told us, "There is a saying in Mexico. If you ask for something possible, we will do it for you right away. If you ask for the impossible, you will just need to give us a little more time."
You know you are near the rancho when you turn off the highway onto a country road and see two men on horseback herding a group of cattle with burros trotting alongside. Farmland spreads out for miles unfenced, circled by rugged mountain ranges.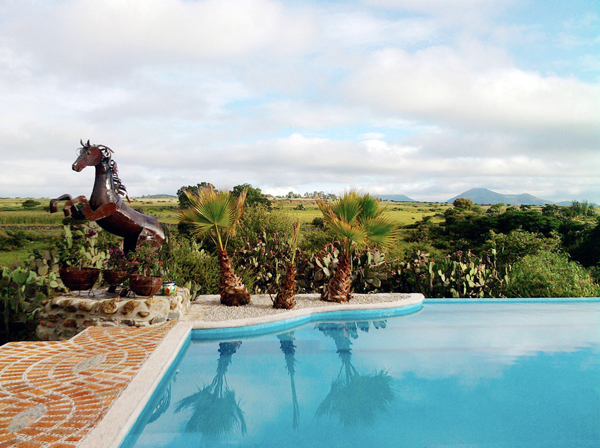 The hotel is built from volcanic stone turned up from the local fields, rustic and grand in the open patio style. As Jenny, a young Canadian expatriate who two years ago came for a visit and decided to stay on, led us to our rooms, she explained that the house was originally designed as a private residence. "But Uschi kept building and decided to share it with the world." We instantly felt at home.
After you have quenched your thirst with sweet hibiscus jamaica and enjoyed a snack of cheese and tortilla, the first question you will be asked is, "Would you like to join the ride?"
The ranch is home to thirty horses of every color and size. Most are Mexican Criollo and Quarter horse mixes, with a few Appaloosas and other breeds. Common to all are an amazing athleticism and willing attitude. An experienced rider, I chose Diamante, a small, silvery grey.
Soon after we arrived for our riding holiday, I set out on the "Colorado Ride," two hours walking and cantering over rock strewn fields, quaint village roads and gentle water crossings. The sounds of Mexico–– church bells, the horns and accordions of traditional Son music and village dogs barking.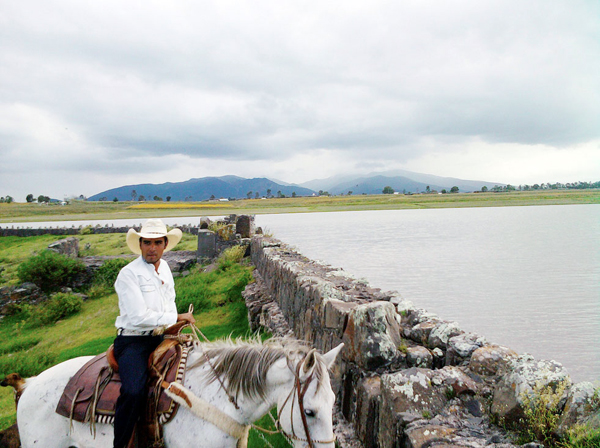 Diamante was unspookable, sure-footed, and stunningly fast when asked. I soon had complete confidence in my horse. (Note, if you visit Rancho Las Cascadas, do not request Diamante. I now think of him as my horse.)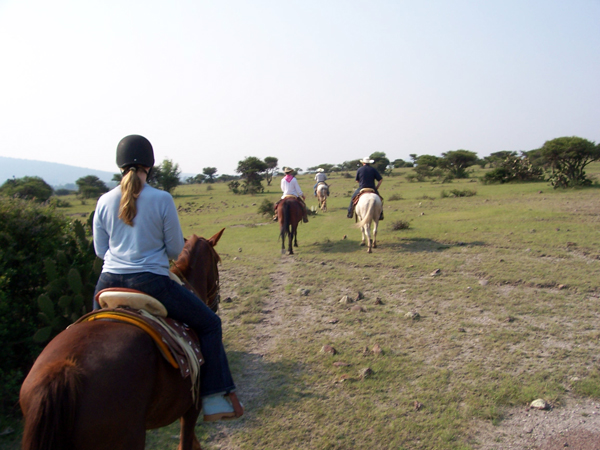 Each morning guests gather in a terrace breakfast room, where a panoramic view extends past the horizon of the infinity pool, and across the ravine of a waterfall. (In Spanish, Cascadas means waterfall.) This is lush, high desert where giant nopa cactus grows alongside fields of young sweet corn, irrigated by a system of siphons and cisterns dating back to the 1700s.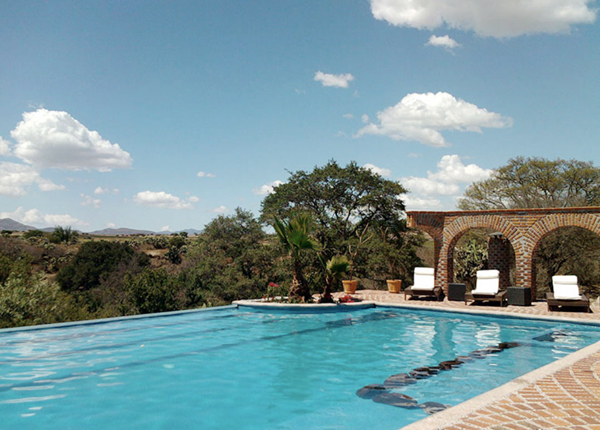 You will meet Uschi, the European ex-patriate patrona, over coffee, tea, cereal, eggs, fresh papaya and melon juice. After working for years in the hotel industry, she manages her Rancho with precision and warm hospitality. Just ask, and it will be done for you.
At breakfast, we make our plans for the day. Riders are split up in accordance with their wishes for more or less challenging horse rides, and arrangements are made for guests who prefer to take an excursion to the Teotihuacan ruins, or shopping in the local market.


Some guests opt to spend a fair bit of time taking excursions or relaxing by the pool. But those who live to ride can spend nearly all of their days on horseback. The vaquero wranglers are observant and engaging, answering questions about the big horned Mexican saddles and other tack. They earned my complete trust by their ability to assess each horse and rider's comfort and ability and setting an appropriate pace. For groups with different riding levels, they would separate us for parts of the ride and bring us back together again so we could share stretches of walking or a stop for soda at a local village tienda.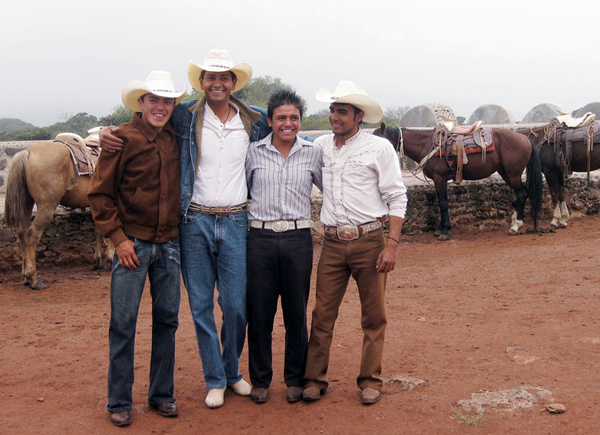 You will not see any other tourists in the villages. In Xochitlan de las Flores (Princess of Flowers), the colonial church and cottage homes were alight with bright pink bouganvilla, blooming roses and white calla lilies. Near El Fresno, you can view the ruins of one of the great haciendas that ruled the valley before the Mexican revolution, as well as stands of giant moss-covered oaks rooting alongside another daring waterfall.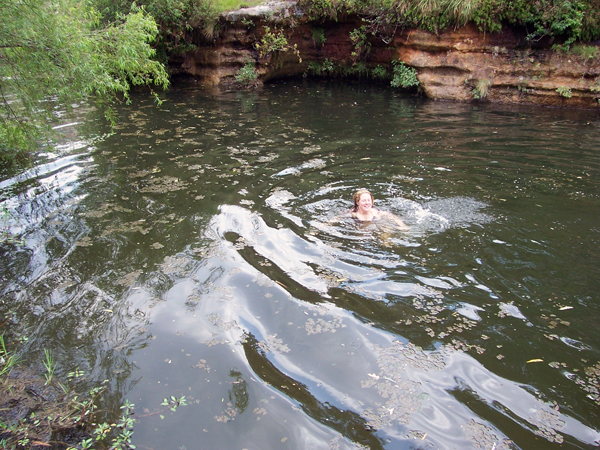 Because of the elevation changes, the variety of scenery in this region of Mexico––from green, creek-crossed, forest shade to hot, dry, rocky plateau––seems infinite. More than once, after a race-fast gallop or reaching the rocky peak of a seemingly impossible ascent, you will turn to your horse riding holiday companions and exclaim "legendary ride!" I was amazed at the stamina of the horses. They are trained for endurance. I imagined bringing Diamante, Amber, Sirocco, or Sultan back to the United States, where I would stun the world by winning the Tevis cup endurance championship on my Mexican Mustang.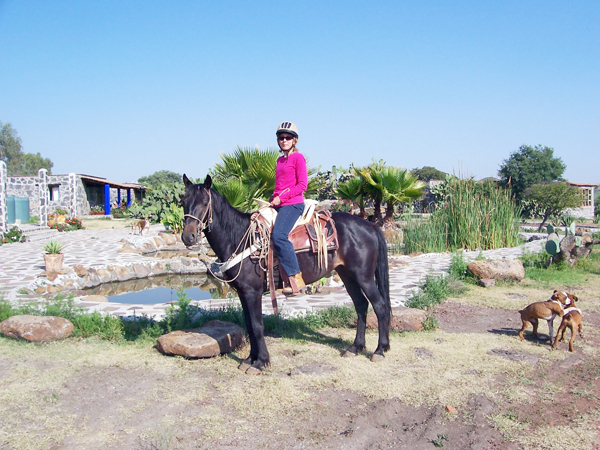 Is there anything better than riding a wonderful horse, followed by a soak in a bubbling hot tub with a bottle of cool cerveza in your hand? Perhaps a hot stone massage, delivered by Vali, who Jenny proclaims has "las manos de un dios" (hands of a god.)
Meals are also a delight. Lunch (chilled avocado soup, fish baked in foil, ice cream cake) is often served outdoors. Four-course dinners (cream of broccoli soup, mushroom garlic crepes, steak and frites, rice pudding) are presented semi-formally, with festive table settings. And everywhere at this guest ranch you are surrounded by art honoring the spirit of the horse.

Many of the guests at Rancho Las Cascadas are repeat visitors. Most are European or American. Airline crew on layover after flying in to Mexico City often visit to rest and rejuvenate. (Who would know the best places to go better than airline pilots and flight attendants?) Two retired Americans we met said they had vacationed at dude ranches all over the United States, but return to Rancho Las Cascadas every year because "the open range riding here is the best."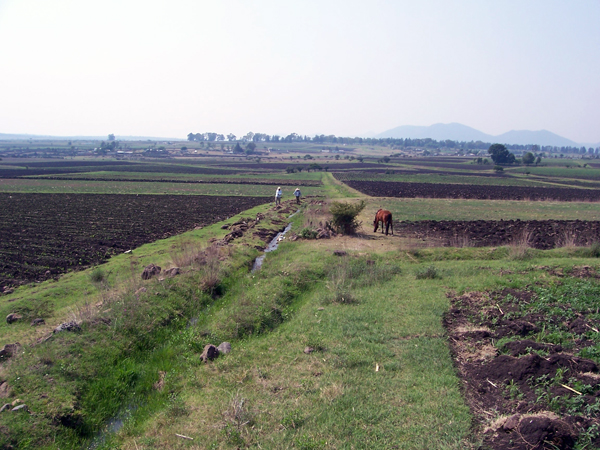 Before we departed from our home in California, my traveling companion had expressed concern about news stories she read about violence along the Mexican border. We saw no signs of this in the sleepy mountain towns surrounding the Rancho. We felt like we were seeing the heart of Mexico, in a time from 100 years ago, where people live simply, close to the land, and the horse is still a treasured mode of transportation.
The biggest threat to this region of Mexico is encroaching development. Developers have plans to buy up the farmlands and build a small city. A few of the dirt roads are already being replaced with hard tar. So we aren't going to wait too long for another trip to the Rancho Las Cascadas. We will be back next year, with some of the new riding friends that we met in Mexico.

Learn more about luxury dude ranch vacations on the Rancho Las Cascadas website and on the Rancho Las Cascadas Equitrekking page in the Equitrekking Vacation Guide.