Ranches & Riding Vacations for Fulfilling New Years Resolutions
Ranches and horseback riding vacations to help fulfill New Year's Resolutions. Lose weight, get fit, relax at the spa, eat healthy food and bond with your loved ones on these trips.
When a new year begins, many of us assess our lives and wonder what we can do to better them and ourselves. Some common goals that many people share include getting more fit and healthy, traveling to a bucket list destination, managing stress better, spending more time with family and friends and learning something new, among others. Many fans and friends of Equitrekking also have a goal to spend more time with horses, which includes trail riding, volunteering with horses and developing new riding skills.
Simply planning a ranch or riding vacation can help you fulfill a few goals at once–– traveling somewhere new, riding more, getting fit, less stress, and spending more time with family and friends. Below, I've highlighted a variety of ranch and riding vacations that can help you fulfill multiple New Year's goals to get you inspired for a positive 2014.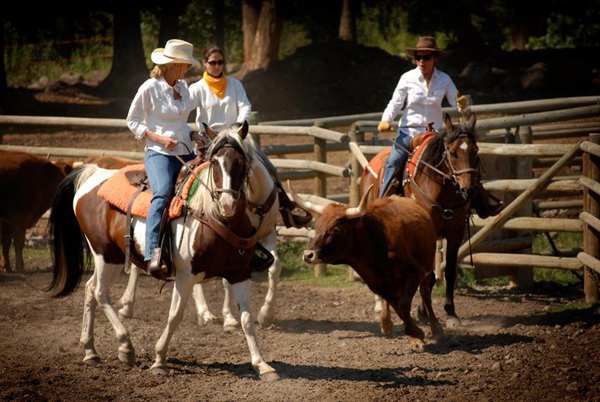 Team Penning in the corral at Mountain Sky Guest Ranch in Montana, which offers inspiring Wild West Women Gals Getaways to help you bond with your female friends and learn something new.
Resolution #1- Lose Weight & Get Fit
Okay, so once when I was traveling in Belize on a riding vacation, someone who wasn't a rider asked me how I get exercise on my travels. I looked at her like she had three heads.... "Riding, of course!" While horseback riding in itself is great exercise, many people seek multi-sport vacations, combining horseback riding with other activities. This is a great choice for those who seek variety and also for equestrians traveling with non-riding companions. Many ranches and horseback riding stables offer varied activities including mountain biking, hiking, square dancing and whitewater rafting to get your heart pumping.
For those who want a deluxe fitness center, there are a variety of ranches and riding resorts with fitness centers on site. The Resort at Paws Up has a unique Fitness Tent at Spa Town granting guests great views as they work-out on the treadmill, lift free weights or hit the StairMaster. Located near the swimming pool and spa, Tanque Verde Ranch in Tucson, Arizona has a complete indoor fitness center with treadmills, an elliptical machine, weights, and more.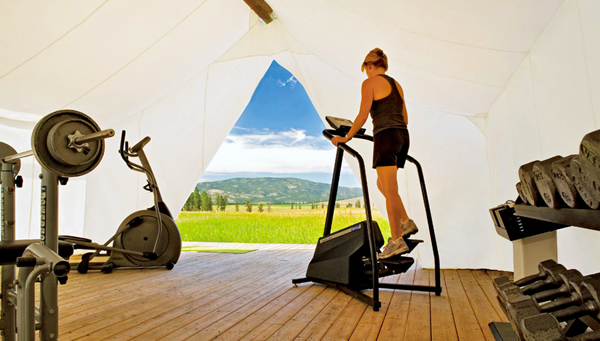 Scenic views while working out at The Resort at Paws Up.
Resolution #2- Eat Healthy Food
Modern day ranches and riding vacation destinations cater to a variety of special dietary needs, including healthy food options. At The Hideout Lodge & Guest Ranch in Wyoming, chefs prepare meals with the best and freshest ingredients, using vegetables that are locally and organically grown and from the ranch's garden. Wilderness Trails Ranch in Durango, Colorado, which attracts many families and groups, works to have a wide range of nutritious options available, including fresh salads and fruit. Many ranches also offer "foodies" experiences with multiple courses and gourmet fare.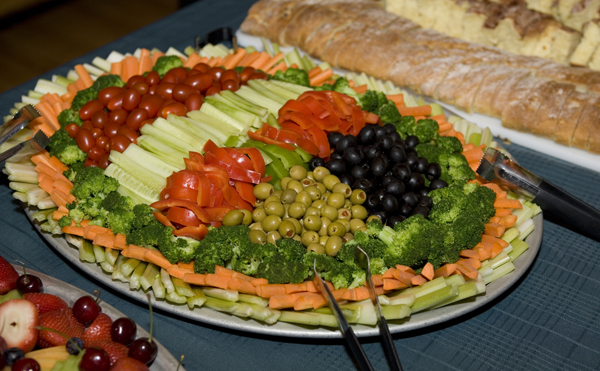 Healthy food options at Wilderness Trails Ranch in Colorado.
Resolution #3- Manage Stress

In addition to horseback riding in wide-open spaces, many great destinations with horseback riding offer yoga and spas with a variety of treatments for relaxation.
Mountain Sky Guest Ranch in Montana offers group yoga classes geared toward all ability levels, with two sessions daily. HF Bar Ranch in Wyoming offers yoga classes taught by certified instructors in their Club House several times a week.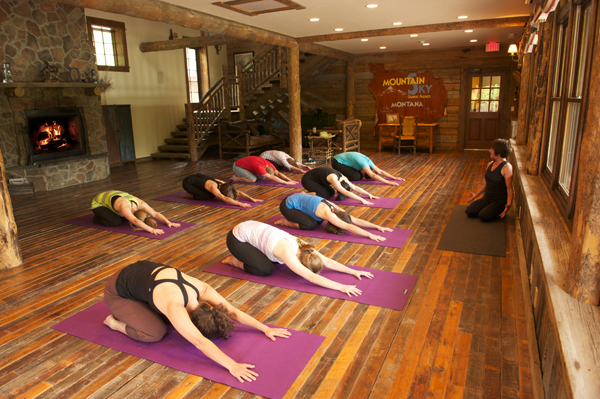 Yoga class at Mountain Sky Guest Ranch in Montana.
Castle Leslie in Ireland has a Victorian inspired spa with seven treatment rooms, a relaxation area and a hot tub overlooking the stables, so you can soak in serenity while watching the horses. Rancho de los Caballeros in the Sonoran Desert in Arizona focuses on desert inspired relaxation with Desert Scrubs, Baths and Wraps and even treatments in the great outdoors.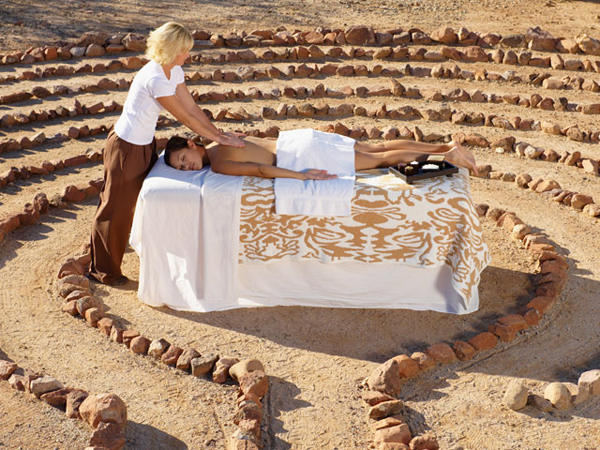 A desert massage at Rancho de los Caballeros in Arizona.
Resolution #4- Spend More Time with Family & Friends
Ranch and riding vacations offer great opportunities for family and group bonding. Whether you want to travel with kids or head out on a girlfriend's getaway, there are a variety of choices. Many dude ranches offer Adult Only Weeks during their shoulder seasons in the spring and fall. These special weeks can bring discounted rates and different activities including wine tasting, spa activities, cooking classes, yoga, nature walks and gourmet food.
Other ranches are pet-friendly, allowing you to bring your four-legged family member along. Still more ranches offer children's programs designed to give spouses quality time with each other and equal family time. These kid friendly ranches are set up to accommodate parents and kids of all ages, making them a comfortable travel choice for a family vacation. Many ranches are now also catering to multi-generational travel, meaning grandma may come along and saddle up, too.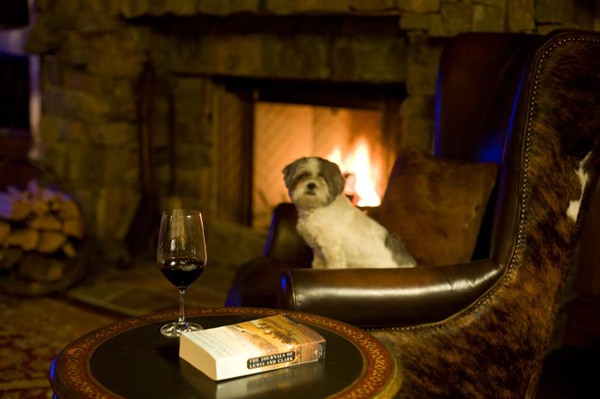 The Resort at Paws Up in Montana is pet friendly.
Resolution #5- Learn Something New
Many ranches and horseback riding vacation destinations are set up specifically to help you better your riding skills, whether it's Western riding, comfort on the trails, Classical Dressage or Show Jumping. These destinations offer equestrian training vacations, as well as special clinics and even women only weeks to help you bond and learn in a female-only environment.
In Andalucia, Spain, Cortijo Uribe specializes in lessons in dressage and show jumping taught by experienced competition riders. Equestrians travel to this Spain riding holiday destination for dressage training vacations, from complete beginners to Alta Escuela (piaffe, passage, Spanish walk).
Interested in bettering your riding skills in Portugal? At Hippikos, you can train on Lusitano stallions–– from learning or improving your seat and position on the lunge, to learning and performing one tempi changes.
Equestrian training vacations with top horses at Hippikos in Portugal.
In Utah, Horses Landing hosts equestrian clinics focused on colt starting to first ride, reining, western dressage, cow horse and beginning to advanced trail riding. In New York, B & B Ranch, Guest House & Spa has ongoing roster of equestrian clinics, workshops and horse riding events. Ray Whelihan teaches Hunter Seat Equitation in the Forward Riding System and is also available for instruction in Stock Seat Equitation and Horsemanship.
Mountain Sky Guest Ranch is one of the ranches catching on to the girls-only western getaway craze with their Wild West Women vacations, which include unique horsemanship opportunities and interactive demonstrations on Mountain Sky's working cattle ranch. Guests learn to groom and tack horses, trail ride, fly fish, and two-step to songs played by local musicians. Blue Sky Sage Horseback Adventures offers Girls Ride Out! All Women Horseback Vacations with camping trips (including hot showers) in the wilds of Wyoming's wide-open spaces. These weeks inclde lots of saddle time, no set daily schedule, and plenty of time to truly rest and enjoy riding.
With all of the options above, you're either exhausted or exhilarated by the time you finish reading this blog post. Just remember, part of the fun of travel is the planning, so take your time and enjoy perusing all of the options. Don't take too long though, as 2014 has already begun!

Learn more about great places to fulfill your New Year's Resolutions in the Equitrekking Vacation Guide, EquitrekkingTravel.com and Top20Ranches.com. Check out discounted trips on Equitrekking Travel Deals.