Ranch Recipe- Apple Berry Cobbler from The Hideout
Looking to warm up and indulge this holiday season? The Hideout Lodge & Guest Ranch, a longtime Wyoming dude ranch, shares a ranch recipe for scrumptous Apple Berry Cobbler- a great holiday dessert made with healthy berries!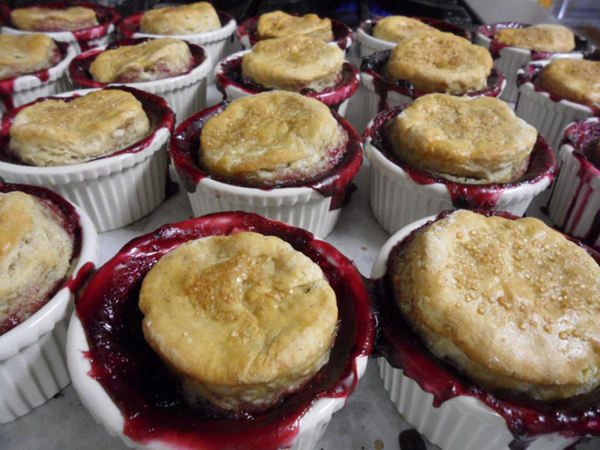 Apple Berry Cobbler from the Hideout
Fruit Layer
2 lb. total Blueberries, Raspberries, and apple mixed
(I used about 1 1/2 apples, peeled and chopped)
14 oz. Juice from berries, or water
9 oz. Granulated sugar
2.25 oz. Cornstarch
Nutmeg, Cinnamon, Allspice, Ginger to taste
1 oz. lemon juice
1. Place 3/4 of water or juice in saucepan and add the granulated sugar.
2. Boil the mixture.
3. Make a slurry by placing the cornstarch in a bowl and added the remaining 1/4 of liquid while whisking as well as spices and lemon juice.
4. When sugar/water mixutre begins to boil, slowly add the slurry, whicking constantly. Return to boil.
5. Cook until the mixture is thickened and translucent, approximately one minute.
5. Remove from heat and fold in the berries.
6. Place berries in bottom of casserole or individual ramekins.
Buttermilk Biscuit
1 egg
13.2 oz. Buttermilk
20 oz. All-purpose flour
1.2 oz. Baking Powder
1.5 oz. Sugar, granulated
Dash of Cinnamon
pinch salt
4.5 oz. Butter
1. Whisk egg and buttermilk together in a small bowl. Place in refrigerator until needed.
2. Sift together dry ingredients.
3. Cut or flake the butter into dry mixture, most of the butter should be in large flakes or shards.
4. Add the egg/buttermilk all at once and mix by hand or on first speed of a mixer until just incorporated.
5. Cover with plastic wrap and refrigerate for about 10 minutes.
6. Turn out onto floured surface and knead until the dough just comes together. Do not overmix.
7. Roll out to thickness of 1″
8. Fold one side towards center and pat down. Repeat with other 3 sides, rotating dough 90 degrees.
9. Roll dough out into even thickness of 1/2″
10. Cut into desired shape/size.
11. Allow to rest for 20-30 minutes.
12. Place individual biscuits on top of fruit filling.
13. Egg wash and sprinkle with coarse sugar.
14. Bake 350 for about 20-30 minutes or until biscuits rise and are golden brown.
Makes about 10-12 individual ramekins.
If you don't have a scale to measure ingredients, gourmetsleuth.com is a great resource for converting ingredients.

Learn more about The Hideout Lodge & Guest Ranch, a Wyoming dude ranch and one of Equitrekking's Top 20 Ranches, in the Equitrekking Vacation Guide and on their website, www.thehideout.com.