Ranch Recipe- Pumpkin Cheesecake from Vista Verde Ranch
Vista Verde Guest Ranch's Chef Chol shares a ranch recipe for scrumptous Pumpkin Cheesecake- a great holiday dessert!
by Alana at Vista Verde Guest Ranch

There is just something about fall that says, "Bring on the pumpkins!" Muffins, pies, lattes… it's seems everywhere you go, you find this autumnal squash.
And I guess we're no different here at Vista Verde Ranch. As a treat for the few staff who are still here, Chef Chol recently made his delicious Pumpkin Cheesecake. (His ranch recipe is shared below!)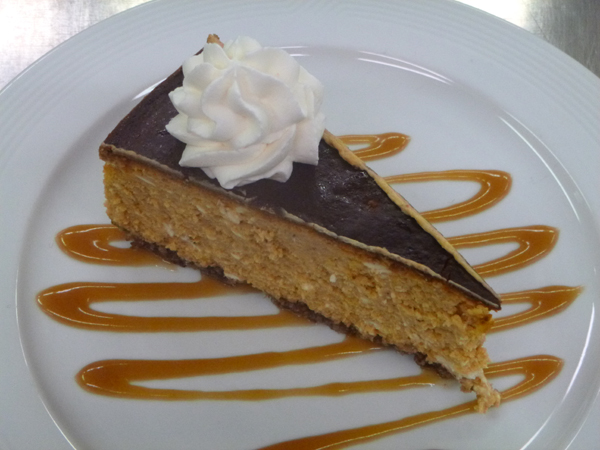 After dinner, ranch guests gathered cozy by the fire, chatting and enjoying this seasonal dessert.
A clever alternative to the classic pumpkin pie, this cheesecake is hearty, without being too rich. It is sweet, with classic pumpkin-paired spices. (Goes great with a cup of coffee or homemade chai.) Chef Chol served it to us with leftover caramel sauce and a dollop of whipped cream. Delicious!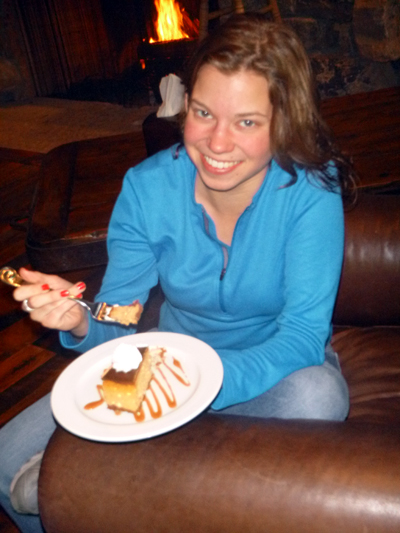 Pumpkin Cheesecake Recipe
Makes one 10″ round cake
Ingredients (For Crust)
1-1/4 cups toasted pecans
1/4 cup panko bread crumb
2 Tbsp. granulated sugar
2 Tbsp. melted butter

Yum!
Ingredients (For Batter)
36 ounces cream cheese
9 ounces brown sugar
6 ounces granulated sugar
5 large eggs + 1 yolk
1/4 cup + 3 Tblsp. all purpose flour
1 1/8 tsp. ground cinnamon
1 1/8 tsp. ground nutmeg
2 Tblsp. Brandy
18 ounces pumpkin (canned or cooked)

How to Make the Pumpkin Cheesecake Dessert
In a food processor, combine all crust ingredients and pulse until crumbs and nuts are fine and it all comes together.

Press crust into the bottom of a 10 inch spring form pan lined with parchment paper.

Wrap the spring form pan in a double layer of aluminum foil, bake the crust at 325 degrees F for 5 minutes, let cool and chill in refrigerator until batter is prepared.

In the bowl of a kitchen aid mixer (or in a mixing bowl with a hand held mixer) combine the cream cheese and the sugar and blend until smooth.

Add the eggs and yolk one at a time, scraping down the bowl after each addition, and blend until incorporated.

Add the flour, spices, brandy and pumpkin and mix until just combined (but do not over mix).

Pour the batter into the spring form pan, place the spring form into a roasting pan and fill the roasting pan with warm water half way up the side of the spring form pan (hence the double layer of aluminum foil), place the roasting pan in the oven and bake for 1 hour, 15 minutes (or until the cheesecake is set). If the top of the cheesecake becomes too dark, cover loosely with a sheet of foil to prevent further browning.

Remove the cheesecake from the oven, remove from the water bath (roasting pan) and place on the counter-top with a large mixing bowl turned over top to allow the cheesecake to cool slowly (if the cake cools too quickly, the top will tend to crack).

After cooling for one hour, place the cheesecake in the refrigerator for another four hours to allow the cheesecake to fully cool and set up.

Remove the cheesecake from the spring form pan, slice and serve with caramel sauce, whipped cream, pumpkinseed or pecan brittle, or all of the above.

Enjoy!

Learn more about Vista Verde Guest Ranch, a Colorado guest ranch vacation destination. Learn about great dude ranches and guest ranches, many of which specialize in gourmet food and wines, in the Equitrekking Vacation Guide and Top20Ranches.com.