Packing for Botswana Travels & Filming
Luggage Limits, Half Chaps and Quick Drying Underwear
After riding for the first time today in my new Ariat Terrain half chaps, I realized I needed to do some quick breaking in before my multi-week horse safari adventure starting next week in Botswana, Africa. As a frequent rider and traveler, I know how important it is to pack gear that is well broken in and comfortable. You don't want to be breaking it in while in the saddle in a foreign state or land. I also remembered how I broke in the all around chaps that I've worn for several years. My husband's larger calves were donated to the cause, and he actually wore my new chaps out of the house to our NYC neighborhood Italian restaurant. That's dedication that I wish I had photographed so that I could showcase it here in this blog!
As a traveler and entrepreneur, I'm often challenged with time constraints, so try to make double use of household items. Above, my new Ariat Terrain half chaps get broken in by bottles of scotch and whiskey I brought back from my travels in Scotland and Ireland.
I rummaged through my house to try to figure out what would be just larger than the part of my leg below my knee to help break in my half chaps more quickly. Lo and behold, another travel item came in handy. I was pleased that the 8am scotch tasting I did in Scotland (we had to do it before the distillery opened and the crowds came in) did not go to waste back here in the USA. The Scotch bottle that I purchased was the perfect fit, and so was the Connemara whiskey I purchased in Ireland. I'll let you know if this trick works.
Luggage Limits and ... Undewear!?!
Since we're flying on a lot of small charter flights in Botswana to get from one safari camp to the next, we have to pack lightly, as there are weight limits on the luggage. This is a challenge for me as a travel TV host and equestrian. It's also a challenge for our film crew, as we've got lots of gear.
I'm pairing down my own wardrobe to the bare minimum, which has meant cultivating some special items for the trip, like a pair of waterproof all terrain boots, so I can ride horses and hike on the same soles. I've ridden in all terrain boots in Belize, Costa Rica, Hawaii and beyond, but waterproofed them myself. Since I'll be riding in the water-filled lagoons of the Okavango Delta, I figure it'd be best to get the waterproof kind.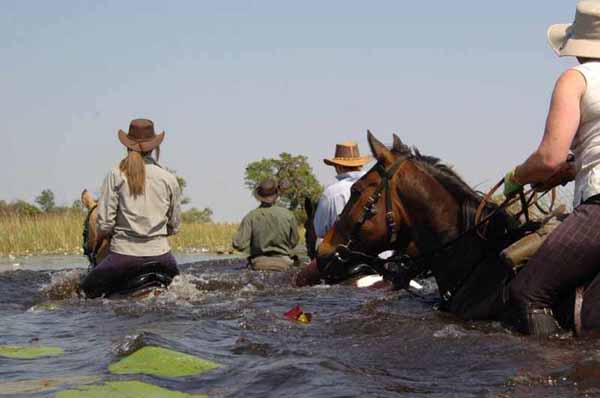 Riders in the Okavango Delta in Botswana. I think they call that swim riding.
This also includes dry wicking and fast drying underwear. I'm trying the ExOfficio Give-N-Go Underwear because it touts that you can go "17 COUNTRIES. 6 WEEKS. ONE PAIR OF UNDERWEAR. OKAY, MAYBE TWO." I'll be taking more than two myself, but know that I can't bring the 27 pairs that I'd like to pack, so I'll give these a go and let you know how it works.

How Does It All Turn Out? Stay Tuned.
I'll have a complete packing list when I return so I can definitely tell you what to bring and what to leave at home, making your safari experience lighter and more enjoyable. Stay tuned. For now, check out my general packing list. These are things you may want to consider bringing on your equestrian travels.
Read about where we're headed in Botswana. I'll be tweeting and Facebooking where possible, but as you can imagine, there won't be internet access everywhere. For many modern travelers, that's part of the attraction of these remote vacation locations. Stay tuned, though, as I'll be writing copious blogs on the road and will post them later, including special articles in the Equitrekking newsletter.