Planning the Perfect Dude Ranch Vacation- Travel Tips!
How to plan your dream dude ranch vacation for singles, groups, families and fickle travelers.
Interested in taking an all-American dude ranch vacation? As someone who's taken a lot of them, including girlfriend getaways, family escapes, and wilderness adventures while filming Equitrekking, I can tell you that there are a variety of diverse choices. While many ranches promote a casual, relaxed atmosphere, others offer luxury with top amenities. While some modern ranches cater to foodies and offer gourmet fare, others deliver cookouts and cowboy singers. Ranch vacations can make for a stress-free, wallet-friendly and family-friendly vacation. Here are five travel tips to help you plan your ranch escape and pick the right ranch vacation for you.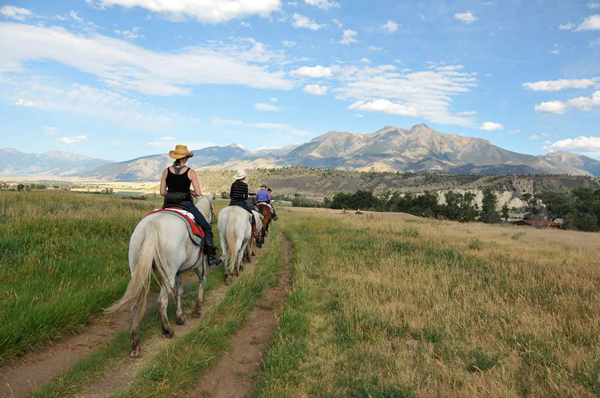 Riding under Montana's Big Skies at Mountain Sky Guest Ranch, which has been welcoming guests for over 80 years.
Pick your ranch style
In thinking about your dream ranch vacation, decide what best suits your goals and tastes. Are you seeking an authentic Western experience on a dude ranch vacation, a working cattle ranch where you can play cowboy, or a luxury ranch resort complete with a fitness center and spa? Do you want an intimate, boutique setting or larger numbers of guests to perhaps serve as a buffer for the rest of your group?
Decide up front on ranch activities and amenities
Many guest ranches offer a surprising array of special activities either onsite or nearby such as whitewater rafting, fly-fishing, mountain biking, cooking classes, spa treatments, square dancing, horse pack trips, local sightseeing, and often have children's programs—a built-in, stellar babysitting tool. If there's a particular activity or amenity you're seeking, this can be a good way to narrow your search. Having so many pre-planned activities can often take some stress out of the trip because you don't have the pressure of planning everything for your group. Addicted to the Web or need cell reception? Keep in mind that some ranches are off the grid, meaning you'll be staying in a technology-free environment. This can be a great way to unplug from our interconnected world and enhance your family or group bonding.
Run the numbers
Many dude ranches are all-inclusive, so if you are getting initial sticker shock from the week's pricing, do the math. Consider that all meals, activities, lodging and even some alcohol can be included, meaning you know almost all of your expenses up front. You'll need to add in flights and transportation to and from the ranch, as while some ranches offer free airport shuttle service, you'll need to rent a car for others. Consider that you will need to tip at many ranches, which could add 10 to 20 percent more to your tab. Search the ranch website, email, or call the destinations you are considering to find out what's included, so you can create a budget and stick to it for your ranch vacation.
Check out ranch planning resources
There are a lot of great ranch escapes, so enjoy exploring and getting ready to saddle up and ride the range! Here are some trusted ranch vacation resources to help you narrow your search:
• Equitrekking.com. The companion website to the Emmy-winning PBS TV show offers Ranch Travel Deals, the Equitrekking Vacation Guide to great ranches and horseback riding vacations, and Dude Ranch Blogs.
• Dude Ranchers Associations. The Dude Ranchers' Association has been helping travelers choose Western vacations since 1926 and offers great ranch planning resources. If you've narrowed it down to a state, check out the Colorado Dude & Guest Ranch Association, Arizona Dude Ranch Association or Wyoming Dude Ranch Association.
• Top20Ranches.com. This website features 20 of the best North American dude and guest ranches.
Enjoy the ranch search
As someone who likes simply looking at travel destinations, I ask that you, too, enjoy the search and that you search in a variety of ways. There are great resources online, but don't judge a ranch by its website. Search multiple places, read online guides and reviews and if you can, ask around. A personal referral from a trusted source is always a good idea.