Photographing Wild Konik Horses in the Netherlands
Wild horse photographer PJ Kaszas shares her experience photographing wild Konik horses in the Netherlands.
by PJ Kaszas
It's not every trip that you get to stay in a tower like a princess--but if you happen to find yourself in Lelystad, Netherlands, you can. You can then wander around the Oostvaardersplassen, the reclaimed land turned into a nature reserve that is home to wildlife, birdlife, and great hiking. But what brought me there were the magnificent Konik horses.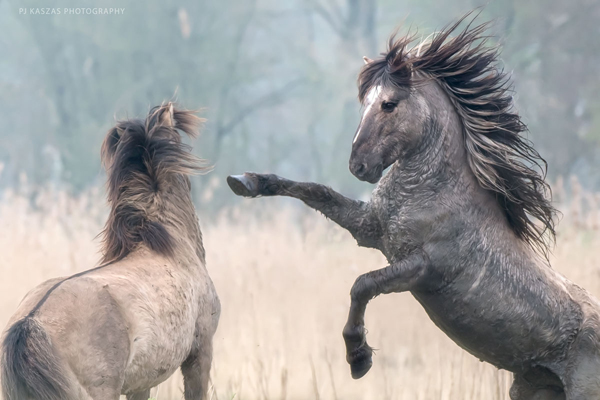 Two Konik stallions face off. Photo by PJ Kaszas.
Lelystad and the Oostvaardersplassen are located about an hour from Amsterdam's Schiphol Airport. It is an easy drive. I arrived at my tower, an Airbnb property, to find the owners had left me fresh bread, milk, local cheese, homemade jam, spice cookies, and hagelslag (Dutch chocolate sprinkles that, when combined with good butter on bread, through some strange alchemy make it all taste just like cake covered in rich frosting).
At dawn, I set off into the Oostvaardersplassen in search of Konik horses. Konik horses, a semi-feral Polish breed characterized by their dun coloring and primitive markings, are wetlands specialists. They were introduced to the nature reserve in a re-wilding attempt. They help manage the health of these extensive wetlands.
Konik stallions having a "conversation" about who is more dominant. Photo by PJ Kaszas.
You can visit the area year round but there are things to know about accessing the horses. May through December you can hike out to the horses through the main areas of the Oostvaadersplassen via the Zeerend route, where the main herd can be found. I was there in March. There is another herd accessible year round via the Oostvaardersveld trail, which is reachable from the Visitor's Center. This trail is south of the train tracks, which is where I went.
The Oostvaardersplassen is beautiful country--filled with fields, woods, canals, and ponds. Birds were everywhere. I passed fields full of wood pigeons, barnacle geese, greylag geese, and the occasional Egyptian goose. Egrets, heron, coots and other ducks haunted the edges of reeds lining the waterways. But the going wasn't as easy as I thought it would be, given the land was so flat. Terrestrial snails were out on the trail in zombie horde numbers. I was trying hard not to step on them. I must have looked hilarious--quickly tip-toeing my way down the trail, lurching from side to side, trying not to crush these small crustaceans.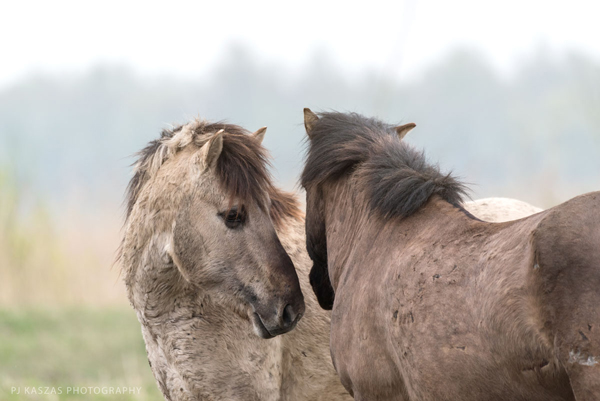 Two Konik mares pause during a mutual grooming session. They are obviously the best of friends. Photo by PJ Kaszas.
Then I found the horses. And for the next three hours, I was in Konik horse heaven. I fell in love with these dun-colored equines. They are so animated and full of personality. Konik horses are a joy to photograph, showing all the behaviors typical of wild horses that makes photographing wild horses so much fun: stallions clashed, friends rolled in the mud together, mares groomed their closest friends, and little foals discovered their legs and took off running for the sheer joy of being a horse!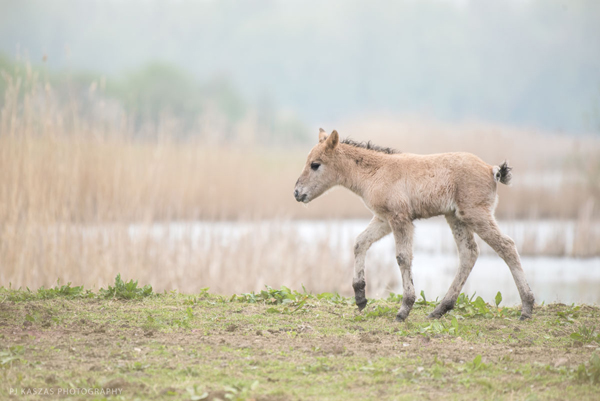 A young Konik foal. You can already see how confident she is. She's a lead mare in the making. Photo by PJ Kaszas.
.There are some rules you need to follow while spending time with the horses--for their safety and yours. You need to keep about 25 meters (about 82 feet) away from them at all times. You should not try to cross through the herds, get between stallions and their harems, or between mares and their foals. And never feed them. Ever. These horses are essentially wild so they should be treated with the same caution as you would use while photographing any wild animal. Also, note that humans are required to stay on trails. The horses don't have to follow that rule, so sometimes the horses are going to be in places you can't hike to--like on a spit of land surrounded by water, but you can still see them and photograph them.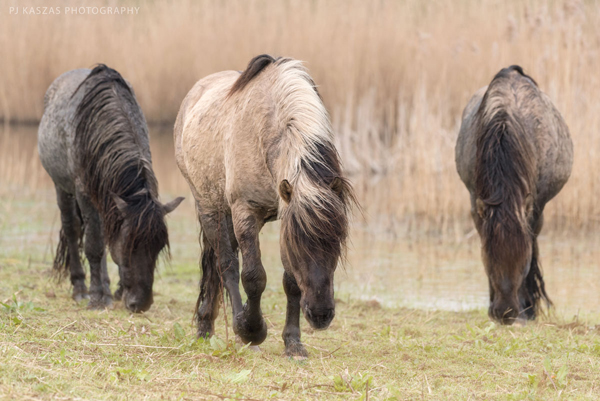 The many subtle shades of Konik horses. They so match their reed-filled environment. Photo by PJ Kaszas.
To overcome the distance requirement, and possibly finding horses in more inaccessible spots, I suggest using a long lens. I used a combination of full frame camera (like a Nikon D750 or 850) with a 200-500 mm lens and a crop sensor body (like the Nikon D500) with the same 200-500 mm lens on it, which will give you a focal length of up to 750 mm. For more environmental kinds of photos, I used a 70-200 mm lens on my full frame camera. I would also suggest bringing a wide-angle lens to take landscape photos. as the area is beautiful.
In addition, come prepared for changeable weather. Have good rain gear for both yourself and your camera equipment with you. And bring a picnic lunch or a snack so you can relax, sit back, and just watch the horses. Watching wild horses is like watching the best soap opera, or diving into a juicy novel. There is love, intrigue, betrayal, friendship, drama, comedy, and yes...even tragedy. Wild horses have rich and complex social lives. That is what you want to watch for--all of those behaviors demonstrating the rich lives these horses lead. As a photographer, that is what you want to capture in all its myriad forms.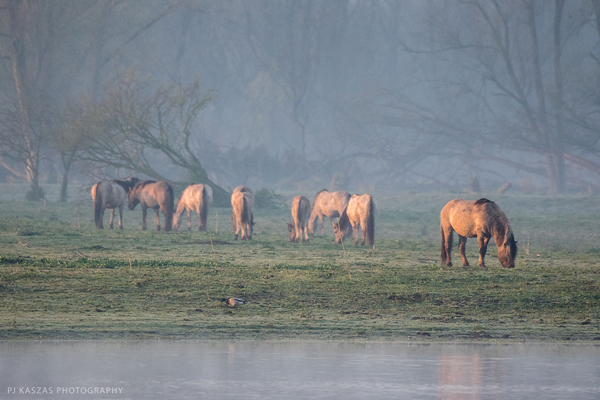 Morning dawns on the Oostvaardersplassen. Photo by PJ Kaszas.
I could have spent all day out there but heavy rain moved in. Instead, I returned to my tower for hot tea, spice cookies, and a long afternoon nap.
The next morning I had to leave my lovely, cozy tower. I went back to the Oostvaardersplassen as the sun came up. It was a fireball in the sky--and lit the horses dun coats, making them shine gold through the early morning fog. I cannot wait to return here.
About the author: PJ Kaszas is a wildlife and documentary photographer. She is also a multimedia designer, writer, painter, poet, and a retired archaeologist. She specializes in doing art in service to animals, nature, science, and history. She is at heart a storyteller no matter the medium. When not wandering off someplace new in search of adventure, or just to satisfy her curiosity, she can be found somewhere on the East Coast of the United States, usually stuck on a train or lying on her couch reading a book. Find out more at www.pjkaszas.zenfolio.com. Follow her on social media: Instagram @pjkaszas and @wildhorsephotographycollective Facebook: PJ Kaszas Photography Twitter: @pjkaszas