Photographing the Heber Wild Horses
Photographer PJ Kaszas shares her experience with the Heber horses in Arizona, as well as a few helpful tips for photographing them in the wild.
By PJ Kaszas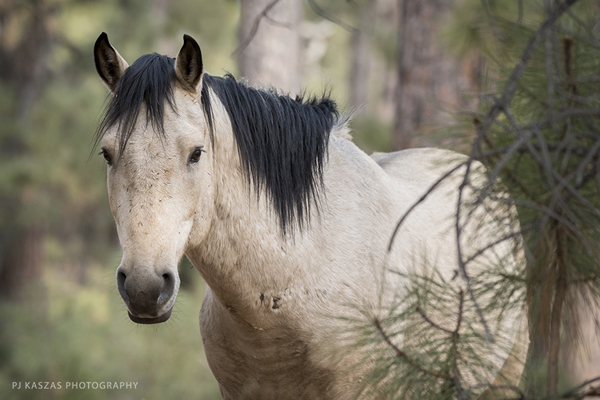 Heber stallion peaking out through the ponderosa pines. Photo by PJ Kaszas.
High up along the Mogollon Rim in Arizona's Apache-Sitgreaves National Forests walk the most amazing horses--the Heber wild horses. There is something magical about watching these horses as they wander deep in the pine forest through sun-dappled glades. Indeed, something almost mythical.
These horses are direct descendants of Spanish horses and many of them display the primitive markings, like dorsal stripes, leg stripes, and shoulder stripes, that indicate their origins. Colors range from dun, palomino, and cremello to chestnut, bay, and buckskin.
To visit this area you'll want a four-wheel drive vehicle. There are several forest roads you'll want to explore in search of these horses and they are not paved and not exactly smooth going in some places.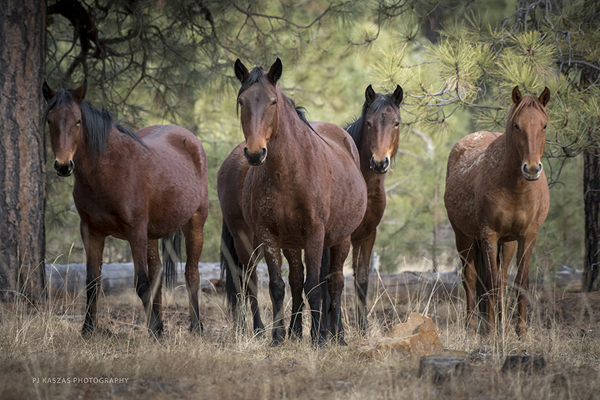 Heber mares. A couple are obviously in foal. Photo by PJ Kaszas.
You can stay in the Heber-Overgaard area or make a long day trip from Mesa, Arizona, where you can also spend time with the Salt River wild horses in Tonto National Forest. In Heber-Overgaard there are hotels, motels, and plenty of cabin rentals available. You can also choose to camp in the National Forest.
Elevations on the Mogollon Rim, a huge limestone and sandstone escarpment that cuts through Arizona, can be over 7000 feet. Come prepared to deal with that if you are not used to being at elevation. Bring plenty of water and keep hydrated. Make sure to pack a picnic lunch and snacks. Also, because you are at elevation, the time of year makes a difference as to how accessible this area is. This area does get snow and sometimes the National Forest roads are closed. You can contact the Black Mesa Ranger District in Overgaard for latest conditions.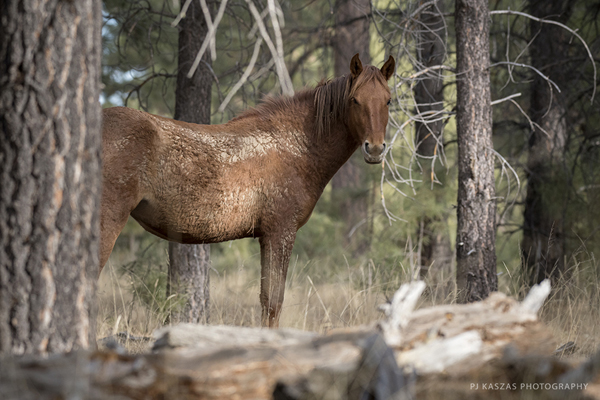 Heber mare. Photo by PJ Kaszas.
Before heading into the National Forest you should get maps and information from the Black Mesa Ranger Station and Visitors Center just off of Route 260. In fact, you may see horses just off of 260 as you come into town.
The route you will want to follow is circular. Take Forest Road 50 (located just past the ranger station) to the Mogollon Rim Road (Route 300), which will bring you back to Route 260. You'll also want to drive down to Black Canyon Lake as well, as the horses do come down to that area to drink. As you drive down Route 50 to Route 300, you will see a lot of open areas and downed trees. These are remnants of the 2002 Rodeo-Chediski fire. Horses can be found anywhere along this route. So can mule deer and elk--so have your camera ready.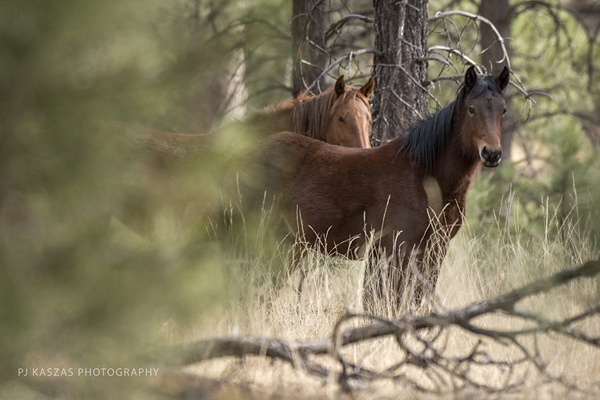 Heber mares looking toward their stallion waiting for him to follow them. Photo by PJ Kaszas.
I suggest using a short zoom lens and a long lens. I used a combination of a 70-200 mm lens on my full frame camera body (like a Nikon D750 or D850) and a 200-500 mm lens on a crop sensor body (like the Nikon D500). This combination allowed me to stay a safe and respectful distance from the horses. These are wild horses and one should use the same approach you would when photographing any other wild animal.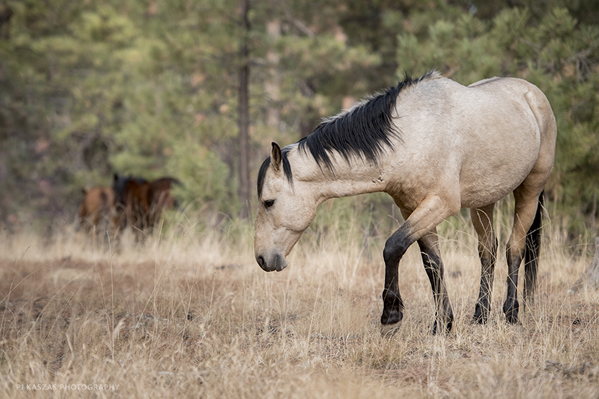 A Heber stallion moving to follow his mares farther into the forest. Photo by PJ Kaszas.
I have photographed many wild horses but there was something extraordinary about making my way through the depths of this forest, feet sinking into the cushion of soft pine needles on the forest floor, stepping occasionally on a pine cone and feeling it smoosh beneath my foot in a rather satisfactory way, or stepping on a fallen branch and hearing it's snap echo through the canopy, and then to find these beautiful woodland horses so at home in their realm of trees.
About the Author: PJ Kaszas is a wildlife and documentary photographer. She is also a multimedia designer, writer, painter, poet, and a retired archaeologist. She specializes in doing art in service to animals, nature, science, and history. She is at heart a storyteller no matter the medium. When not wandering off someplace new in search of adventure, or just to satisfy her curiosity, she can be found somewhere on the East Coast of the United States, usually stuck on a train or lying on her couch reading a book. Find out more at www.pjkaszas.zenfolio.com. Follow her on social media: Instagram @pjkaszas and @wildhorsephotographycollective Facebook: PJ Kaszas Photography Twitter: @pjkaszas