Pennsylvania Horse Trails Through the Seasons
by Debbie Crone and Aleta Seifert
The state of Pennsylvania has much to offer the horseback enthusiast! Not only can you choose from a challenging to easy trail ride, you can have three great seasons in which to do it, four if it is a mild winter.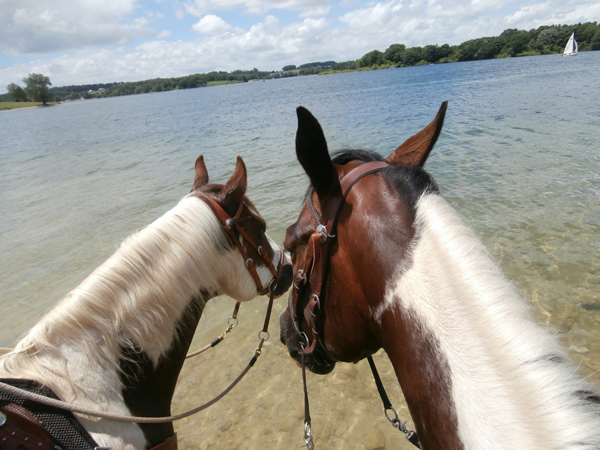 Horseback riding in Codorus State Park in Pennsylvania. Photo from PA Rangers.
Pennsylvania Horse Trails for Spring
During the spring months a wonderful park to visit is Codorus State Park for an easy to moderate trail system with delightful views of the Codorus Lake and its boating facilities. Check out this virtual guide of the trail system, which is impeccably maintained by the park system and the Pennsylvania Rangers, a local riding club.
If you are out of state and want to camp, consider staying at Gettysburg and combining the two as they are very close to each other. Riding the battlefields is a once in a lifetime experience for the Civil War enthusiast. The Artillery Ridge Campground and National Riding Stable is a great place for equine friendly camping, and it's the closest camping to the battlefield.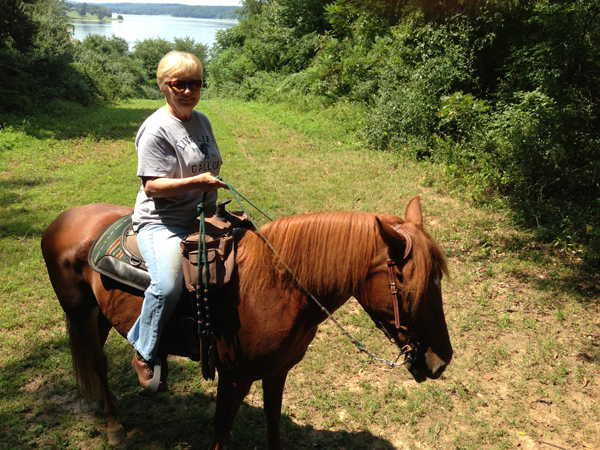 The 3,490-acre Codorus State Park is in the rolling hills of southern York County is home base for the PA Rangers. Photo from PA Rangers.
Pennsylvania Horse Trails for Summer
For camping with great summer riding, from May through October, visit the Cook Forest trail system. The trails are moderate to challenging depending on what you prefer. There are short and long guided rides or you can ride on your own. Trails are marked and there are lots of destinations, including riding across the Clarion River. Cook Forest offers all- inclusive weekends where they even supply the meals and lots of it. Cook Forest also has rental horses available if you wanted to bring along a horseless rider.
The nice folks at Cook Forest teamed up with the Pennsylvania Equine Council to provide a weekend called Basic Horse Camp. It is focused mainly on adults that are just getting back into horses or discovering horses for the first time. The camp features information sessions about "Ride Smart," Leave No Trace, tack and how to tack up, horseshoeing and how to deal with your farrier, vet information, knot tying, highlining, and what you need to pack to camp with your horse. They hold a trail ride on Saturday afternoon and all this with great food as well. We all know there is always something new to learn!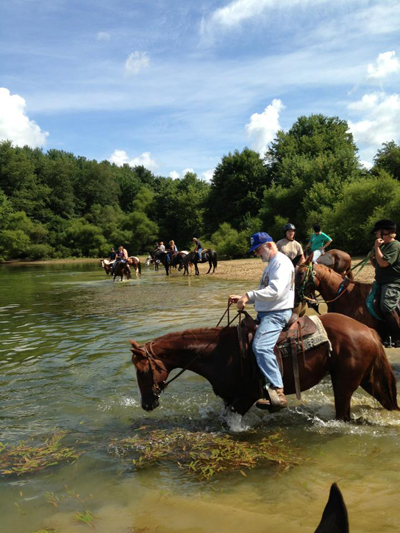 The PA Rangers is an equestrian riding club based near Hanover, Pennsylvania. Throughout the year thy host trail rides, horse shows, camp outs and more. Photo from PA Rangers.
Pennsylvania Horse Trails for Fall
For some incredible fall riding, I recommend riding in Benezette, Pennsylvania, which is in Elk County. Nothing beats seeing the herds of elk and hearing them bugle their mating call in the fall while navigating some of Thunder Mountain Trail. It is an unbelievable ride that will not disappoint. You can find places to camp in Benezette here, including Big Elk Lick Horse Camp, with Mountaintop Outfitters and Thunder Mountain Equestrian Trail. For a more detailed description check out this article by David Paup featured in The Trail Rider.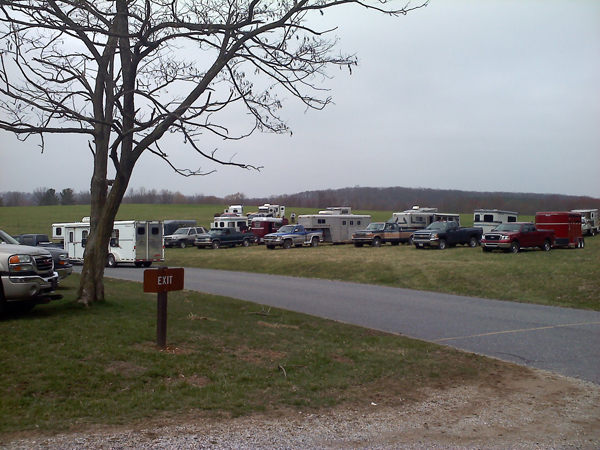 Trailer parking lot in Codorus State Park. Photo from PA Rangers.
For those closer to the western portion of Pennsylvania, you might want to consider Kelly Pines Campground in the Allegheny National Forest. Kelly Pines Campground is located in Marienville on Duhring Road and is a free state facility that is first come first serve. It has primitive camping with water (not potable) on sight, restrooms, and covered tie stalls for your horses.
Trails in Codorus State Park cover rolling hills, forests, fields, streams and pass near Lake Marburg. Photo from PA Rangers.
Close to Kelly Pines Campground, which has access to all the same trails, but is paid camping is Summers Allegheny Trail Ride. They have box stalls (bring your own bedding) and a shower facility. They do not have a website but can be contacted at 3815 Duhring Rd., Marienville, PA 16239. Tel. (814) 927-6710.
Diverse trail riding in the Allegheny National Forest. Photo from Debbie Crone.
Hope this helps everyone to enjoy the beautiful riding the great state of Pennsylvania has to offer!