Overnight Pack Trip in Banff National Park
Six friends head out with Banff Trail Riders for two days of riding in the Bow River Valley.
by Jocelyn Pierce
Our horses stood patiently on the narrow trail while the family of four we were riding with steered their mounts down a narrow path and out of sight to snap photos by an overlook. Our chit-chatting and laughing were abruptly interrupted as one of the girls exclaimed, "Look!" and pointed down the trail. Standing about 50 feet away was a lone gray wolf. We clumsily scrambled to grab cameras as the wolf stared us down from a comfortable distance until he decided he had enough of our gawking and was gone just as quickly and silently as he appeared.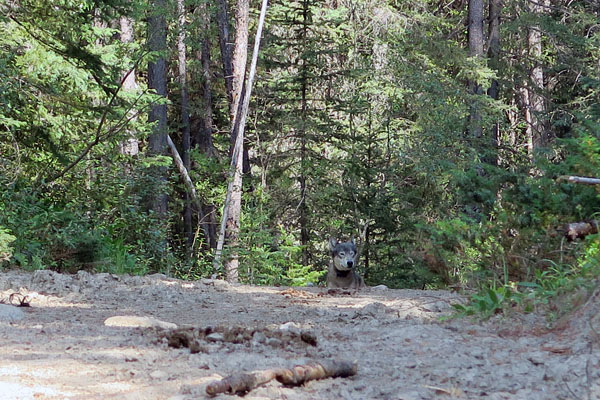 At first, our guide didn't believe us when we cried wolf, but she quickly confirmed that not only was it a wolf, but only one of two wolves in the Bow Valley. Photo by Abby Schuster.
I was on a weekend pack trip with the girls I grew up learning to ride with. We've remained best friends for over 20 years, and since five of us were turning the big 3-0 this year, we were searching for a unique way to celebrate our birthdays and friendship. A horseback riding vacation—the interest that brought us together as kids--was a no-brainer. After much back and forth, we decided Canada's Banff National Park would be our destination. It turns out Canada was celebrating its birthday too--150 years--and admission to all national parks, including Banff, was free.
We settled on Banff Trail Riders' two-day Sundance Overnight trip, which was long enough to get away from the hubbub, but short enough to accommodate our hectic schedules. An out-and-back ride, it left from Warner Stables--which is conveniently located just a mile from the lively town of Banff. A 10-mile, 6-hour ride along the glacier-fed waters of the Bow River and Healy and Brewster Creeks got us to the backcountry lodge, where we didn't exactly rough it. The large, comfortable lodge had cozy rooms, a hot shower, and incredibly hearty meals prepared in a full kitchen by the live-in chef. Supplies and luggage were brought to the lodge by one guide and a string of tough pack mules.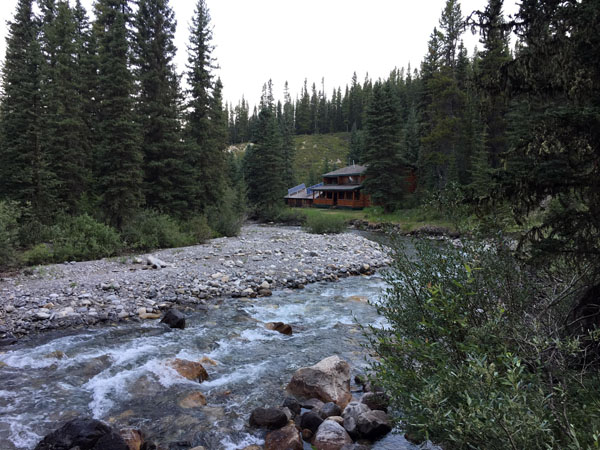 Sundance Lodge, which has a fully equipped kitchen, hot running water, a fire pit, and lots of quiet spots to relax. Photo by Jocelyn Pierce.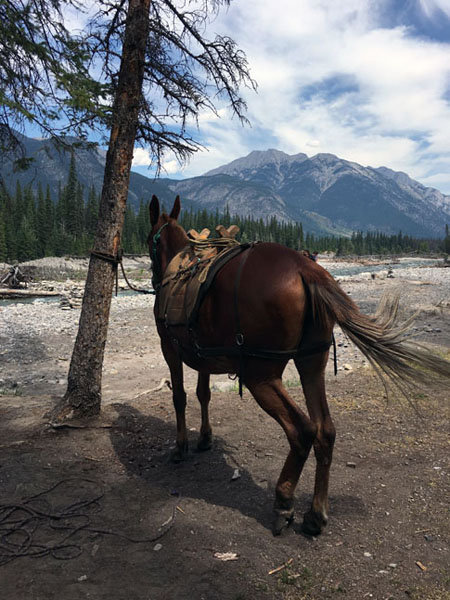 Not a bad spot for lunch break! Mules carry the guest's lunches to this peaceful spot along the Bow River. Photo by Jocelyn Pierce.
We were worried our ride would be affected by the wildfires in the area, which had shut down some campgrounds and trails in the park. Upon arrival, we learned our trip was the first to go out to the backcountry lodge in several days. Smoke diminished some of the views, a sobering reminder of not only how lucky we were to be able to complete our ride, but also of the total devastation wildfires can cause communities and natural areas. Wildfires are especially widespread in the West this summer and still ongoing.
Expect to cross lots of rivers on this ride! My horse, Ringo gulped down as much water as possible at every stream crossing. Photo by Jocelyn Pierce.
On both days, the routine was the same. We rode for three hours in the morning and then at about the halfway point, we stopped at the same ruggedly beautiful spot beside the Bow River to enjoy a gut-busting lunch before getting in the saddle for another three hours. On day one, we rode on narrow trails through forests and rocky riverbeds. But on the second day, we took a different route back, which had steep switchbacks and sweeping views. If you're looking for a ride with lots of trot and canter, this isn't the one for you. We walked the entire time, which was essential to take in the scenery (and wildlife) and so the horses could navigate the always rocky and sometimes very steep trail—not to mention the deep and fast-moving river crossings. The horses were all fit, steady on their feet, and overall good citizens, but still responsive and fun to ride.
Riders can expect to spend about six hours or so in the saddle on each day of the two-day ride. Photo by Jocelyn Pierce.
Riding through the amazing and remote country (where none of us had cellphone service) was the perfect way to escape from the chaotic, outside world, and enjoy each other's company. It was also reminiscent of how we grew up—spending whole summer days riding together, having fun and exploring, when it seemed like there was nothing else except us and our horses.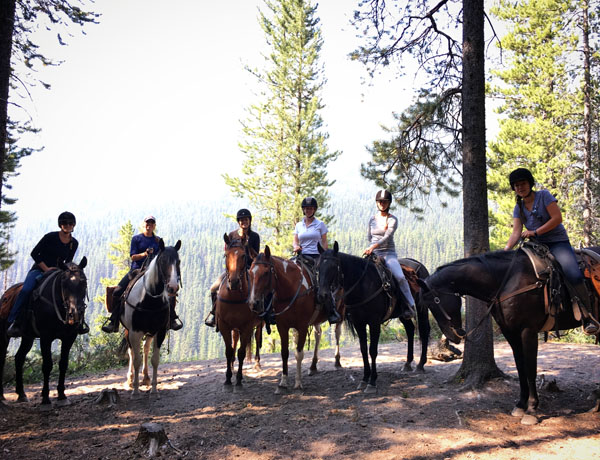 The whole crew! Every single one of our horses was a superstar. Photo by Jocelyn Pierce.
How you can go: Banff Trail Riders offers one to five night horse pack trips staying at lodges or campsites. If you want to ride in Banff National Park, but a day two pack trip is too much for you, check out Banff Trail Rider's hourly rides. If a day two pack trip is too little for you, they have longer pack trips into the backcountry, too. Learn more on Banff Trail Riders website and on their page in the Equitrekking Vacation Guide, an online guidebook to equestrian vacations around the world.
SaveSaveSaveSave