Jordan and her OTTB Socks Compete in the New Vocations Charity Horse Show
Jordan Josefczyk and her OTTB (off-the-track-Thoroughbred), Memory Road, now known as "Socks" competed in the Tenth Annual New Vocations Charity Horse Show in Delaware, Ohio.
This special horse show is dedicated to featuring the exceptional talent and athleticism of Thoroughbreds after their racing careers end. Jordan has been riding since she was four years old and competed for several years in hunter/jumper competitions. She shares her experience at the show and how well her OTTB has been in training.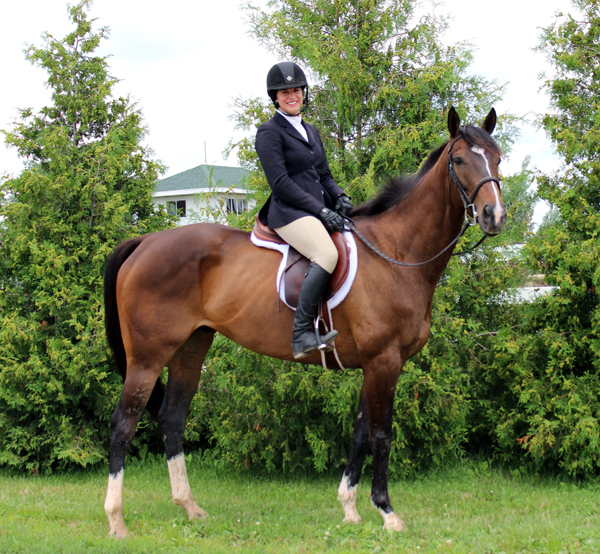 Jordan and "Socks" at the New Vocations Charity Horse Show / Photo: ©Angie Sanchez
Raina: Why did you decide to take on an ex-racehorse?
Jordan: I grew up riding at a barn where race horse training, rehabilitation, and breeding was done. It provided me the opportunity to help train many horses before they returned to the race track–and to train them to become show horses after they came off the track. I decided to take on this particular ex-racehorse per the suggestion of trainers, Trish Sanders and Larry Waltz.
Raina: Is this your first OTTB?
Jordan: No. Socks is the third OTTB I have personally owned, although I have helped to train and show many.
Raina: What are your goals with Socks?
Jordan: For him to reach his full potential, loving his job and life. Each horse is unique, with their own abilities and strengths, requiring a training plan and goals customized to each horse. It is very important to listen to your horse and allow your horse to progress at the pace best for him. Socks has a lovely hunter disposition, and I feel he may really excel in the hunter ring over large fences, in addition to being a very well rounded horse.
Raina: How long have you had Socks and how has his retraining been coming along?
Jordan: I've had him since January or February of 2013. Wonderfully, he continues to amaze me each week. He is an extremely intelligent horse, overflowing with personality, and who really wants to please. From the start of teaching him to jump, Socks has really seemed to enjoy jumping–– boldly and bravely jumping whatever is asked of him.
Raina: Have you had to overcome any major obstacles during his training?
Jordan: I fortunately have not, being blessed in the progress and fruits of his training. Small obstacles have included helping to present difficult things in a way that seem achievable to him, always being very fair, and providing positive and negative reinforcement to achieve the desired result. When an action may be difficult for him, it is important to break down the steps, asking for one thing at a time, in an effort to prevent overwhelming and confusing him.
With a horse like him that has a tendency of being backed off and growing bored, I have kept it a high priority to keep his training enjoyable and interesting to him. Another small obstacle has been in the area of keeping his weight up, as he has such a high metabolism, requiring many more calories than a typical mature show horse.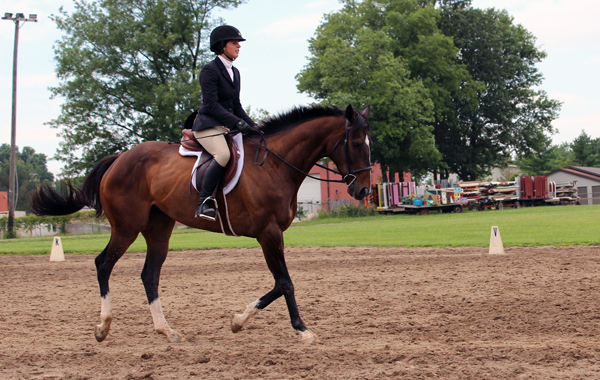 Jordan schooling Socks in the outdoor arena / Photo: ©Angie Sanchez
Raina: What was your experience like with Socks at the New Vocations show?
Jordan: We had a great show, especially with Socks only having been to a few shows. From the moment he settled into his stall to walking into the arena for the first time, Socks had a very quiet and classy manner about him. He continued to please us in each class, improving each trip.
Raina: What makes the New Vocations show different from other horse shows?
Jordan: The New Vocations horse show was great, resembling the typical layout and competition of many other Ohio Hunter Jumper Association (OHJA) shows, although providing many classes specifically geared for OTTBs, with a large emphasis on celebrating OTTBs.
Raina: Did you and Sock place?
Jordan: He received a first place over fences and reserve champion for his TIP baby green division. I was so proud of him on Sunday, entering into the hunter classic and stakes, receiving 2nd place by a hair in the TIP hunter classic and a top placing in the hunter stakes, a great accomplishment for such a green, young horse.
Raina: Any regrets regarding you decision to own an OTTB?
Jordan: None at all!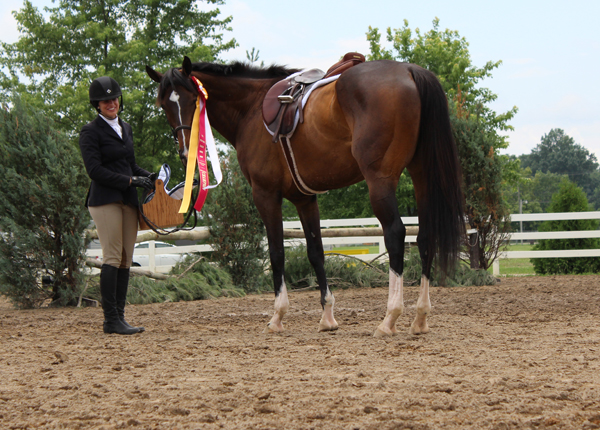 Socks proudly wearing his well earned ribbons / Photo: ©Angie Sanchez
Raina: Jordan, thank you so much for sharing your story with us. Is there anything else you would like to say?
Jordan: I would especially like to thank all of the trainers who have helped me, Trish Sanders, Larry and Brian Waltz, Kristen Nelson, and Kristy Moore. Also, a huge thank you to my supportive parents, Mark and Robin Josefczyk, who have always been there for me as I have pursued my passion of riding and training horses, with the ER visits and all.
Special thanks to my amazing friend and photographer Angie Sanchez, who spotted Memory Road, "Socks" at the New Vocations Charity Horse show.
Considering adopting your own ex-racehorse? Here are some great rescue organizations with horses looking for their new home:
---
About the Author: Raina Paucar is an adventure loving equestrian and former female jockey. She likes to ride and compete in many disciplines. She currently exercises racehorses and works with off-the-track-Thoroughbred s(OTTB). Her career in media focuses on equestrian lifestyle. You can add her to your Google+ circles, subscribe on Facebook and follow on Twitter.