Omey Island Beach Ride in Connemara
Explore Ireland's rugged Atlantic coastline with this unique horse ride to Omey Island.
by Jocelyn Pierce
After an amazing two-day, three-night horse trek with Killarney Riding Stables, my mom and I were determined to ride again while in Ireland.
In Connemara, we decided to ride with Cleggan Beach Riding Centre, located in the quaint fishing village of Cleggan.
With the tide out, there is plenty of room for long gallops on the beach.
This three-hour trek takes riders from the stables out to Omey Island and back. Our ride time was dictated by the tide, as Omey Island is a tidal island, meaning it can only be accessed at certain times of the day.
On our way to the island, I was again struck by the wildness of the Connemara region. Large boulders dotted the grassy hills, and the wind was blowing so powerfully, I could even feel my large Friesian cross moved by its force.
We rode down to the beach, which with the tide out, was perfect for a faster pace. We galloped along the sand, the experience even more exhilarating with the gusts of wind blowing past. My horse was lovely and responsive, seeming to be just as thrilled as I was to gallop along the beach.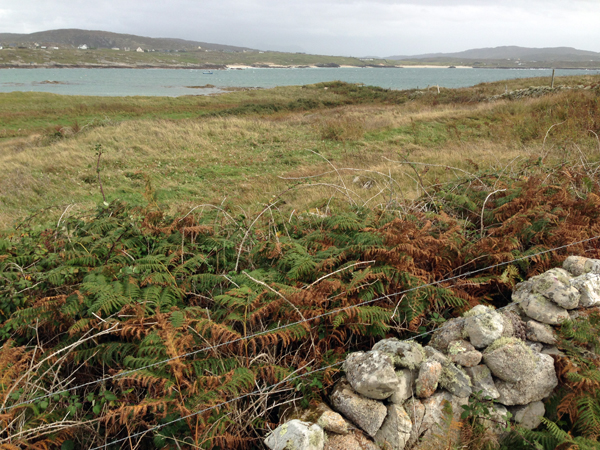 From the road on Omey Island, a tidal island only accesible at certain times of the day.
We saw a few cars heading out to the island as we made our way across the sand bar. Visitors can follow the signposts sticking up from the sand, which marks the way across. Just be sure to check the tide timetable before setting out to avoid being stranded!
While there is only one permanent resident living on the island, farmers use Omey Island's pastures for their cows, horses, and donkeys. As we rode down the narrow streets with low stonewalls on either side, the curious four-legged inhabitants made their way over to the fence lines to say hello.
The island is almost hidden, and without a guide you may not know it existed. Feeling like we discovered a secret place made the ride even more special.
Jocelyn Pierce rides and talks horses with one of Cleggan Beach Riding Centre's guides, Emma.
If you have time, stop at Oliver's for a bite before or after your ride. The restaurant is right down the street from the stables and overlooks the Cleggan Harbor where fishermen unload their catch from the day. Oliver's is known for their fantastic local seafood. Mom and I both enjoyed a delicious and filling cup of soup with a hearty chunk of brown bread, which gave us strength for the ride.
Contact Cleggan Beach Riding Centre to book your ride.
While in Cleggan consider visiting nearby Clifden, known as the capital of the Connemara region, and Connemara National Park, where you can visit with Connemara Ponies.

About the Author: Jocelyn Pierce is an avid equestrian and lover of travel and photography. Her passion for adventure has led her on numerous excursions throughout North America and Europe. When she's not riding and competing her homebred mare, she enjoys hiking, camping, and snapping photographs