Okavango Delta- Fishing in a Hippo Pond
My experience catching and eating the freshest fish I've ever tasted in Botswana's Okavango Delta.
One becomes part of the environment while on safari. I spent each night in a tent – my alarm clock the sounds of the awakening Okavango Delta – if it ever went to sleep. Greg, our director of photography, found that his tent was under a tree favored by baboons. They threw themselves down to the tent canopy, bouncing back to the branches, while Greg tried to sleep beneath this trampoline.
Bernie, a local from Botswana and one of my guides, offered to take me fishing one afternoon. We raced through the narrow channels in a motorboat. Whizzing by palm trees, with sleeves rolled up and a slick expression, Bernie reminded me of Don Johnson in "Miami Vice." We were headed to a fishing hole where the hippos are known to be regular thugs and the catch, copious.
Fishing in a Hippo Pond
The fishing hole is also called a hippo pond, which did, in fact, have six or seven hippos lingering about. Bernie explained that one can discern an area where hippos lurk because they munch on the lily pads. Bernie maintained a fifty-yard distance from the hippos. They are among the largest mammals and are considered by some to be the most dangerous animals. More humans find their eventuality when crossing paths with hippos than any other big game. Being in a boat does not ensure safety, as hippos will silently swim beneath the boat, emerging underneath to capsize the vessel.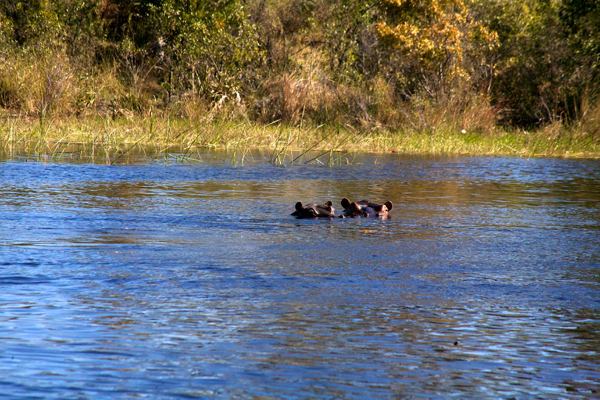 I kept an eye on the hippos as Bernie and I cast our lines parallel to them. There are over seventy species of fish in the Okavango Delta including tigerfish, catfish and tilapia. We were fishing for bream, a light, white fish with a lot of meat and few bones that is Bernie's favorite. As a beginner, I was having a little trouble getting into the grove, but we caught a few pike, which we released and finally Bernie caught a nice, big bream.
He dropped it in our cooler and asked if I wanted a snack. The closest I've come to eating fresh fish was eating same-day-caught salmon in Alaska. This bream would prove to be ever fresher. We'd cook it right away.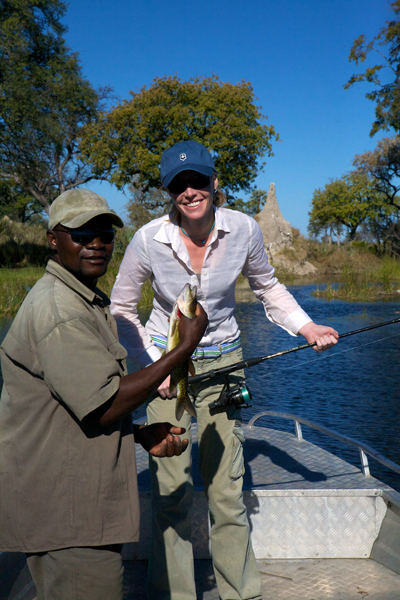 Private Island Dining in Botswana
In the Okvango Delta, one has their pick of private islands to discover. I felt like a true explorer as we landed on a small island known for its thousand year old baobab tree. Also known as the upside down tree because of its root-like array of branches, baobabs are native to Africa and are the subject of many local legends and superstitions. Because they live for so long, they make a wonderful centerpiece around which legend and lore can grow. The base of these large trees can grow to over thirty feet in diameter and reach heights over sixty feet. Some perspective: to capture the full height and width of the tree in a photograph, I had to shoot from 100 yards away with a super wide angel lens.
Climbing out of our boat, we made our way to a large clearing under the baobab. Impala danced through the grass in the foreground as we hiked closer to inspect the giant tree. Bernie told me that many people are afraid of these large, magnificent trees. His mother warned him to stay away from them or risk being eaten by the tree. Other legends claim that whoever eats the tree's flowers will be killed by a lion, and that sucking or eating the tree's seeds may attract crocodiles.

As I rounded the trunk, gathering twigs to burn, I wondered how Bernie felt being so close to the intimidating baobab now. A lover of beautiful trees, I was in awe.
Using a pocketknife, Bernie scaled and trimmed the bream, finally stuffing it with a lemon he'd brought along, in case luck favored us during our fishing expedition. He wrapped the fish in tinfoil and threw it directly into the flames of our newly built, rudimentary fire.
With bare hands, Bernie retrieved the fish and eagerly opened our bounty. If the freshly fired foil burned his hands, we'd never know. We dug in, using our fingers to pick off large, white gobs of fish. It was the best fish I've ever eaten, on my own private island, under the mystical baobab, in the most wild of places I've ever had the privilege of adventuring.

For more information on Botswana travel, visit the Botswana Tourism website. Learn more about how you can fish, horse ride and have other safari adventures on the Okavango Delta Horse Safari and other great Botswana vacations at EquitrekkingTravel.com. Watch a promo for Equitrekking's newest episodes from Botswana, broadcasting on your local PBS station.