North Texas Ranch, Texas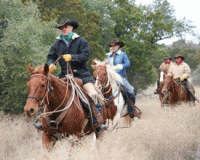 If you're on a riding vacation and you get a horse named Rocket, don't say that I didn't warn you. The eight-year-old Paint horse that I rode named Rocket seemed really laid back at first, but once we picked up a canter, he flew. We weren't out of control, but my feisty mount did need a little holding back. So did the horse in back of him, who got a little too close for Rocket's comfort. Rocket kicked him in mid-canter stride, which felt quite strange with me on his back.
I was riding Northwest of Dallas, learning about the area's rich oil history at Wildcatter Ranch. My guide Jay led me through fields of tall grass and mesquite trees, hills of oaks and rocky, shaded trails. We rode up to a point with high views of the Brazos and Cooper Rivers. Big white birds flew lazily by, as Jay, my guide, spoke about the 1920's wildcatters who scoured this area in search of oil.
As I rode past remnants of the area's oil rush days, rusty oil tanks and tall derricks, and listened to Jay tell the history in his thick Texas accent, I could imagine being a wildcatter and passing through the very area where we were riding. Since everything's bigger in Texas, Jay took me over to see a source of pride for the ranch, their Longhorn cattle. Their horns can extend several feet, so I was very careful as I fed Oscar a treat. He slobbered on my hand and looked up at me for another. We didn't round up any of the Longhorns, but did get to work cattle. Not all cattle are the same, and these were definitely sly and fast. Good thing I was on Rocket.
Learn more about equestrian vacations. Learn about Texas ranches in Equitrekking's new special Great American Ranches debuting later this fall on PBS stations.