New Mexico Dude Ranches & Horse Riding Photo Journey
From the cottonwood banks of the Rio Grande to the canyons of the Gila National Forest, explore New Mexico on horseback in this photo journey.
Riding in the Southwest, you can discover varied scenery, including arid mesas, rose-colored deserts, forested mountains, white sands and rugged canyons. New Mexico's Gila National Forest and Gila Wilderness hold hot springs and protected forests, while the North is home to ponderosa pine, aspen, cottonwood, spruce, fir, and other tree species. It's these dramatic and enchanting landscapes that make New Mexico a hot spot for outdoor adventures and there are plenty of places to horseback ride.
We've compiled a photo journey to give you a taste for horseback riding in New Mexico. Enjoy!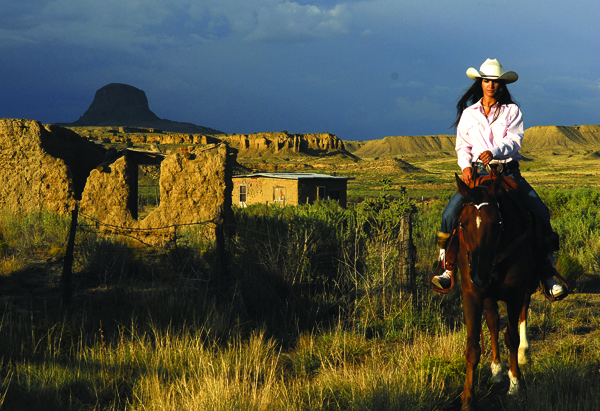 Riding around Albuquerque, there are mountain valleys and dramatic sandy mesas. New Mexico Horse Adventures leads riders through mountains, sand dunes, foothills and more.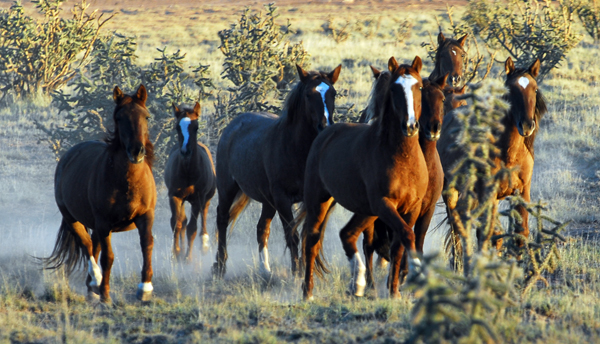 Wild horses and burros are found in 10 western states, including New Mexico. You can observe them on horseback, on foot or by other means with New Mexico Horse Adventures.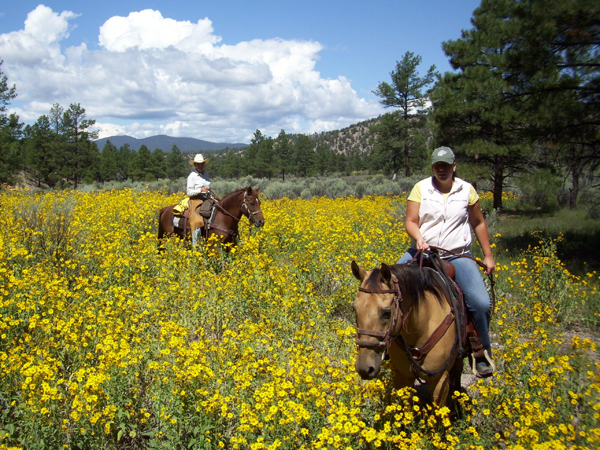 Riders pass through dreamy wild flowers in Hoyt Meadow with Geronimo Trail Guest Ranch, located in the mountains of the breathtaking Gila National Forest, which covers over 2.7 million acres in Southwest New Mexico.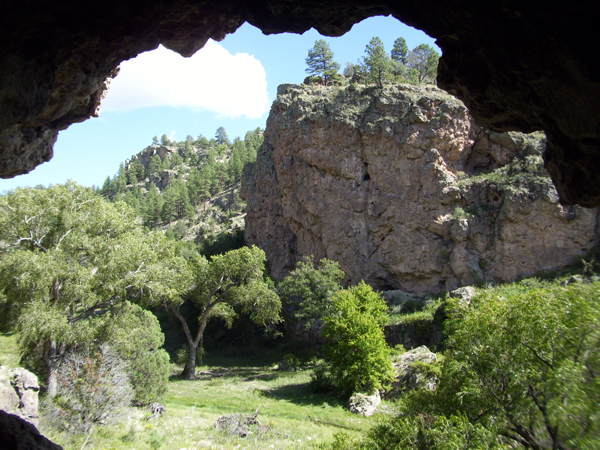 The famous Apache warrior Geronimo lived and fought in the area surrounding Geronimo Trail Guest Ranch. The mountains, canyons, and forests make for good hiding places. Today, travelers can relive history riding to Native American cliff dwellings and caves.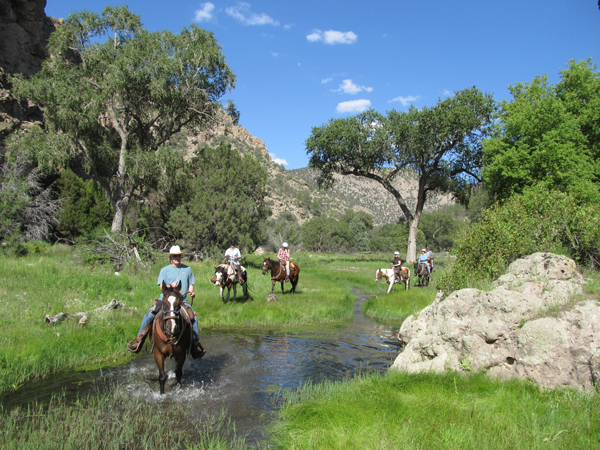 Riders pass through lush Whitewater Canyon from Geronimo Trail Guest Ranch, located west of the Continental Divide. The terrain here is comprised of mountains, deep canyons, meadows, and semi-desert country.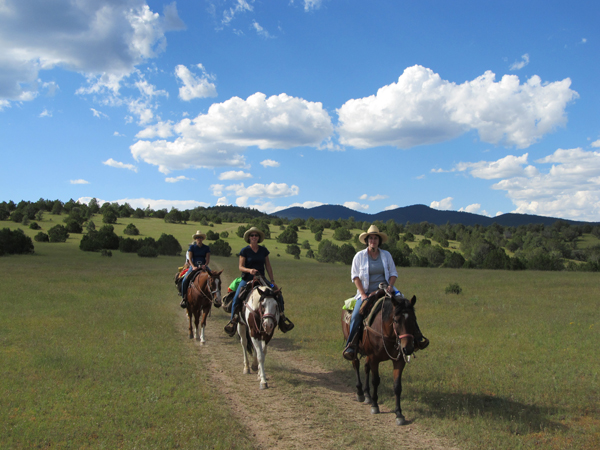 The open spaces of a mesa above the Gila National Forest with Geronimo Trail Ranch. Riding in this part of New Mexico, it's more than likely that you'll have bright blue skies and sun. There are over 300 days of sunshine annually and less than 15" of moisture during the year.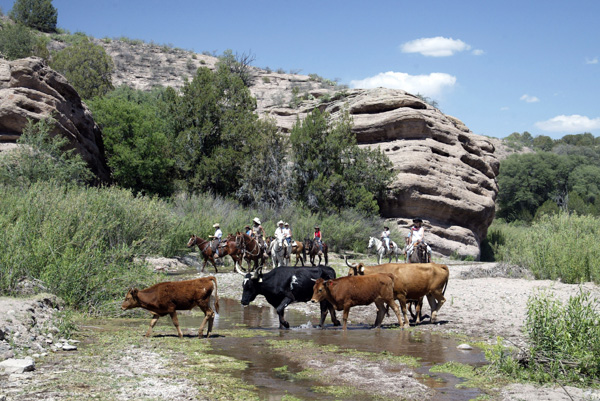 The Double E Ranch, located by the southwestern edge of the Gila, is a working ranch. Guests attempt to round-up cattle while conquering the Gila's tough terrain.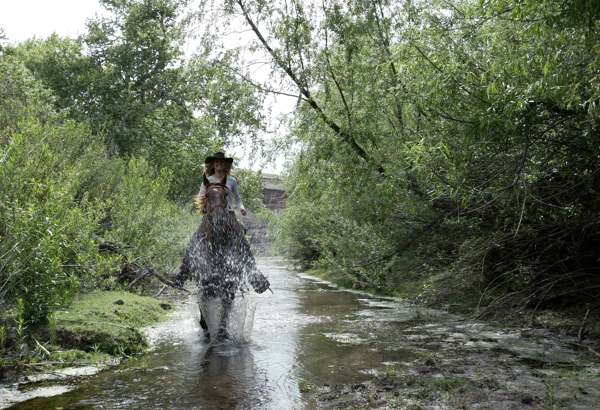 The Double E Ranch's Bear Creek is lined with ancient sycamore and cottonwood trees with varied ecological zones, wildlife and vegetation.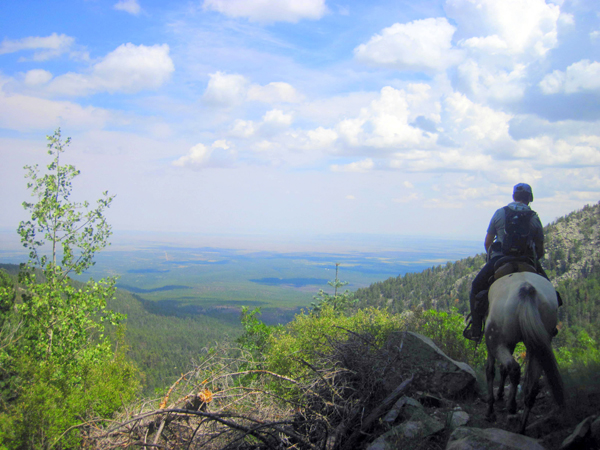 Dramatic, surprisingly green views outside Albuquerque at a ranch in the foothills of the Sandia Mountains with Enchantment Equitreks.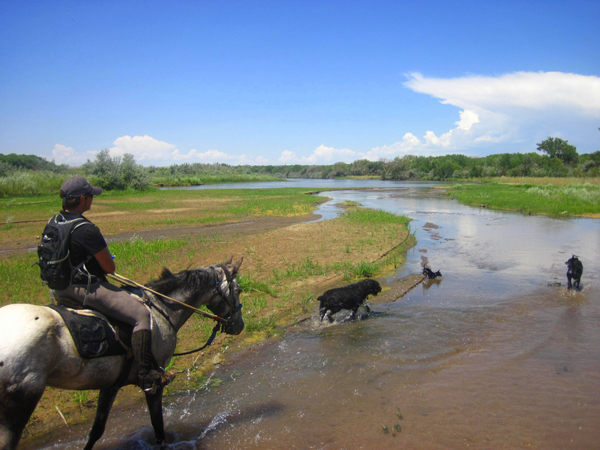 A rider with Enchantment Equitreks passes along the cottonwood banks and sandy riverbeds of the Rio Grande, which flows from southwestern Colorado through New Mexico to the Gulf of Mexico.
Learn more about horseback riding in New Mexico in the Equitrekking Vacation Guide.