New Blog Addition: Your Questions Answered YQA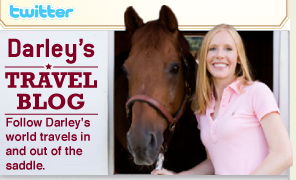 YQA stands for Your Questions Answered
Every Monday, TV host and travel expert Darley Newman answers viewer questions right here in Darley's Blog.
Here at Equitrekking, we get a lot of questions each week from viewers and readers related to our expertise, equestrian travel adventures and our Equitrekking TV show-- everything from where to enjoy an equestrian vacation in Slovenia to how that ayran really tasted in the Turkey episode to where to get a job to work with horses, retire with horses and many, many more.
We answer all of them personally, and we know that a lot of you out there have the same questions or at least would benefit from these answers. As a new addition to my blog, I'll take one of your questions each week and post the answer right here in my blog every Monday.
While many people email us, some folks also post their questions on Facebook, Tweet to us or simply post a question in the comments area below this post. There are so many ways to connect now. I look forward to connecting with you, as we continue our Equitrekking journey, seeing the world and meeting fellow equestrians and travelers.
Connect with us on
Facebook