Finding an Old Friend at New Vocations Racehorse Adoption Program
During my time at New Vocations Racehorse Adoption Program as a rider, I had an unexpected surprise. I met up with an old friend from the racetrack.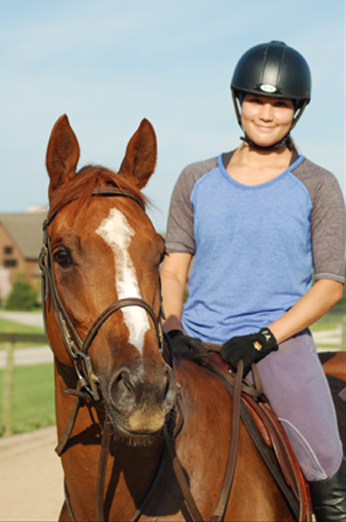 The Vue From Here & Raina / Photo Courtesy: Amy Allison
It has been a while since I did any kind of riding–professional or pleasure. I had entered a period in my life that I like to refer to as the dark realm of office work. And, while I'm fortunate–– I have a good job in marketing–– things started to slow down. I had more time to think and of course, I thought about how much I missed being around horses and riding.
Although I have an OTTB of my own, Bahamut or "Bam-Bam," he's been touch and go. Those of you who have horses with issues like this, know this situation can be very disheartening. While Bam-Bam's in his stall, many times I whisper and beg him to get better. You hope nobody hears you, or at the very least if they do, they don't suspect madness on your part.
An opportunity came up for me to work with New Vocations as a rider, and it was a perfect fit.
I had just started working with New Vocations as a rider, helping trainer Amy Allison transition some of the ex-racehorses in their program, while they await their forever homes.
It was morning and the beginning of a muggy 90º day at the New Vocations farm in Ohio–when I came across a familiar face. In a paddock floating with fog, I saw a strong and compact little chestnut mare. Those kind eyes and slight blaze struck me for a moment. When I stood to really look at her, something tugged at familiarity, but I had to ask Amy her name to be certain. Sure enough, she told me her name was The Vue From Here. I thought to myself, yes, I know this mare.
Later on that night at home, I pulled up her charts. It all came flooding back to me. I had indeed raced and exercised this mare the previous year. It was winter time when we went for our gallops, so I remember my hands always feeling numb. Even with having limited feeling in my fingers on the frozen snowy days, she was always a nice one to take out–– eager to get the job done. Having that kind of attitude was what made her likeable and ultimately, memorable.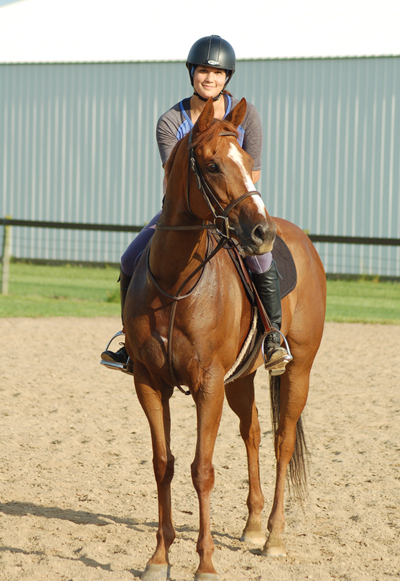 Vue standing patiently for her photo shoot / Photo Courtesy: Amy Allison
It was a strange feeling to see her again outside of the racetrack, and in such a contrasting setting as a peaceful farm. Not only was I surprised to see a horse show up that I'd been so familiar with on the racetrack, but I felt honored that I would get to be a part of helping her transition off-the-track and retrain as a pleasure horse.There is no feeling more rewarding than knowing her racing career ended and she is one of the fortunate ex-racehorses to get a genuine chance at having a great life.
I enjoyed the time I spent working with Vue. I know she will make an excellent companion for someone, but once again my old friend and I must say goodbye.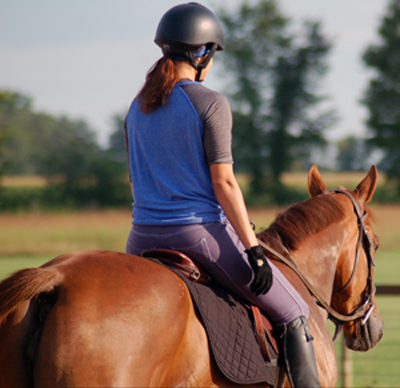 Goodbye Vue / Photo Courtesy: Amy Allison
Many of you reading this already own OTTBs, so we share an affinity for this breed. We know how wonderful and fulfilling owning one can be, even after facing some challenges. But, for those of you reading this that haven't owned an OTTB, I ask you to do some research and consider adoption. You're saving a life and gaining an amazing friend.
"Make you next horse, an ex-racehorse."
Vue is now available for adoption at New Vocations. Will you be the one to give this beautiful, hard-working and loving girl a home?
I would like to thank the whole Ohio team for welcoming me and most of all for the long hours, dedication and love you give to finding these amazing Thoroughbreds the right, loving homes. It was a privilege to work with you ladies: Amy, Claire, Sandy and Anna.
Adoption Resources:
---
About the Author: Raina Paucar is an adventure loving equestrian and former female jockey. She likes to ride and compete in many disciplines. She currently exercises racehorses and works with off-the-track-Thoroughbreds (OTTBs). Her career in media focuses on equestrian lifestyle. You can add her to your Google+ circles, friend on Facebook and follow on Twitter.