Neville Bardos: For the Love of the Horse
Read about equestrian Boyd Martin, who is competing in the London 2012 Olympics as a member of the U.S. Equestrian team, and his special horse, Neville Bardos. Neville Bardos is Boyd's backup horse for the Olympics, and it was quite the journey to get him to London!
by Ann Jamieson

The first time Boyd Martin saved Neville Bardos' life was when he picked him up for $850 at the racetrack. Three-year-old Neville was headed for slaughter.

Boyd's friend Gordon Bishop had looked at Neville first. Labeling him "no good" as a jumper, he turned him down. Boyd thought otherwise.
Born at Woodlands, a top racing stud in Scone, Northern New South Wales, and sired by Mahaya, a "shuttle stallion" who had been flown over to Australia from the United States for a breeding season, Neville raced ("terribly," says Boyd) at Kemba Grange racetrack.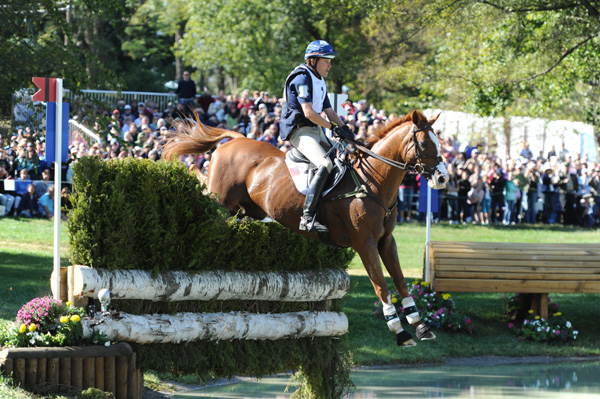 Neville Bardos and Boyd Martin at the World Equestrian Games. Photo credit: Diana DeRosa.
Neville's owner wanted $1000 for the horse. Boyd bargained him down to $850.

The next day Boyd found out that Neville was a cribber. Furious that the seller had "cheated him," he almost asked for his money back. Almost.

Boyd had purchased Neville as a sales prospect, but he soon discovered that his new horse was rather more fiery than first impressions might have suggested. "I felt," says Boyd, "like he was too wild to sell!" Besides, Boyd had learned that the horse was tough, and could run and jump well, so perhaps there was a future for him with this horse. "In the back of my mind I knew he was an upper level horse."

Neville... A Fitting Name

Neville was also a character with a love for surprising those around him. At one event, Neville was unloaded from the van. As soon as he hit ground, he bolted, wearing his shipping boots, helmet, and halter, and dragging his lead shank behind him. Racing to the competition ring, Neville jumped over a barrier right onto the jumping course, where a competitor was in the midst of their round. It took five people and a lot of time to catch him. Neville's name is well chosen: he is named after a fast talking, hotheaded, stand over gangster who lives in Melbourne.

In his first event, in 2002, Neville tackled the cross-country course with Boyd's wife Silva on board. Silva is a Grand Prix dressage rider from Germany, who now rides for the United States. Silva fell off on course and Neville took off, running for about 15 minutes before he was finally caught. Remounting, Silva finished the course. The clock had not been stopped so Neville's penalty points were impressive, "about 480," declares Boyd.

But in 2006 Neville went on to win the Coffs Harbor CIC** and the Melbourne CCI**. Boyd never let Gordon live down his initial evaluation of Neville. He wasted no opportunity to take his "no good" jumper's ribbons, and place them in Gordon's tack room at every event Neville placed in.

In order to import and compete his mercurial rising star, Boyd formed the Neville Bardos Syndicate, which now owns the horse. This allowed Neville and Boyd to move to the United States in 2007. (Boyd now maintains dual citizenship). In their first CCI*** at Jersey Fresh they ran 11th. In the fall of that year, they placed fourth at Fair Hill. The following year, they placed ninth at Rolex Kentucky, their first four star, short listing them for the Beijing Olympics and honoring Boyd with the Carimati Cup for the highest placed foreign rider.

When they returned to Fair Hill in 2009, Neville was just coming back from an injury. He had only one Preliminary under his belt in preparation for the three star event. Fair Hill perfectly spotlighted Neville's rugged character. "The conditions were horrible, with monsoon conditions and mud up to their knees. Neville won by a huge margin of nine or 10 points. He's so tough he was the only one to be within the time," Boyd states proudly. "He always rises to the occasion. As the courses get tougher and more technical, that's when we see him at his best. When the going gets tough, Nev gets going."
Boyd likens Neville's personality to "a bouncer at a nightclub, on amphetamines. He's always looking for action, he loves his work, loves being part of the excitement."

In 2010 Neville competed in the World Equestrian Games in Kentucky, finishing 10th, and laying claim to the title of the highest placed horse from the United States.

A Tragic Fire
After the highs of the previous years, 2011 turned into a year of heart-breaking disaster and loss. In May, the barn in Pennsylvania that they leased from Phillip Dutton burned, killing six horses and drastically injuring others.

Boyd risked his life (as did Phillip Dutton) to save the horses. He says, "About 150 firemen were standing around, watching the barn burn. It was a bit of a surreal experience. I felt helpless; I had to do something." Although the fire chief told Boyd he couldn't go in, fearing the roof was in danger of imminent collapse, Boyd "bolted in. I had no idea where I was, where I was going. I didn't go in after Neville; I just went in. I heard a horse gurgling, groaning. He was quivering in a corner."

It was Neville. Boyd grabbed him by his cribbing collar. As he attempted to pull him out, "Phillip appears like a ghost out of nowhere. He pushed from behind as I pulled in front."

The cribbing that almost caused Boyd to pass Neville by was now the saving grace that allowed his rescue. And Boyd had saved Neville's life for the second time.

Boyd has thought long and hard about the firemen standing around while the horses died. He realizes that they have "a different mindset. They don't see horses as part of the family. They're trained to save human lives, and if there are no human lives to save, they are not going to risk their lives. There was a huge concern that the building was about to fall, so they weren't going in."
Neville went straight down the road to New Bolton. The "blood work" was disastrous. Basically, Neville should be dead. "It was devastating, the equivalent of a horse about to die. He had horrible smoke inhalation, and burns on his skin, burns through his windpipe and esophagus." No one knew if he would survive.

Yet Neville was standing in the stall, eating his hay. The horse the vets were looking at didn't match the blood work. The vets didn't know how to approach him, what to do. They had never confronted anything like this. Any horse this badly burned would be dead.

The veterinarians were forced to consult human burn centers at hospitals to compare injuries and determine a course of treatment. Despite his life-threatening injuries, Neville's recovery followed a course that was nothing short of miraculous. He seemed to know he would be just fine. "He had a good look in his eye, and he never went off his feed."

Neville lived in a hyperbaric chamber at Fair Hill Therapy for an hour a day for two weeks. The chamber made a huge difference, greatly improving the health of his lungs and the condition of the burns on his skin. Boyd is tremendously appreciative of Dr. Kevin Kane and the Fair Hill Therapy team for all their help.

At one point Boyd mentioned to the vets that Neville had a shot at the Olympics next year. Their immediate reply? "Not a chance."

The Olympics–– "Not a Chance!"
The eventing community poured out their support to the Martins. Bruce Davidson came to the farm and was, for once, speechless, when he surveyed the ruins. Jimmy Wofford called. Fundraisers were organized by Karen O'Connor, the Carolina Horse Park, Fernanda Kellogg of Fitch's Corner in Millbrook, New York, and the Martins' sponsor, Ecogold.

But the fire turned out to be only the beginning.

While still overwhelmed by the fear and heartbreak of that horrific night, Boyd got the news that his father had been killed while riding his bicycle in Australia. Then Silva's father in Germany died of cancer.

The Martins were inconsolable. Their world was upside down; they seemed to be losing everything. Everything that is, except a spunky little ex-racehorse.

Neville was recovering brilliantly. The vets were astounded by his progress, labeling it as "nothing less than a miracle."

Boyd had always dreamed of competing at the World Equestrian Games. Neville had not only taken him there, he had taken him to the best placed finish for the U.S. team. Boyd also dreamed of competing at Burghley, one of the toughest four stars on the face of the earth.

Tentatively, Boyd circled the date on his calendar. It was only two months away. Ordinarily, it takes 12-16 weeks to prepare a horse for a four star. Boyd states, "It's my job to gauge and feel where my horses are at." Neville was feeling good.

It was a "calculated, but educated gamble to bring him back for Burghley." Day by day, Boyd looked at his horse, at what he was riding every time he sat on his back.

The horse was taking his mind off of his crushing losses, giving him instead something positive to focus on. It was much better for Neville to be galloping up hills than to stay at New Bolton in the critical care unit. Boyd says, "It was good for both of us to be out and doing something."

Phillip's support was crucial. While everyone else was hemming and hawing as to whether shooting for Burghley was a good idea, Phillip said, "Yes, you can do this. This is a realistic decision."
Worried about the lack of time, Boyd wonders if he "overdid it. I worried so much that he wouldn't be fit enough that I got him too fit."
Visit NBCNews.com for breaking news, world news, and news about the economy
Learn about the sport of eventing in this NBC video.
At one of the preparatory events, the Millbrook Horse Trials in Millbrook, New York, Neville completed in spectacular form, placing fourth in the Advanced division. There was no doubt he was announcing to all that he was ready for Burghley.

In only eight weeks, and coming back from a near fatal fire, Neville was ready for one of the toughest four stars in the world.

Although Neville has never lost his wild, overexuberant side, for the whole week of Burghley he changed: he remained focused and settled. He seemed to realize just what he was facing. The course was mammoth, with a huge ditch and brush that is said to be the biggest cross-country fence in the world.
The world's attention found itself focused not just on the historic event, but on Neville's story, the story of a tenacious little horse that had come back from near-fatal injuries to tackle Burghley.

In dressage Neville scored a 49.7. He made the cross-country course look easy, finishing on his dressage score, and so full of energy that he seemed to be asking if he could do it again. As his groom Lindsey Taylor held him for the farrier after his round so his studs could be removed, Boyd's wife Silva came up to her. Overcome with emotion she said, "He wasn't even supposed to be here, Lindsey."

A single rail in show jumping added 4 faults to his score, putting Neville in seventh place.

Neville fulfilled Boyd's dream of competing at Burghley, bringing him in at a top ten finish. He restored the faith of a family crushed with disaster, putting a horrific summer behind them with his tenacity and bravery. He brought hope and a mission to a family in despair.

Boyd says, "He was never a horse I thought would do everything that he's done; but he's got such heart and that counts more than talent."

This story was taken from Volume IV of "For the Love of the Horse" which will be released shortly. Volumes I through III are available on Amazon, or at www.loveofthehorsebook.com.

The dressage portion of the Olympic eventing competition will end today. Learn more about how to watch Olympic equestrian coverage on NBC.com.

About the Author: Ann Jamieson is a United States Equestrian Federation judge licensed in hunters, jumpers and hunt seat equitation. She is the author of the popular book series For the Love of the Horse. The books are amazing collections of true stories about horses which have received rave reviews from readers and reviewers. The stories cover all breeds and disciplines, and everything from back yard ponies to Horse of the Year winners. Ann particularly enjoys showcasing rescues. Several rescue horses (Chester Weber's Jamaica, top show hunter Monday Morning, and Boyd Martin's Neville Bardos, all rescued from slaughter) have gone on to become Horse of the Year!
Ann shows her own horse, Fred Astaire, in hunters and First Level dressage and enjoys retraining off-the-track Thoroughbreds for new careers. Fred Astaire is a grandson of Secretariat, and very proud of it!
Ann lives in Kent, Connecticut, and shares her home with two very entertaining Ocicat kittens. She also keeps and breeds tropical fish. One of the fish she bred won "Best of Show" (yes, they do show fish!) at her very first tropical fish show.