Nevada- 71 Ranch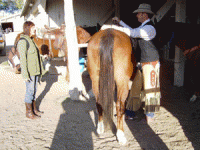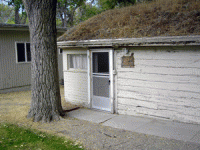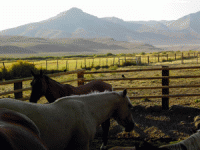 by: Ann Terry Hill

Midway between Reno and Salt Lake City, just off Interstate 80, you'll find yourself at Elko County's 71 Ranch. The historic 71 Ranch, about 38,000 acres and 30 minutes outside of the town of Elko, is the real thing. For anyone wishing to experience cowboy or ranching life, this deeded, over 100-year-old ranch, lets the wrangler dreams in your heart come alive. In a county where little has changed from centuries ago, the fresh air, outdoor activities, and great Elko County beef feeds not only your stomach, but your soul. Western heritage is as thick as the Juniper and sagebrush that cover the county. The spectacular Ruby Mountains in the background accentuate the rugged and untouched country. If you're looking for a destination to revitalize and energize, the 71 Ranch in Elko, Nevada could be your spot.

The 71 Ranch and surrounding area have a colorful past, and in many ways represent the full history of the American West. The Pony Express, the Emigrant Trail, soldier forts, the railroad, cattle barons, gold miners, rustlers and range wars… the 71 has seen it all!

As I found out, wrangling and ranch life are year-round occupations on this high desert ranch. Cattle don't take vacations during various seasons, so caring for them is a daily job. A stay here any time during the year educates you to the ways of ranch life. You will be involved in the day-to-day operations, and 'learning the ropes' so to speak. Take it from an old ranch girl---this is not a prettified vacation, although the scenery would belie that notion. Here you'll 'get right down, pull your boots on, and be prepared for anything' an everyday wrangler has to face. Good horses, gear, food and company are the payoff.

The accommodations fit the surroundings. I actually bunked in an old sod house which had sheltered many a cowpoke, and had probably seen Pony Express riders, and maybe a few cattle rustlers in its years. The setting was sparse, but adequate. The ribs served for dinner and the bacon and eggs for breakfast stand out in my mind as some of the best country cooking I've ever tasted. Eat as much as you want, you'll work if off during the day. The only modern amenity that I noticed is the hot tub, which brings welcome relief after a day in the saddle. Cell phones work only sporadically and forget about email. Who knows? You may be inspired to create your own cowboy song or poem as you enjoy the company of the cowboy bards and balladeers who often join the group after dinner.

This is a real ranch experience in the real West. You won't be coddled. It's you and the elements, as you care for over 2500 head of cattle. Go ahead and live a dream.